AI and robotics are transforming recycling with EPR laws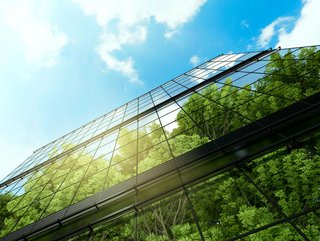 AI and robotics are revolutionising recycling under Extended Producer Responsibility laws, Credit: Getty
JD Ambati, founder and CEO of EverestLabs and RecycleOS, explains how AI and robotics are transforming recycling under Extended Producer Responsibility law
JD Ambati is the founder and CEO of EverestLabs and RecycleOS, the first AI-enabled operating system for material recovery facilities (MRFs). The companies offer highly flexible and easy-to-install AI and robotics solutions to automate material sorting within facilities, thus increasing recycling rates and contributing to a circular economy.
Through their data-driven approach, MRFs gain enhanced visibility into their daily operations, which proves crucial as Extended Producer Responsibility (EPR) policies impose more stringent recovery and audit requirements worldwide.
We sat down with Ambati to find out more.
What is the intent of the Extended Producer Responsibility (EPR) laws?
Extended Producer Responsibility (EPR) is an emerging legislation that places responsibility on the producers for the end-of-life of packaging. What this means is a packaging producer of say plastic water bottles will be held both financially and operationally responsible for the recovery and recycling of the product (plastic water bottle). Packaging producers will now have to provide the capital and services (collecting, sorting, reusing) necessary to assist and manage their products from creation all the way through the end of their life after it is discarded.
Eleven US states have introduced legislation on EPR for packaging in 2023. More extensive EPR programmes are expected to go into effect over the next 12 months. This will completely change the economics of recycling and the role packaging producers and recyclers play in enabling a more sustainable future.
How is the municipal process and the economics of recycling going to shift under EPR laws?
Currently, recycling programmes are funded by local municipalities and consumers with some mandated requirements for baseline recovery rates. Under EPR-based schemes, producers will fund recycling programmes typically through an industry-appointed non-profit called a PRO (producer responsibility organisation). EPR legislation also imposes higher standards for recovery rates and the use of recycled content.
By putting the responsibility on producers, it creates an incentive to make packaging more recyclable, increasing the demand for recycled commodities, which will create a truly circular economy compared to one propped up by municipal programmes.
Europe and Canada have been early drivers of EPR and have experienced impressive results. The U.S. can expect to experience a similar shift with the implementation of EPR across more states.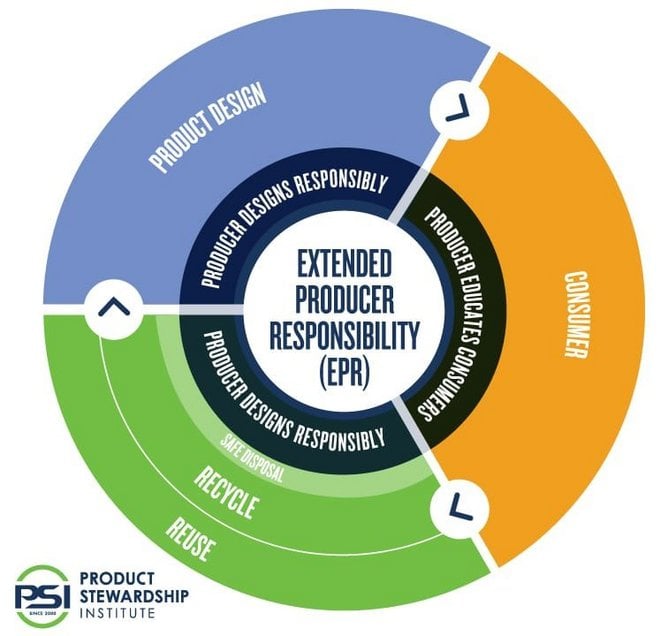 ERP Chart
Do you believe putting the responsibility on the producer is appropriate? Or do you believe there is a better approach to get producers and recyclers to actively participate in the creation of a circular economy?
Yes, EPR is one of the most effective ways to spearhead the creation of a circular economy. By putting the onus on the producers of waste, the EPR-led model for recycling will have a very positive outcome on recycling programmes and recycling rates going forward.
Currently, the burden of responsibility to recycle is on the consumer and the recycling/reprocessing companies who do not control the supply. Packaging is hard to collect, harder to recover, and even harder to reprocess back into raw material. Producers actually do have the ability to control these things which they will do more effectively if they are responsible for the entire life cycle.
Do you think producers and recyclers today are ready for the EPR laws to take effect? What kind of implications should producers and recyclers prepare for under this new model?
Some packaging producers and recyclers have taken positive steps forward in preparing for new legislation. Others, however, need to be more proactive in preparing for the changes to come.
Packaging and CPG companies must prepare for more scrutiny on the use of recycled material and the recyclability of their packaging. They must prepare for greater visibility into the lifecycle of their packaging, and greater emphasis on what exactly is being recycled. This will lead to higher quality and volumes of recovered materials to be reprocessed into feedstock, and producers will be incentivised to make packaging more reusable, recoverable, and recyclable, leading to wider availability of recycled material supply.
Other implications for recycling companies and MRFs specifically include greater scrutiny of sorting operations, increased audits of incoming and outgoing materials, higher performance and quality standards on existing sorting processes, and the sorting and processing of new types of packaging or materials that will be produced and prioritised following a full roll-out of these new laws aimed at sustainability.
What solutions should they implement now to accommodate the increased audits and visibility into their processes in 12 months' time?
Packaging producers and recycling companies need to modernise their operation processes to be able to easily accommodate the greater visibility and adaptability that will be required under EPR laws. If not, they may run the risk of some fines and/or a lacklustre reputation in the industry. Artificial intelligence (AI), robotics, and other technologies are available today to help meet new standards.
AI solutions can be deployed throughout a recycling facility to identify and capture more granular data on what materials are coming in, being recovered, and being sent to landfill. EverestLabs' AI infrastructure, for example, is designed to adapt to new material and packaging types subject to EPR programmes within days to weeks of observing the new object type. This enables our AI to distribute the knowledge of that object to all other facilities once it becomes aware so that different facilities can learn from one another and make a larger impact. This data can serve as the basis for EPR-driven audits in a continuous fashion with visibility for all stakeholders including recyclers, producers and non-profit or government agencies. This same data can also be used to improve recycling operations that target specific packaging.
Robotic solutions can immediately improve the recovery of a recyclable object from existing sorting facilities without huge retrofits or new builds. This presents MRFs with an opportunity to meet the higher standards that they will encounter. Robots can be placed in existing conveyors and sorting stations to augment the current sorting processes to deliver higher recovery rates. Additionally, AI-driven robotics is the only solution today that can evolve with improved packaging designs and recovery processes.
*************************************************
For more insights into Sustainability - check out the latest edition of Sustainability Magazine and be sure to follow us on LinkedIn & Twitter
Other magazines that may be of interest - EV Magazine | Energy Digital
Please also check out our upcoming event - Sustainability LIVE in London at the BDC on Sept 6/7th 2023
*********************************************
BizClik is a global provider of B2B digital media platforms that cover 'Executive Communities' for CEO's, CFO's, CMO's, Sustainability Leaders, Procurement & Supply Chain Leaders, Technology & AI Leaders, Cyber Leaders, FinTech & InsurTech Leaders as well as covering industries such as Manufacturing, Mining, Energy, EV, Construction, Healthcare + Food & Drink.
BizClik, based in London, Dubai & New York offers services such as Content Creation, Advertising & Sponsorship Solutions, Webinars & Events.