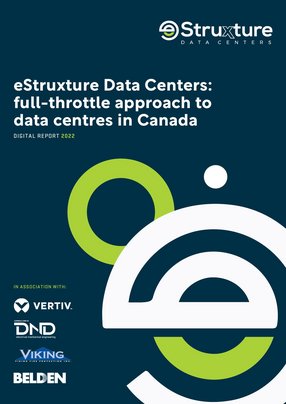 eStruxture Data Centers: Going full throttle in Canada
Todd Coleman, CEO of eStruxture talks strategy, speed, risk, and becoming the frontrunning data centre operator in Canada in under five years
Have you ever had a front tire blow out at 178mph (286 kph) and then got back in the car to try it again a few minutes later? That's what entrepreneurs seemingly do every day through trials and tribulations, successes and failures as they climb their way to the front of the competition. It's not surprising that entrepreneurs who are calculated risk takers in the business world are often thrill seekers in their personal lives, in both cases understanding the risk-return tradeoff, the sacrifices required, learning from theirs and others' successes and failures, and constantly analysing data and trends with a strong sense of gut feel to push themselves to be the best.
One of those calculated risk-taking entrepreneurs is Todd Coleman, Founder, President and CEO of eStruxture Data Centers. He founded eStruxture in 2017 and in less than five years drove it to become the single largest Canadian data centre platform. And, as it turns out, he is also an accomplished racecar driver. Which begs the question: is there a common thread between success at the track and success in business?
Coleman may spend the majority of his time leading his company, but when he's not, you'll find him racing in the Ferrari Challenge series in a Ferrari 488 Challenge racecar or the GT America and GT4 America Championships in a Toyota GR Supra. It's a passion fueled by risk and speed - two factors that, as we're about to learn, relate to eStruxture's accelerated Canadian expansion.
"It comes down to balancing speed and risk," he said. "From a speed perspective, I'm impatient. I like things to go fast. Even when I drive to the grocery store or a friendly Sunday drive, I'm still in a hurry. And I think that describes what we've done in five years at eStruxture. We're always going to be pushing at full speed."
Then there's the question of risk, explains Coleman: "It's not that unusual for an entrepreneur to have a personal risk profile that's different from others. I believe in calculated risks; investing in areas where a return might not be guaranteed, but the probability analysis weighs in our favour."
"For example, we went into the Calgary market at a time when the Alberta economy was in a downturn. That was a risk as the Alberta market had been hit by weakness in the Canadian dollar and the low cost of oil. Jobs were leaving, mortgages were in default. However, that was a calculated risk. We had been studying the market for some time to determine which side of the economic downturn trough it was in – the beginning, the peak low or on its way back up," Coleman said.
Now, however, Calgary is starting to take off as a data centre market. eStruxture has already largely sold out at its first Calgary data centre (CAL-1) and is building out its second data centre with significant pre-sales activity. Coleman revels in being one step ahead of the game. He said: "We've landed some strategic customers when no one else was there. I guarantee the competition is going to jump on that trend line, but they're 18 to 24 months behind. We love that position; that's an example of calculated risk."
Coleman relates his propensity to accept calculated risk in his business to experiences in a racecar. Coleman tells a story from when he last raced at Daytona International Speedway in Florida. He said: "I was on the road course and my right front tire blew out going into a corner at 178mph. I did five pirouettes missing walls on both sides and shot through from turn 1 to what is turn six. We were in a night time practice session and there were headlights coming towards me from on-coming cars, but I didn't hit anything. Like in business, we quickly inspected the car and analysed data to understand what happened and why, replaced the tire and we were back out on the track within twenty minutes. That's calculated risk."
It's a team sport
Much like racing, where a whole team of engineers, mechanics, and support crew come together to ensure the racing team's success, evolving eStruxture into the Canadian market leader that it is today would not have been possible without the trust, loyalty, and support of customers, employees, investors, partners, and suppliers.
To describe eStruxture's growth journey, Coleman uses the metaphor of a hockey stick, with a small plateau turning into a steep rise in growth. Over the last five years, eStruxture has completed more than six acquisitions and has grown both organically and inorganically. "We've acquired real estate and built greenfield data centres; we've acquired competitors and driven market consolidation in Canada. Five years later, we are the single largest carrier-neutral, privately-held data centre company in Canada," he said.
Coleman says the company is rewarded by both the market in which it operates and the customers it serves, adding that "Canadians like doing business with Canadians." The reason for this, according to Coleman, is that the company plays a "trusted advisor role" with deep localised knowledge.
Since its inception in February 2017, eStruxture has completed a total of four separate funding rounds from largely the same investors who believe in and support the company's vision. The company has also completed four bank lending agreements over the course of its five-year life span, the majority of which were with the same syndicate of banks.
He's also grateful for the support of the companies that helped eStruxture find its feet in the highly competitive data centre market. "We are very loyal to those that saw something in us when we were just starting out. It's easy to bet on a winner when they are leading the race, but I don't forget those who believed in us when we weren't in the position we are in today."
eStruxture's Canadian data centre fleet
Today, eStruxture has 15 data centres spread across Canada: 5 in Montreal, where the company is headquartered, 5 in Toronto, 3 in Vancouver, and 2 in Calgary.
Sustainability is one of eStruxture's fundamental, non-negotiable tenets and plays a vital role in its data centres. According to Coleman, none of their new data centre builds use any water for cooling as part of their standard basis of design. As Coleman states: "the only water we consume in our new data centre builds is for sinks, toilets, and humidification." Importantly, eStruxture also leverages the geographic distribution of its facilities in key regions with abundant renewable energy supplies, to further drive sustainability.
"We're also capable of offering power density at a rack level that is far higher than the average data centre," said Coleman. "We can offer up to 30kW per rack without doing anything Herculean with the mechanical engineering, and without stranding valuable white space within our facility," he added. Due to the importance of power density and protecting the environment, eStruxture is also working with various customer industry segments, including high performance computing, AI, and cloud providers, to look at how it can sustainably increase power densities utilising submerged cooling technologies while making eStruxture's facilities more efficient and producing a smaller carbon footprint.
Going the extra mile for the customers
"It may sound a bit trite, but customers are everything to us. Even when we're not selling to them, we are always looking for ways to support them. That may be as simple as making an introduction to another partner or supplier, for which we don't take any economic advantage whatsoever. We fundamentally believe that if it's good for our customer, it's good for us. And so, our relationship with our customers is essential," says Coleman.
"Customer centricity may sound like a simple strategy in theory, but taking the time to truly understand our customers' particular needs, their businesses, growth plans, challenges and opportunities, takes time, effort, and the right kind of mindset. Which is why eStruxture's employees live by the company's core value: Customers are at the heart of everything we do."
Driving forces
Having built the business from the ground up in Canada, Coleman's plan for the future is to continue to be a consolidator in the market as well as invest and deploy resources across the country.
"We continue to be a job creator both directly because our facilities run 24/7 and require a level of expertise and thus create high paying jobs, but also indirectly because every one of our customers brings high paying high-tech jobs with it to the markets in which we operate. So, there's a certain level of pride for us in the level of job creation that we're ultimately responsible for," said Coleman.
Lastly, eStruxture will continue to focus on its tenets of sustainability and diversity, with the latter relating to its workforce. Coleman said: "57% of our workforce is considered diverse, with 29% being female. 40% of my executive team is also female. You won't find that in the broader telecommunications infrastructure industry, just because it attracts predominantly white males. And so, we want to change that. For me, eStruxture is about creating a legacy that all those involved can be proud of, that has a positive impact on the social fabric and the communities that we operate in."
Coleman sums it all up this way: "Racing and business have a lot more in common than one would think, and I take learnings from both and apply them every day. Just like in business, we don't simply re-invent the wheel every time we show up at a different race track. We analyse data, watch videos of prior races, practise on simulators and do track walks, all to determine the best racing line, and throttle and brake inputs with the ultimate goal of determining the fastest path around the track. And just like in business, we have to be prepared to blaze our own path when the race day environment changes. If, for example, we find ourselves racing in the rain, everything we knew and believed about that race track has changed and we need to quickly adjust our strategy in real time. As a driver, just like a business leader, we find ourselves looking for and testing out new driving lines in the wet around the track looking for the slightest bit more grip and tire traction in hopes of getting back to full throttle just a fraction of a second ahead of the competition."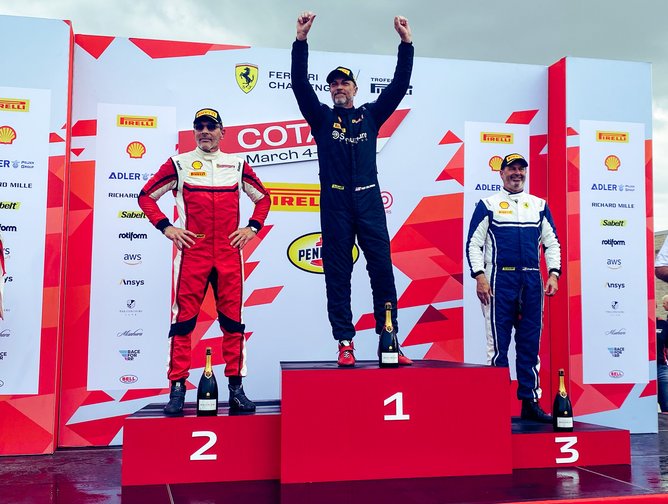 Coleman celebrating a recent podium victory at Circuit of Americas in Austin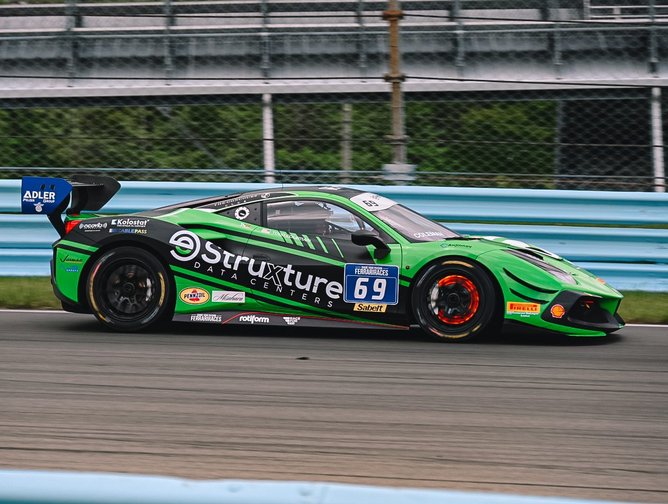 The glow of the brakes on the Ferrari 488 Challenge car going into a corner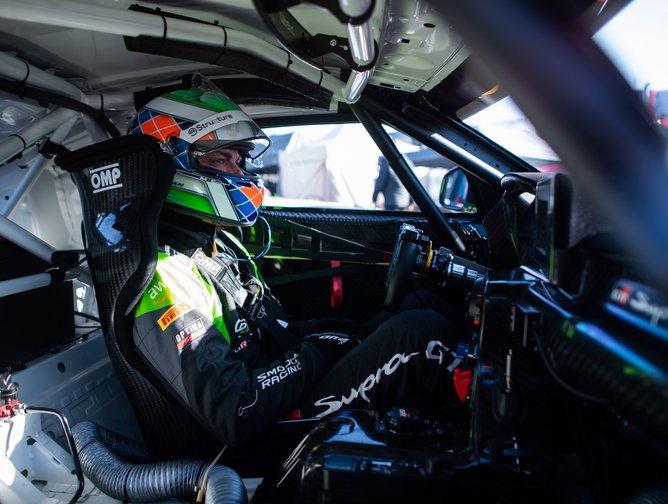 Coleman going through his pre-race mental routine before the start of a race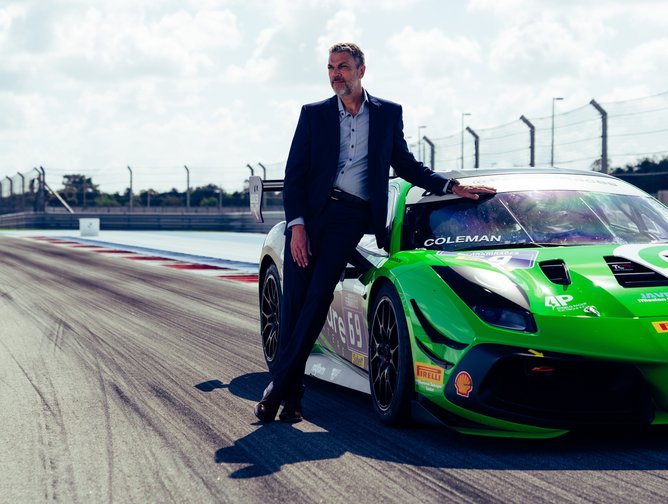 Todd Coleman