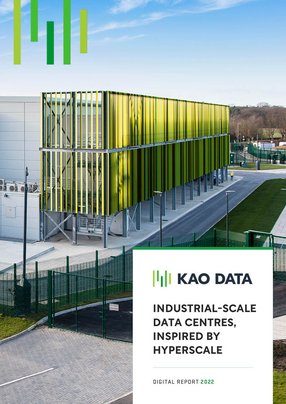 Kao Data: industrial-scale DCs, inspired by hyperscale
Kao Data's CCO, Spencer Lamb, tells us about the company's evolution, its ambitions, and its underlying sustainability ethos
The steep rise in digitalisation over the past decade has spurred an intensive period of evolution and maturation in the data centre industry, and the global COVID-19 pandemic succeeded in accelerating this trend further.
However, as the world becomes more dependent on data centres and the digital infrastructure landscape, many businesses have been faced with an intriguing dichotomy between the need to meet traditional demands for resilience and to reduce their environmental impact in the face of net zero.
Kao Data is a unique hybrid, with feet placed firmly in both camps. Located across three campuses in East and West London, and catering to a wide range of customers, from enterprise and cloud to HPC and AI, it sets itself apart by being the UK's leading operator of industrial-scale data centres designed to house the most demanding customer workloads.
In many respects, this means that the company recognises the merits of investing in sustainable infrastructure that serves many traditional businesses, from financial services to retail and enterprise to cloud, as well as in optimising its campus and facility developments to support customers within high-touch areas such as life sciences, artificial intelligence (AI) and research supercomputing.
Moreover, it does so with an ethos for ultra-efficient and sustainable operations, supporting today's businesses with green digital infrastructure that can meet demands for a reduced carbon footprint and industry-leading uptime.
Traditionalism vs revolutionary, sustainable change
With the proliferation of digitalisation driving a rapid pace of change across all industries, it appears that many data centre stakeholders are prepared for any sign of shifting trends. According to Kao Data's chief commercial officer (COO), Spencer Lamb, this forward-thinking data centre operator is more than ready for the technological challenges that lay ahead.
"Over the last two-to-three years, against the backdrop of COVID-19, we've seen the data centre market mature faster than ever," explains Lamb. "We've also seen investor appetite for the industry get more and more prolific, as investors that have previously sought 'safe', traditional investments have shifted their focus towards ESG and digital technologies."
"Data centres have also become the critical infrastructure where business is facilitated. Advanced facilities such as our high-performance KLON-01 data centre in Harlow have become one of many crucial pillars in the UK digital economy," he adds.
The decline of the modern retail high street due to the rise of ecommerce platforms is one example of an industry that has embraced digital transformation and has seen an increased need for data centres that can cater to a wide range of data requirements.
However, with a complex array of new technologies impacting both data centre designs and computing infrastructures, today's colocation operators need to push the envelope to meet demands for both performance and sustainability.
In this vein, then, sits the organisation that is Kao Data, providing a range of hyperscale-inspired data centres to support compute-intensive workloads and the latest in cutting edge technological innovation.
Key differentiators for the company include its Built-to-Suit services, supporting cloud and enterprise providers to fund, design, build and operate ultra-sustainable data centres that underpin UK capacity demands; a scalable and advanced HPC architecture capable of supporting high-density forms of AI and machine learning; and its award-winning technical team, who are responsible for delivering high performance colocation services built upon a combined expertise formed over decades.
Meeting 'mission-critical' market needs
As well as the swift move towards online, there's also been a significant rise in high performance computing (HPC), AI, machine learning, and supercomputing – especially in the UK Innovation Corridor, where the Kao Data brand was formed.
This is due to the expansion of the market for GPU/CPU-intensive computing, the demand for low-latency connectivity, and the massive increase in the size of datasets required by said HPC and AI applications.
To effectively meet these requirements, Kao Data has defined a dedicated data centre road map, with the flexibility to deliver bespoke, high performance architectures, while maintaining a reputation for being one of the most sustainable data centre operators in the UK.
"We're in the process of building the second of four data centres on our Harlow campus," says Lamb. "And demand is accelerating. We're in the final stages of completing the fourth data hall in KLON-01 and have already commenced the building of KLON-02. The facility will provide further high performance and energy efficient, mission-critical services by next year."
The most notable achievement of Kao Data's expansion is the challenging backdrop it has been completed against. This includes rapidly changing market dynamics that have affected global supply chains, industry skills shortages, and Russia's invasion of Ukraine impacting energy supply and cost. Not least to mention an industry accelerated by the COVID-19 pandemic.
"We're seeing a big uptick in customer demand, and, because of our Harlow location, situated between London and Cambridge in what is known as the UK Innovation Corridor, there's over 50 science parks on our doorstep. Furthermore, there are numerous world-leading universities north and south of us in Cambridge and London, as well as other traditional large-scale research institutions utilising HPC on an industrial-scale – meaning Kao Data is perfectly placed to support them."
Kao Data's proximity to such innovative thinkers in the research and start-up communities, as well as its own technical expertise, makes it the perfect home for the UK's most powerful supercomputer – NVIDIA's Cambridge-1 – a prestigious title to hold, particularly when surrounded by an abundance of data centres in London.
In fact, it's the concentration of data centres in West London that has inspired Kao Data's build strategy: ensuring a competitive presence in Slough with a new 16 MW data centre to support cloud and enterprise businesses, while also creating a dedicated high performance campus that houses a series of 10 MW, carrier-neutral data centres in Harlow – perfectly placed for the north and east of London.
"By being more located around the capital, we are able to address a wider marketplace and therefore provide a fairly unique niche compared to the traditional sites in West London," says Lamb. "This means our organisation is well-placed to support cloud and enterprise, while being technically advanced enough to support emerging innovations within HPC, supercomputing and even quantum computing."
Customer collaboration
 and the road to net zero

With customer-centricity and sustainability at the heart of its business, Kao Data has created facilities that both meet the needs of many different businesses while helping to minimise their environmental impact. Part of this dedication was creating an innovative infrastructure platform that has the flexibility to provide industry-leading energy efficiency capabilities and support its customers' compute requirement sustainably, regardless of size or scale.
"What we're trying to do is make sure that our data centres – the base infrastructure that sits behind the data hall – are intricately designed to drive operational and energy efficiency, no matter the type of deployment. The reason for that is twofold: firstly, it makes things far more efficient from a power and cooling perspective; secondly, from an operational viewpoint, it means it's much simpler to install, build and manage. This makes it more cost-effective, meaning we can reduce the cost to our customers by being more energy efficient, powered by renewables, and optimised to offer them a lower TCO – a key point of discussion in the current climate."
Lamb continues: "When we look at things like cooling, we can complement our design quite simply with a direct cooling configuration that will sit easily within what we've deployed to date. We're not seeking to reinvent the wheel or come up with a cunning new plan for a data centre every week. Ultimately, the more complexity you take out of a data centre's design, the more efficient it is, therefore, the lower the cost will be and the simpler it'll be to operate."
"The Kao Data business premise is to ensure operational reliability and minimise our customers risk of downtime, while helping them minimise their environmental impact. We run our customer's IT infrastructure 24/7, 365 without any interruption, but we also have to think about the roles that sustainability and energy demands play."
This pragmatic approach is directly inspired by Kao Data's COO Paul Finch and CTO Gérard Thibault, two of the industry's leading data centre developers and operators. Their commitment to customers is based around a focus on providing the basis for future technological advancements, while directly supporting sustainability requirements.
"Paul and Gérard have really driven that mindset at Kao Data. Their pragmatic approach ensures that what they're doing will deliver something bespoke and highly effective for the customer, and is exactly what they need," Lamb says with a smile, acknowledging the tendency of many data centre operators to instil a "bells-and-whistles" approach that can be both costly and inefficient. At Kao Data, the company chooses instead to address the industry challenges head on, and push the boundaries when it comes to sustainability, efficiency, and uptime.
Strategic investments and future expansion
Environmental, social and governance (ESG) have also become key focuses for investors considering the recent rapid enlightenment to climate change and its effect across the globe. Sustainability is therefore an essential consideration for data centre operators, which is particularly salient when considering the rise of HPC, AI and machine learning.
The continuation of digital transformation will potentially lead to huge proportions of data being created and transferred to data centres, which will, in turn, require more energy per server and generate more heat.
To resolve this conundrum, as well as many other sustainability concerns, Kao Data is actively using 100% renewable energy and embracing alternative renewable fuels such as hydro-treated vegetable oil (HVO), which removes 90% of carbon dioxide from its backup provision. It also models and tests its facilities using digital twins, ensuring its data centre platform is designed around an ethos for energy efficiency.
"The foundational blueprint of the design has been predicated on a very energy efficient approach, which has enabled us to achieve a market-leading low PUE of 1.2, which we're contractually committed to. We use ultra-efficient cooling units to cool the IT infrastructure," explains Lamb, before outlining the company's other sustainability considerations.
"This approach enables us to marry technically advanced deployments with a very low PUE," he continues. "We've taken our own sustainability commitments a step further by being the first data centre operator in Europe to transition all our backup power generators to HVO. This effectively removes all fossil fuel diesel from site, reducing 90% of harmful emissions immediately, and is the same process we'll follow for all our future data centres."
Interestingly, Kao Data has embraced key aspects of the Open Compute Project design methodology and was Europe's first colocation provider to become OCP-Ready™. The company is also NVIDIA DGX Data Centre Certified, meaning if a customer chooses to deploy pre-configured, high-density racks – those that can weigh a tonne or more – the system can be wheeled into the facility and into the data hall without encountering any obstacles. Lamb says that, in instances like this, "customers can have HPC racks delivered, deployed, and powered-up in as little as 20 minutes".
Looking forward, Kao Data is in the enviable position of easily adapting its high performance infrastructure platform to meet customer and sustainability requirements, while eyeing the rise of new technological advancements.
Importantly, it's putting provisions in place to meet accelerated customer demands – something of significant importance as the UK fights to reinforce its position as a leader in the wider technological landscape.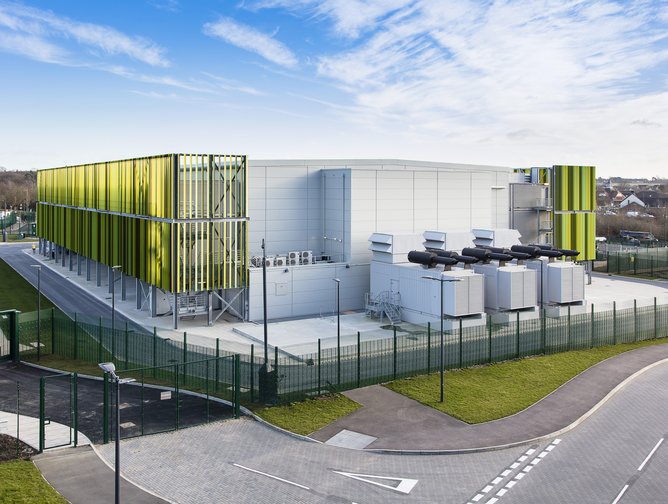 Kao Data Centre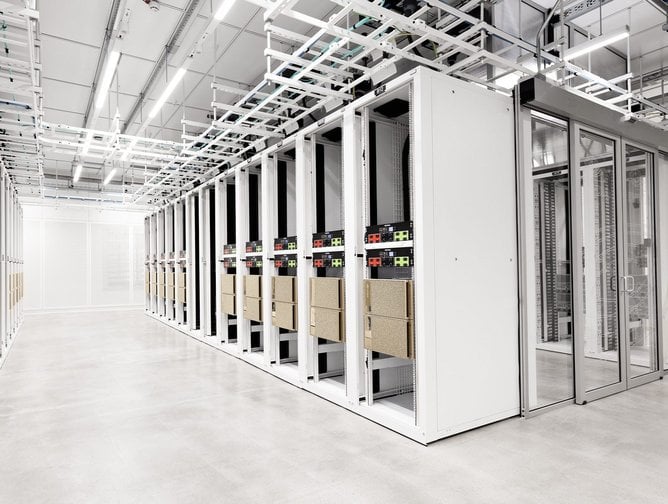 Kao Data Centre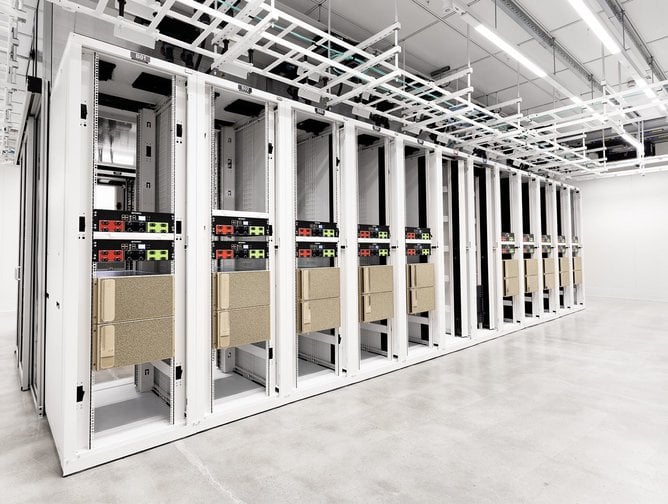 Kao Data Centre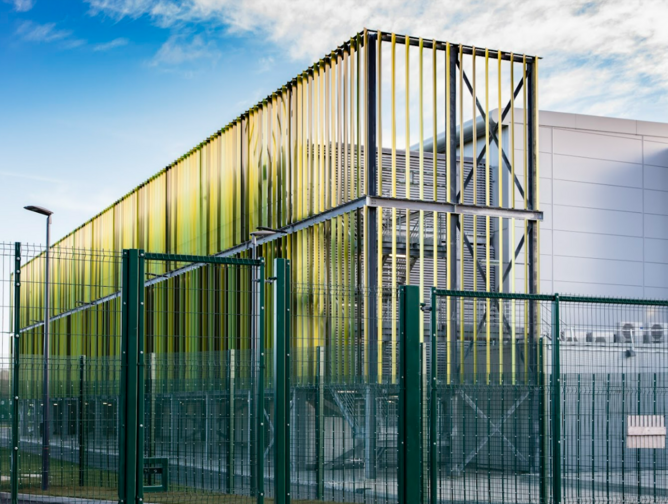 Kao Data