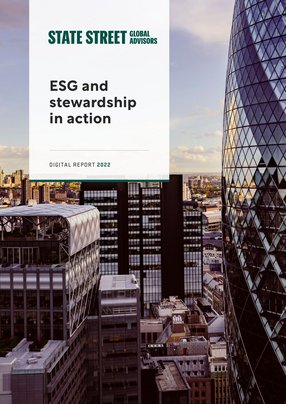 State Street Global Advisors: ESG and stewardship in action
State Street Global Advisors: instigating positive change in portfolio companies by using its voice and vote, influential campaigns and future-planning
The landscape for corporate accountability is changing - and swiftly, at that. Diversity, inclusion and environmental sustainability are at the top of the agenda for both companies and their shareholders in 2022, with an increased emphasis upon building meaningful change into the very DNA of businesses.
Long-time proponents of ESG values, State Street Global Advisors have dedicated the last few years to using their influence to encourage corporate boards and management teams to address concerns relating to diversity and climate-based issues. Indeed, State Street Global Advisors' Vice President and Global Lead of Asset Stewardship Reporting, Philip Vernardis, has been advocating such principles for over a decade - long before it became a trending topic among mainstream business circles.
"State Street Global Advisors is one of the world's largest investment managers, with nearly $4.14tn in assets under management. We are the creator of the world's first exchange traded fund and an indexing pioneer," Vernardis explains. "Our mission is to invest responsibly to enable economic prosperity and social progress. We practise asset stewardship by actively using our voice and vote with portfolio companies. Our aim is to drive positive change on material ESG issues and promote long-term sustainable value on behalf of our clients."
"The majority of our assets under management are invested in index funds, which are investment funds that track a specific benchmark index, such as the S&P 500 or the FTSE All- Share." he says.
Such indices are essential for potential investors, who use the information provided to guide their investment choices. With ESG considerations becoming ever - more important - across general society as well as via governments - companies that have previously fallen short are scrambling to demonstrate their dedication to diversity and sustainability.
For more long-serving business leaders, who are often opposed to change, this new climate of transparency and accountability is difficult to get their heads around - and they don't have long to do so.
"We believe a company's ESG rating will soon effectively be as important as its credit rating," Vernardis states, highlighting the increasing transactional value of social and environmental issues at a corporate level.
ESG: Making an Impact Through Engagement and Voting
The key to being a company that's considered socially responsible is demonstrating a genuine commitment to change and avoiding surface-level PR stunts.
Whether that means an overhaul of systems and structures, bringing in outreach initiatives, or setting up alternate recruitment campaigns, there are plenty of starting points from which corporate teams and shareholders can motivate social progress alongside economic prosperity.
"An index fund is essentially near-permanent capital. Unlike active managers, we can't walk away from a company as long as it remains in the index."
So then how exactly can an index manager instigate change at a senior level?
"If we don't like what a company is doing but we can't sell out, using our voice and vote as shareholders is key to promoting positive change and long-term value creation," Vernardis says, going on to explain the impact of these moves.
"Our stewardship program is designed to have an impact and drive positive changes to promote long-term, sustainable returns for clients. Through engagement and voting we have seen portfolio companies responding to our call to action by, for example, enhancing their board gender diversity or sustainability disclosures and practices."
"Boards should lead the way on ESG. The quality of oversight provided by the board and setting the right tone within the organization can make the difference between a company landing at the front or back of the pack. In our view board accountability is fundamental to strong governance. So, if directors have been on the board for some time and they're not performing and they are not responding to our feedback, then as long-term shareholders we need to keep them accountable," Vernardis outlines. "We usually hold boards accountable by exercising our voting rights on director elections."
"So, for example, with gender diversity, we vote against the re-election of the Chair of the Board's Nominating Committee or the Board Leader if the company has no female directors on the board."
Addressing the ESG Data Challenge
The lack of standardisation and transparency in ESG reporting and scoring presents major challenges for investors and corporates alike. In a bid to address the ESG data challenges, State Street Global Advisors developed their unique R-Factor™ scoring system in 2019 to help clients understand their portfolio exposures, as well as inform their own asset stewardship engagements and investment decisions.
As different sectors are faced with different challenges and opportunities, Vernardis emphasises that the relevance of an ESG issue to a company's financial performance varies industry by industry, company by company: "Focusing on the right ESG issues is key to a company's ability to create long-term, sustainable value for shareholders and investors."
"Investors face two key data challenges: the lack of a consistent, commonly accepted materiality framework and the opaque ESG-scoring methodologies of existing data providers. So we developed an innovative ESG-scoring system that measures the performance of a company's business operations and governance as it relates to financially material ESG challenges facing the company's industry," he explains.
"R-Factor™ is the first system of its kind offering companies a roadmap on how to manage and disclose their ESG practices, allowing them to take the action needed to enhance their scores."
Vernardis explains that State Street Global Advisors' unique R-Factor™ scoring system is fully integrated into their asset stewardship programme. In 2020, they started taking voting action against board members at companies in their main indices that were that were "laggards"(i.e., in the lowest 10% in their industries) based on their R-Factor™ scores and could not effectively articulate how they planned to improve their score. Starting in 2022, they are expanding their voting screen to include those companies that have been consistently underperforming their peers on their R-Factor scores (i.e. being in the lowest 30% in their industries) for multiple years, and may take voting action unless they see meaningful change.
Promoting "Fearless" Diversity Agendas Through Stewardship
In many respects, State Street Global Advisors set themselves apart from contemporaries and were pioneers for the social pillar of ESG. A particular project of which they are - rightfully - proud is the Fearless Girl statue installation, which was temporarily situated in Manhattan's prestigious financial district in March 2017.
During its time in Manhattan, the bronze statue of a girl with her chin raised, shoulders thrown back, and hands on hips challenging passers-by was positioned in front of the famous Charging Bull statue. The message this positioning was sending was abundantly clear, and had a profound effect from the start.
"It's all about the impact for us. We started the Fearless Girl campaign with a symbol: the defiant girl in front of Wall Street's iconic charging bull. And that was a powerful symbol, highlighting the need for companies to improve on gender diversity at a board-level. But there is also substance behind it. Fearless Girl is part of our campaign to encourage companies to add more women to their boards."
"Since we began this campaign in March 2017, and after 5 years of productive engagement and voting, 948 companies have responded to our call by adding their first female director to their boards," Vernardis finishes, proudly.
The aim now is to expand this remit even further.
The Effectiveness of Shareholder Voice on Gender Diversity
State Street Global Advisors' work is all the more important in light of recent research. It suggests that the work of large index investors such as State Street Global Advisors is more effective than government mandates in motivating broad-based governance changes and expanding women's participation in corporate leadership.
Diversity of thinking and perspective in board leadership is critical to the effective oversight of the company and execution of strategy.
"On the issue of gender diversity while boards have become more gender diverse, it is clear that this work is not yet complete. This year we have expanded our campaign on gender diversity from targeting companies in our major indices in select markets to all markets globally. So we now expect all our portfolio companies across the globe to have at least one woman on their boards. From 2023 we expect companies in our main indices to have boards comprised of at least 30% women directors," Vernardis explains.
Climate Change: Supporting the Transition to a Low Carbon Future
Climate change is also a top priority for State Street Global Advisors in 2022.
"Climate change is one of the greatest challenges of our times and consequently one of the biggest risks in investment portfolios today. It also brings with it tremendous opportunities for companies and investors alike," Vernardis says. Regardless of which industry a company sits within, climate change is an ever-growing threat - one that indeed needs to be tackled as a priority.
"We have been engaging with companies on climate-related matters since 2014. In that time, we have had over 900 climate-related engagements across a range of industries and markets. In 2021 our number of climate - related engagements almost doubled. Vernardis says highlighting the heightened focus on this topic. State Street Global Advisors conducted 280 climate-related engagements in 2021, an 89% increase compared to last year (148 in 2020).
"By actively using our voice and vote we have seen portfolio companies responding to our call by improving their climate-related disclosures and practices," Vernardis continues.
Recognising that in recent years companies have come a long way in disclosing and managing climate related risks Vernardis explains: "There is still a lot to be done and we will continue to focus on climate risk and reporting as our core, multi-year campaign. While we welcome the net-zero commitments that many of our portfolio companies have made in the last couple of years we would like to see more robust disclosure on how these ambitions are underpinned by a detailed strategy and capital allocation plans."
"As near-perpetual holders of the constituents of the world's primary indices, we can play a key role in helping drive the transition to a low carbon economy and we are keen to leverage our voice and vote to promote positive change in our portfolio companies," Vernardis says.
"When companies disclose clear, consistent and accurate information on the risks they face from climate change, investors can make more informed decisions to tilt, or even transform, their portfolios for the future. TCFD's disclosure recommendations have become the gold standard for climate risk reporting and we expect all companies in our portfolios to report in line with them. Despite significant progress, there is still plenty of work to be done to improve TCFD's adoption and ensure the framework is truly embedded globally."
Indeed, in its latest status report TCFD finds that for the first time over 50% of the companies under review disclosed their climate-related risks and opportunities. Despite the overall progress TCFD concluded that the overall disclosure is still lacking.
"As such, starting in 2022 we are taking voting action against companies in our main indices that fail to provide sufficient disclosure in accordance with the TCFD framework," Vernardis concludes.
In 2021, State Street Global Advisors became a signatory to the Net Zero Asset Managers Initiative (NZAMI). They are proud to support the NZAMI, which promotes the goal of net zero greenhouse gas emissions by 2050, in line with global efforts to limit warming to 1.5°C.
Their net zero strategy has engagement and voting at its core - aiming to influence positively and hold portfolio companies to account on their climate strategies and commitments to net zero.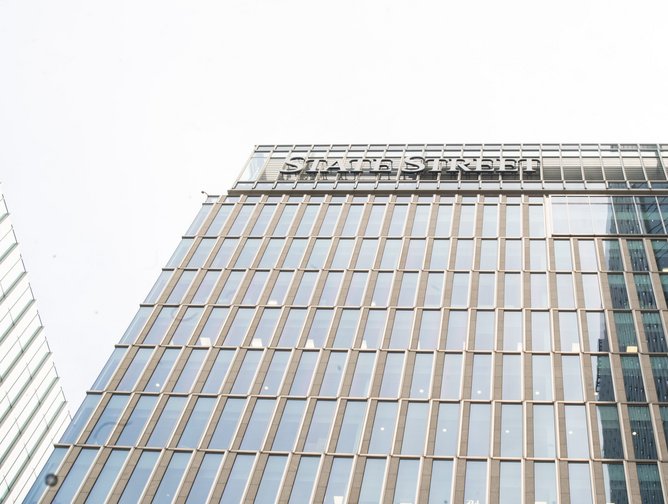 State Street Global Advisors building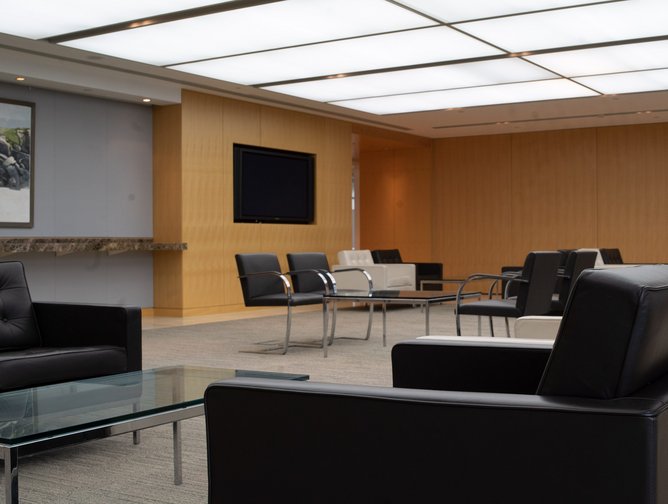 State Street Global Advisors office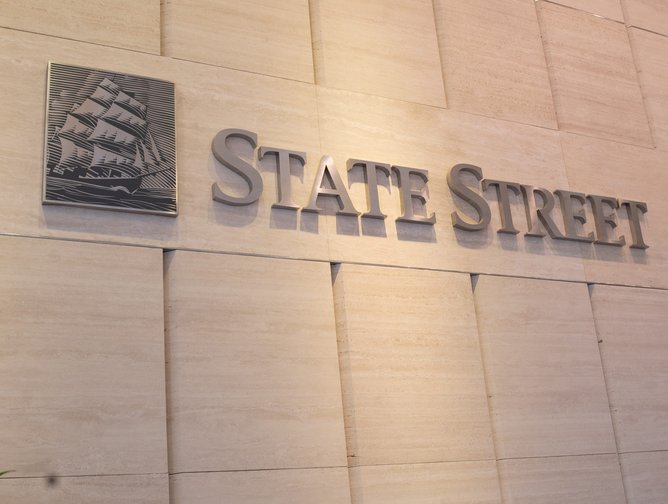 State Street Global Advisors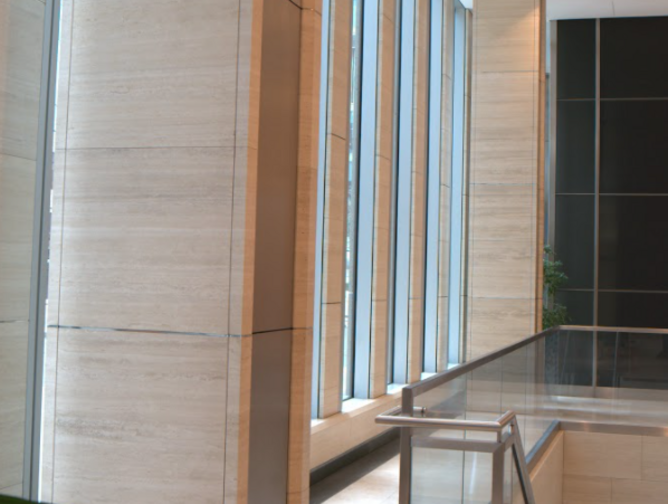 State Street Global Advisors