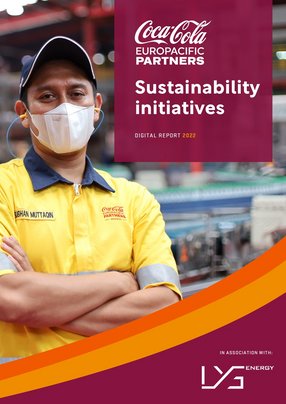 Sustainability initiatives at Coca-Cola Europacific Partners
Coca-Cola's iconic bottles are internationally recognised, but Coca-Cola Europacific Partners aims to implement a more sustainable purpose for used bottles
It's hard to think of a more well-recognised brand than Coca-Cola, with its bright red packaging contrasted against the white logo. Simple, yet effective.
First sold as an alternative to alcohol by former Confederate States' Army veteran and pharmacist John Stith Pemberton, the inimitable soft drink was created in Atlanta, 1892. The drink – and its numerous flavour variations – can now be found across the world in cafes, bars, pubs, hotel mini bars and homes. In fact, Coca-Cola even became the first soft drink to be enjoyed in space aboard the Space Shuttle Challenger in 1985. That same year, the company invented the long-reigning six-pack to help consumers carry more drinks (a tactic quickly picked up by alcoholic beverage competitors).
Another example of the company's transformative effect on pop culture and society can be witnessed in the run up to Christmas. Through one of the most enduring marketing campaigns of all time, starting in 1931, Coca-Cola built the modern iteration of Santa Claus – shifting him from the traditional green suit depicted prior to his now-trademark 'Coca-Cola red' suit, which was consequently cemented into the annals of history. Over the years, celebrities including Taylor Swift, Kate Moss and Aamir Khan have lent their starpower to promotional campaigns, while a photo of Selena Gomez drinking from a Coke bottle became 2016's most popular celebrity post.
Although it has successfully spread all over the globe, Coca-Cola remains banned in two countries: Cuba and North Korea. For such countries, Coca-Cola represents the capitalism of the West and the US' perceived cultural domination over the rest of the world – both of which certain leaders effusively reject.
For Coca-Cola Europacific Partners Indonesia and Papua New Guinea, Lucia Karina is the Public Affairs, Communication and Sustainability Director. In her role, Karina is passionate about implementing sustainable strategies, utilising green energy and working together with stakeholders to support local communities.
"We embed our sustainability initiatives into all of our activities," explains Karina. "Not only for the supply chain section, but also on the commercial side. This forward strategy consists of water management, sustainable packaging, the climate, our society and the supply chain. We are also looking at how we can reduce the sugar content in our drinks."
Coca-Cola's sustainable packaging
For Coca-Cola Europacific Partners, sustainable packaging is one of the key topics on the agenda.
"When we are talking about sustainability, our strategy in Indonesia is to reduce the plastic content in our packaging – that's number one," explains Karina. "I can't say that it is simple, but it is focused!"
The company is also working to implement a reuse or recycle policy to minimise the volume of products going to landfill. "We are removing unnecessary and hard-to-recycle packaging. We want to make sure that 100% of our packaging actually is recyclable."
Coca-Cola Europacific Partners has increased the recycled content in its packaging to reduce the use of new material, including plastic made from fossil-fuels. Not only will this help increase the reusability and recyclability of its packaging, but it also aligns with the changing plastic packaging standards being put in place around the world. In Indonesia, the company joined with Dynapack Asia in a joint venture and built a PET recycling facility, Amandina Bumi Nusantara, with a capacity for 25,000 tonnes every year.
"We have also built the social foundation Mahija Parahita Nusantara in Indonesia. This is a non-profit foundation in which we are working to try and improve the lives and welfare of the waste pickers that work in these communities. We want to ensure that we increase the quality of the collection for the feedstock of the Amandina Bumi Nusantara recycling PET."
Another facet of Coca-Cola Europacific Partners's commitment to sustainability is the work it undertakes with the local government to ensure that all the stakeholders understand their responsibility, working together hand-in-hand in addressing the collection of waste and the infrastructure challenges in waste management.
"We educate, facilitate training, and conduct workshops to build this capability," says Karina. "Our approach with the waste-picker community is not only to increase their welfare, but to also try to educate them."
In an effort to do this, Coca-Cola plans to build a school for the children of waste pickers.
"It's a long journey, but my personal belief is, actually, we can do it as long as we can work together with all the stakeholders," says Karina.
Coca-Cola and green energy
Over in Pakistan, Coca-Cola is enjoyed by many in the primarily alcohol-free population, with Coca-Cola Pakistan boasting a revenue of US$19mn. As well as market success, the company's presence here means that it has had first-hand experience of the importance underlying sustainability initiatives.
Devastating floods this year have left one-third of the country under water and caused thousands to lose their lives, with these unprecedented monsoon rains being attributed to climate change and linked to sweltering temperatures across much of the western world. It's an issue of increasing importance everywhere, so Coca-Cola is keen to mitigate its emissions and utilise green energy.
"Coca-Cola is serious about reducing its greenhouse gas emissions," explains Karina. "Now, we have a sustainability council helping us work together not only with the supply chain, but also with sales and marketing, the finance team, and distribution. We understand that we need to mitigate our climate change impact and to protect the future of our planet."
Internally, Coca-Cola Europacific Partners has committed to decarbonising its business and aims to reach net-
zero emissions by 2040 – ten years ahead of the Paris climate agreement.
"In our day-to-day operations, we strive to reduce all carbon emissions," says Karina.
The company is educating employees through small, sustainable disciplines, such as switching off unnecessary lighting. Coca-Cola is also working with its supply chain and sales teams on how to reduce carbon emissions from the beverage lifecycle – including the ingredients, the packaging, cooling and distribution.
"This is also one of the key success factors for us at Coca-Cola Europacific Partners," explains Karina. "The employees understand our sustainable ambitions; they feel that they have a responsibility in reducing carbon emissions.
"Finally, we are looking at how we can keep our customers happy and enjoying Coca-Cola, knowing that we are reducing our carbon emissions."
In 2019, Coca-Cola Europacific Partners installed their largest solar panel project in Southeast Asia, which is producing clean energy and reducing emissions as a result.
"We are not going to stop here," says Karina. "We will also continue to install solar power in other plants that we have across Indonesia and Papua New Guinea."
With regards to the iconic Coca-Cola bottles, the company is reducing its use of crude oil and is pushing governments to provide the infrastructure for more efficient collection and recycling. Also, Coca-Cola has worked with its suppliers for the coolers to reduce the energy used, in order to keep drinks chilled.
Sustainable partnerships and supporting female staff
Coca-Cola Europacific Partners joined up with LYS Energy to install these solar panels. The independent solar power producer builds and operates solar systems across Asia and the Pacific for commercial and industrial sites. Founded in 2013, the company is headquartered in Selangor, Malaysia.
"It was very important for us to partner with a company that also had a sustainable mindset," says Karina. "The innovation that LYS Energy brought really helped us face climate change and what we could do about it."
Through its partnership with Dynapack, the two companies have teamed up in a joint venture to build a PET recycling facility. Founded in 1959, Dynapack is a leading plastic total solutions provider in Asia, with 33 manufacturing plants.
"Dynapack is also our partner in the social foundation non-profit organisation that we built to support the collection of used PET Coca-Cola bottles," says Karina. "In addition to that, they are really helping us to provide a more efficient system for plastic packaging. They also have sustainability principles, which means we can work together and close the loop for plastic beverage packaging in Indonesia."
In Karina's experience, the key ingredient to a successful partnership is to have the same core principles. "I think that's number one – to have the same principle. For us, it was on sustainability and human rights. At Coca-Cola Europacific Partners, we believe that if we are going to grow, we have to grow together. To do that, we need a partner that has integrity and who can offer a new solution to help us achieve our future objectives. That is, for me, most important."
For Karina and her team, the next 12 months at Coca-Cola will be spent focusing on their sustainability agenda.
"We are ready to commit to achieving the objectives that we have presented to our board and external parties," Karina explains. "We aim to reduce our water use in manufacturing and we want to find a way to recycle the water in our plants; we have to make sure that this water fulfils international standards."
As a system, the company hopes to achieve 100% water replenishment, planning to work together with The Coca-Cola Company and local communities to manage this and other initiatives, such as reforestation.
"We're planting trees and educating the local community to maintain the water so that when they use it, they make sure that it remains at a good quality," explains Karina.
Coca-Cola is working with the local government to manage a reduction in water stress in Indonesia, but reducing its greenhouse gas emissions remains one of its strongest commitments.
"Beyond 2023, we are working closely with our vendors and our employees on how we can achieve renewable electricity by 2030. We also aim to make our primary packaging 100% recyclable by 2025 and achieve 100% plastic collection by 2030."
Coca-Cola Europacific Partners Indonesia's ambitions don't just include the emissions and the environment, but place a focus on people, too – specifically on supporting female staff.
"We have workshops for women, such as coaching and mentoring programmes for our young female employees. For the local community, we also expand the contributions to help them build their capability and also capacity," says Karina.
"We also have a social entrepreneurship programme to increase skills. We teach entrepreneurs the use of the PET bottle, how they are collected and how this waste becomes a good value for money. We help them understand how they can contribute to Indonesian nature. Our health education programmes advise attendees on how they can maintain a healthy lifestyle."
Looking to the future, it's clear that Coca-Cola Europacific Partners will be at the forefront of sustainability initiatives in the region – from the office to the supply chain and beyond.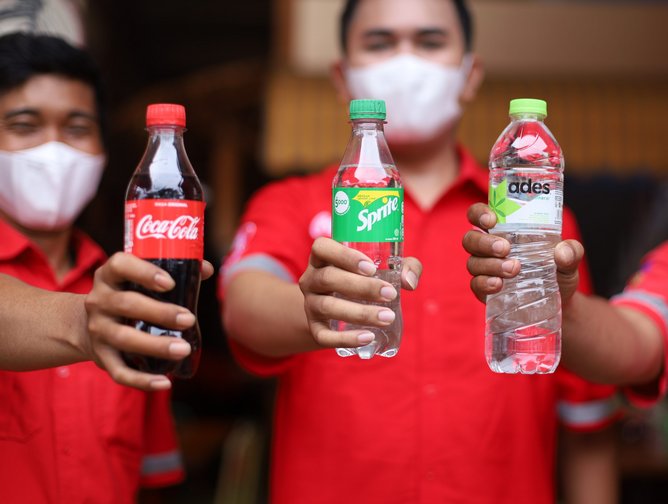 Coca-Cola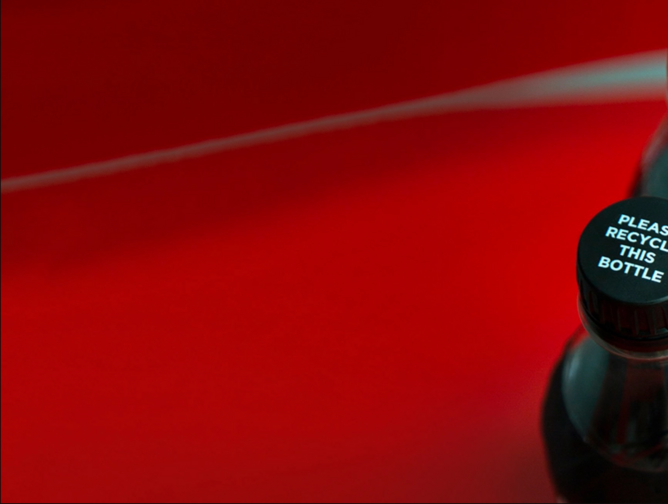 Coca-Cola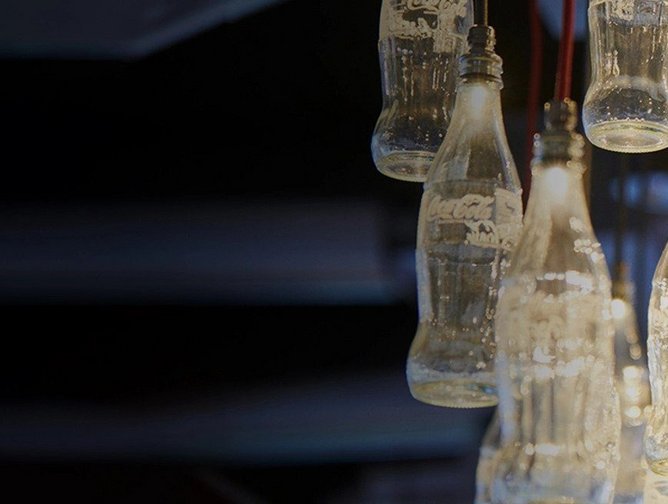 Coca-Cola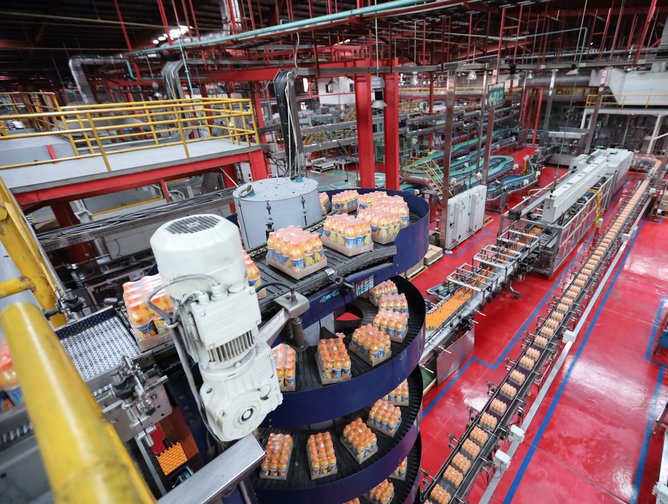 Coca-Cola