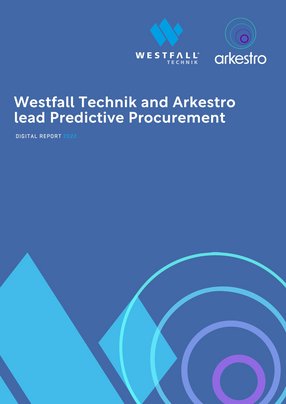 Westfall Technik and Arkestro lead Predictive Procurement
Westfall Technik's David Schultz and Arkestro's Edmund Zagorin explain how machine learning and game theory can benefit supply chains across industries
There's an old saying, which in a world awash with 'Big Data', has taken on greater meaning: 'All models are wrong; some models are useful.'

But forward-thinking companies are working on how to tame overwhelming amounts of data, with machine learning (ML) and artificial intelligence (AI) to speed up processes, save on spending and find new opportunities for business growth.

These industry leaders include Las Vegas, NV headquartered Westfall Technik. The growth trajectory of Westfall Technik has proven to be compelling for customers and the markets alike. Accelerated by the significant platform built through the acquisition of 15-20 companies over a 4-year timespan, the company has seen continued solid organic growth from their customers in their target markets of healthcare and consumer packaged goods and continues on their new customer acquisition journey.

Westfall's corporate methodologies backed by their "Stacked Integration Model" certainly deliver as it relates to their value proposition supported by correlative moulding processes and effective Industry 4.0 concepts.

Westfall's portfolio of healthcare-related products features medical devices, pharmaceutical delivery systems, diagnostic tools, consumer health products, and a range of services that also includes the moulding of plastic parts used in COVID-19 diagnostic rapid testing for both home and clinical use.

VP and Chief Supply Chain Executive David Schultz joined Westfall in February this year. He is responsible for the global supply chain across the entire enterprise, covering a broad range of critical responsibilities, including all areas of procurement and supply chain functions.

"Westfall is a company that's made over 15 acquisitions in the last four and a half years. This activity, along with significant organic growth has resulted in explosive expansion, with several hundreds of millions of dollars in revenue," explains Schultz. "And, as all those companies were brought together, I was approached by Mark Gomulka, the CEO of Westfall Technik who said 'We need somebody to come in and put this all together, make this all work as a cohesive unit.' And that's now my major goal: to bring all those operating units together and build teams of people who can leverage the proper intelligence."

Tackling the challenges of volatility and complexity

Among Schultz's early business decisions was the introduction of a Predictive Procurement Orchestration solution provided by San Francisco-based Arkestro for use across the entire Westfall enterprise.

"I first met David at a Chief Procurement Officer event, where he was chairing the conference and giving a talk about the state of the market and some of the changes that he was seeing," says Arkestro Founder and CEO Edmund Zagorin. "I saw that we had alignment in terms of how we perceived the market landscape. One of those key points of alignment was that there's so much volatility and complexity that it can be really challenging to deliver business impact fast using any digital solution that requires widespread user adoption as a dependency to be successful. That's something that we take really seriously, so David and I got to talking, ultimately finding that we had vision lock."

Zagorin has a background in quantitative network analysis and strategic sourcing consulting. He and his team launched Arkestro to help large enterprise procurement teams solve tough supply chain problems, drive continuous process improvement, and – in his own words – be their supplier's best customer.

Westfall is also an Arkestro Corporate Alliance Partner and will advise on the functionality of new Arkestro products and capabilities. Westfall recently joined the Association of Plastic Recyclers' Demand Champions Program and the Ellen MacArthur Foundation's Global Commitment for a New Plastics Economy.

The Arkestro platform embeds preferred outcomes into any organisation's system or process, which practically means pre-populating validated data about the supplier, the pricing and commercial terms of a transaction. It accomplishes this using an AI model that simulates a procurement cycle before it happens and then sends recommendations on quotes to the suppliers. Arkestro also routes more purchases to preferred suppliers (including suppliers that align more with ESG and risk objectives) and the price recommendation functionality saves significant time and resources.

Environmental, social and governance (ESG) criteria are vitally important, so Westfall Technik also leverages the Arkestro platform to ensure they are working with suppliers that meet their environmental goals, while improving the effectiveness and productivity of the internal supply chain team.

"Westfall Technik's decision to work with Arkestro validates the value that we bring to managing supplier relationships, while also highlighting an important and innovative use case for us," says Zagorin.

Investing in technology means investing in people

Schultz says he had a very specific challenge he wanted to address at Westfall and was initially drawn to the platform's predictive pricing feature, which he felt was unique and well-suited to offer transparency and credibility with the supplier base. Once he took a closer look at the platform, he realised it was the most practical solution to provide the best value possible in the least amount of time.

"David came to me shortly after joining the organisation and suggested multiple options to accelerate the transformation to one operating system and mindset," says Westfall Technik CEO Mark Gomulka. "It was vitally important that our supplier and customer partners fully understood the power of One Westfall and the competitive advantages for their respective businesses. The Arkestro platform has been a key part of our strategy to attain this vision on the supply side of the equation."

Schultz found that the team of people behind the platform were also eager to support his own business operations, as well as the vast ecosystem of suppliers he deals with on a daily basis.

"We invest in people," explains Schultz. "It's not just technology, it's people, and the pedigree of Edmund's background and experience as well as his vision for the company – this was all very reassuring to us. In particular, we need the suppliers to want to participate, cooperate, and know they have taken part in a fair process.

"Data-driven solutions are the ultimate goal – we should all do our best to ignore any opinions masquerading as fact," says Schultz. "There's certainly a tremendous amount of information out there about AI and ML, which is very important, but I often remind myself that it's the intersection of artificial intelligence with human intelligence that really makes it all work."

Arkestro is at the forefront of cost modelling by ML and behavioural science, says Zagorin, following the groundwork on dynamic pricing laid by Expedia and Uber.

"Predictive pricing is a concept that fundamentally simplifies a transaction," says Zagorin. "It's not necessarily better for one side or the other; the advantage is it's so much faster to settle the terms of the transaction, enabling both parties to move on to building great supplier relationships.

Machine learning turns months into minutes

The Arkestro platform is designed to cut through the disparate collection of workflows and workarounds that a typical company has to deal with today in order to source pricing for everything from materials to spare parts. This might include suppliers working with manual spreadsheets, having to copy and paste prices and pitches, dealing with procurement teams on a case-by-case basis, and a wealth of additional measures, each created from scratch by individual companies and teams.

"And, in many cases when it comes to long-held supplier relationships, personal knowledge of the companies is important when making supplier decisions," says Zagorin. "Traditionally, the entire process can take, conservatively speaking, weeks, but frequently, months and sometimes years depending on the complexity. When we looked at this, we knew that if we simulated the process at the start where requests are pre-filled with validated data-driven recommendations, Arkestro could make it so much easier and faster for suppliers to conduct business."

Arkestro's data and behavioural economics research backs this up, demonstrating how the platform is better in financial terms for the procuring organisation, particularly for those companies looking to scale operations across more spend without necessarily having additional procurement headcount available.

"That's really Arkestro's mission: to amplify the impact of procurement's influence," says Zagorin. "And that's where we see the power of embedding ML recommendations on price and supplier terms into processes wherever they are – be that email, spreadsheets or other systems the company might already be using."

Westfall's work with Arkestro has allowed Zagorin's team to learn from a large company working with thousands of suppliers. Zagorin himself has said that David's input has been something of an inspiration, particularly his drive to get teams working with data to see what benefits can be generated.

"David got his team to 'kick the tyres' and challenge us really early on when we came together," says Zagorin. "I'm always a student of our clients, and David has a great ability to get people in a room to say, ' We're going to see how this works, so let's analyse the data and use it carefully and strategically to make the proper decisions'. David has referenced on several occasions that in the business world we all need to be cautious of 'opinion masquerading as fact'. It's been really powerful and a big part of what's made the partnership so great."

Schultz says that he and his team have been impressed with the Arkestro platform's ability to bring order to traditional networks of suppliers, contacts and contracts which inevitably produce a cascading flow of actionable data at every turn.

"It's been awesome to see what our extended team at Westfall has done with the platform," says Schultz. "Most procurement and supply chain leaders will tell you every industry's a little bit different, every category of spend is a little bit different, that there are unique dynamics with a supplier relationship based on how much money you spend with them. Or perhaps it's a case of 'Do we have a contract with them? How often is that potentially going to change? Is the contract being used as a kind of ad hoc purchase?' All of these questions create a tremendous amount of complexity – and complexity can often mean more work. That's why having model-driven recommendations can help cut through the noise.

"It's that old expression," he says. "'All models are wrong; some models are useful' – we would say that all models are wrong, some models are useful, but the Arkestro model – used in partnership with our customers/suppliers – is the best way to get a rapid, tangible business impact."

Westfall Technik & Arkestro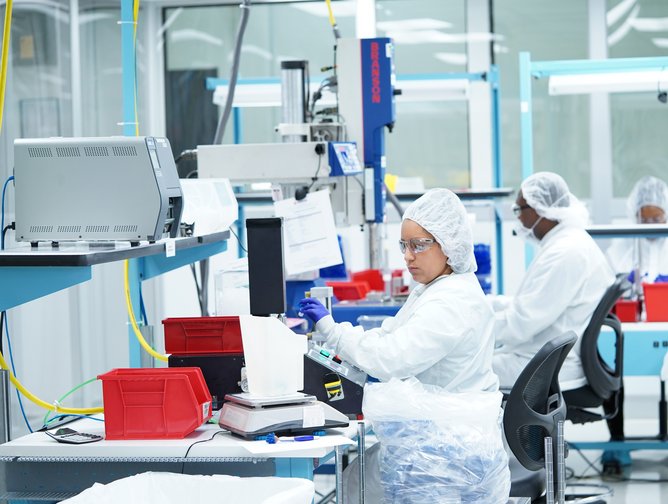 Westfall Technik & Arkestro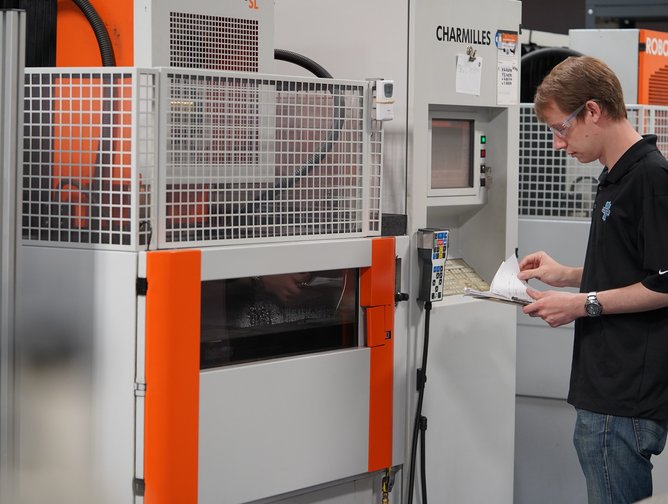 Westfall Technik & Arkestro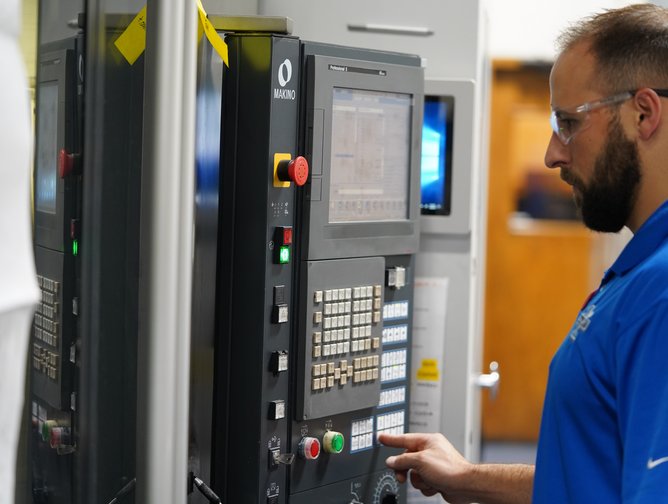 Westfall Technik & Arkestro