Diversity & Inclusion (D&I)
Barclays ERGs encourage diversity, equity and inclusion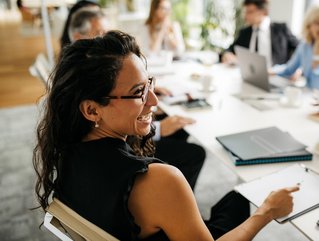 Hannah Awonuga and Ray Dempsey of Barclays discuss the effectiveness of its employee resource groups (ERGs) in promoting diversity, equity and inclusion
Improving diversity, equity, and inclusion in the workplace begins with the employer. Companies like Barclays are well-positioned to promote meaningful change within society and creating diverse working environments is one way they can accomplish meaningful change. So, what is Barclays doing to build inclusivity into its business?
Incorporating diversity, equity, and inclusion into the business
With around 83,500 employees globally, 25,000 of them are involved in the bank's 12 employee resource groups (ERGs). The purpose of the groups is to allow voices to be heard, which is the first step in ensuring the business caters for all individuals, as it incorporates the input of people from all backgrounds.
Hannah Awonuga, Global Head of Colleague Engagement, Diversity and Inclusion at Barclays, says the 12 ERGs help employees to get involved in the company and make it suitable for them and other members of the organisation. "The purpose of our global Employee Resource Groups is to amplify the voices of our diverse workforce – to better understand the needs of our colleagues, clients and community by enabling them to create a sense of inclusion and belonging," says Awonuga.
What are the 12 employee resources groups?
Barclays' ERGs are set up to include individuals of all nationalities, genders and working backgrounds:
Reach - The disability ERG
Win - The gender ERG
Spectrum - The LGBT+ ERG
BMRG - The military ERG
WFRG - The working families ERG
Emerge - The ERG for developing junior talent
Evolve - The ERG for midlife progression
APRG - The ERG for Asian professionals
LPRG - The ERG for Latin professionals
BPRG - The ERG for black professionals
MCRG - The multicultural ERG
Inspire - The social mobility ERG
Barclays' multiple DE&I agendas
As a result of implementing its ERGs, Barclays is able to target its six main agendas: multicultural, socioeconomic inclusion, gender, disability, LGBT+ and multigenerational. According to Ray Dempsey, Group Chief Diversity Officer at Barclays, the company wants to build a wider sense of community across its workforce.
"They provide an opportunity to build a community of colleagues and allies with shared goals and interests," says Dempsey. "They are constructive influencers to our senior leaders and act as a collective voice for our colleagues. They create connections, provide support and enhance our talent attraction and retention efforts. And in support of their membership, ERGs provide mentoring and leadership development."
• Join global business leaders and sustainability experts taking meaningful action at Sustainability LIVE, held at Tobacco Dock, London, 23-24 February 2022. Register to attend today! Click here to learn more.