Diversity & Inclusion (D&I)
Refinitiv leverages ESG insights to produce a DEI report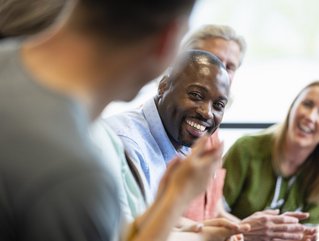 As cultural diversity and female inclusion increase in the workplace, Refinitiv analyses ESG data to highlight the shift in DEI in industries and regions
Diversity, equity and inclusion (DEI) are three words that organisations are using in day-to-day conversations, particularly as they arise from the effects of the coronavirus pandemic. But the next task that leaders face is to determine how they implement strategies for DEI.

Companies are currently building up their teams both in support of diverse workplace development, but also to practise what they preach, as many of them strive for an even split of male and female representation at board level.

How much of this stems from the global pandemic and where is it heading?

Refinitiv—a business owned by the London Stock Exchange Group (LSEG)—provides environmental, social and governance (ESG) insights to organisations through its dedicated platform, but with the 'S' in focus, it released a research report with a focus of DEI in the post-COVID world.

What DEI accelerated by COVID-19?
With access to an abundance of data, Refinitiv has compiled a global overview of the DEI presence based on figures from the period 2020 to 2021—when the bulk of the coronavirus outbreak took place. As more employers look to bring their teams back into the workplace or even allow them to remain on a hybrid-working basis, insight into DEI around the world allows them to make better-informed decisions based on other employers and employee insights.
Using Refinitiv ESG data, the firm has identified the leaders in DEI across the globe.
Scoring diversity and inclusion across regions and industries
The data shows that the top performing regions in terms of diversity and inclusion (D&I) are Africa and Europe, which received some of the highest D&I scores against the performance of companies within them. These scores are based on Refinitiv's set of 24 metrics, including:
Board member gender and culture diversity
Female employee count
Flexibility of working hours
Wages
Training and promotional opportunities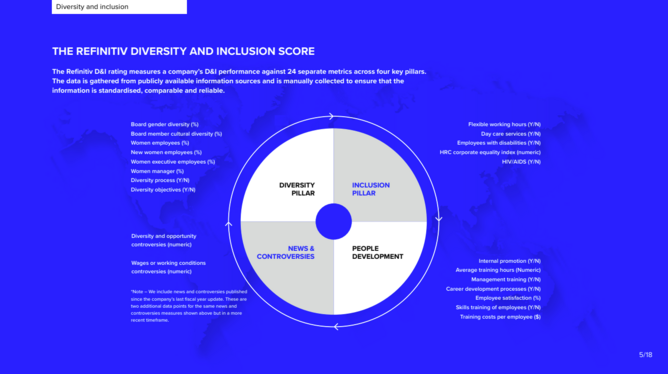 The score presentations are also broken down into various categories, including D&I scores across certain regions, within different industries, and separately as 'diversity' and 'inclusion'. Scores are also presented in relation to people development in both regions and industries.
Refinitiv selects the D&I trends
Following the coronavirus pandemic and other unprecedented hurdles that industries faced over the past few years, organisations are still considering D&I as a high priority, but employees more so. Therefore—backed by the report—the key focus points for businesses are the cultural diversity within their workforces as well as the workplace transition. The encouragement of board diversity across businesses could also work as a catalyst for more cultural representation.

To find out more about Refinitiv and read the full report 'Diversity and Inclusion in the Post-COVID World', click here.