Carlsberg share developments in sustainable beer brewing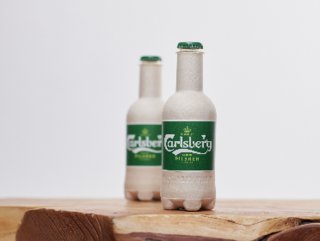 VP Group Development, Stephan Munch comments on Carlsberg's sustainability achievements in circular packaging roll out and sustainable barley sourcing
Sustainable packaging has graced the likes of Deliveroo and other food delivery providers, supermarkets are introducing alternative packaging solutions, and Carlsberg is now contributing with its latest recyclable bottle development.
The company's ongoing packaging innovation project will see the design and production of its Fibre Bottle, a bio-based packaging solution that was dreamed up by the business and its partners Avantium, Paper Bottle Company (Paboco) and Paper Bottle Community.
Paper packaging for a circular economy
The first pilot of the bottle will take place as 8,000 of them are sampled across eight Western European markets, including the countries: Denmark, Sweden, Norway, Finland, the UK, Poland, Germany and France. These bottles will be supplied for consumption at festivals, putting them into the hands of those who are likely to use them.

The bottles will be made from paper with a new innovation that will seal the bottles to make them suitable for carrying liquids. The plant-based PEF polymer lining is a new addition from the company, which it has been working on with Avantium as the lead in renewable chemistry solutions.

"We are delighted to bring our new Fibre Bottle into the hands of consumers, allowing them to experience it for themselves," stays Stephane Munch, VP Group Development at Carlsberg.

"This pilot will serve a greater purpose in testing the production, performance and recycling of this product at scale."

"Identifying and producing PEF, as a competent functional barrier for beer, has been one of our greatest challenges - so getting good test results, collaborating with suppliers and seeing the bottles being filled on the line is a great achievement!"

The next step to follow as Carlsberg works with Paboco is to produce a fibre-based bottle cap to complete the circular design.
Sustainable beer beyond packaging
While the company has been working with its various counterparts to produce the bottles, it has undergone further improvements to the beer itself. Working with Soufflet, a barley malt supplier, the brewery has made the switch to organic barley, which has been cultivated by means of regenerative agriculture. By planting cover crops in its barley fields it will contribute to the regeneration of green space and the sequestration of carbon from the atmosphere as well as creating better quality soil and increasing biodiversity on farmland.
Simon Boas Hoffmeyer, Group Sustainability Director at Carlsberg, says: "The progress made with our new Fibre Bottle is testament to Carlsberg's pioneering spirit, with a focus on making better products in every sense of the word."

"We've been working hard on this project since 2015, and aim to continue to set the industry standard by further improving the bottle's environmental footprint and product performance. Collaboration is key and, together with our partners, we're excited to see how research and development into sustainable packaging solutions is now becoming the norm."