Coca-Cola's Brand Campaign for Sustainable Glaceau Packaging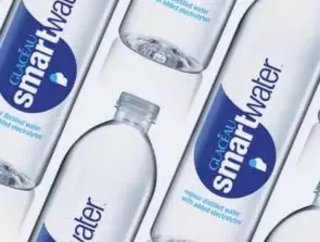 Coca-Cola is making the most of the summer with a campaign to promote the Glaceau brand and its sustainable packaging development
Glaceau Smartwater, owned by The Coca-Cola Company, announced a new campaign for the brand. The bottled water brand is making changes in support of sustainable business, as it begins the process of using recycled plastic for its bottles. 
Like many consumer goods companies, The Coca-Cola Company is on a sustainability journey. The company has begun tackling some of the issues surrounding its products, beginning with its packaging. Earlier this year, Coca-Cola announced it is trialing the use of a newly developed packaging for its beverage products, consisting of paper-based materials. The bottle is currently in the prototype stage and yet to be seen on-shelf. 
One product in the company's range has received an invisible, yet necessary,  packaging update. Glaceau Smartwater is known for its '100% recyclable' attribute, and since last year the company has completed the cycle by using 100% recycled plastics in the making of both 600ml and 850ml bottles - meaning the entire bottle is made of PET that has been used at least once. 
The company is working on a marketing campaign, which is centred around the recycled materials and boosting the awareness of its sustainability initiative. The design of the bottle will receive summer labelling, with connotations of the recycled plastic used, including messages like 'Have we met before?' and 'Hi there, me again'. 
Martin Attock, Vice President of Commercial Development at Coca-Cola Europacific Partners GB, says, "Sustainability is at the heart of everything we [do] for Glacéau Smartwater and this has built strong brand equity with consumers, especially young adult – who are frequent bottled water shoppers. The summer and beyond, our strategy is to become their water of choice when they're on the move, by leveraging our sustainability credentials to help retailers boost sales." Attock also has high hopes for the summer as Covid-19 restrictions are lifted. "As restrictions continue to ease this summer, we are confident this new campaign will appeal to those looking for hydration while out and about," Attock says.
The company has also received comments from Environment Minister Thérèse Coffey, saying, "congratulations to Coca‑Cola on making this significant step to help our natural environment." Coffey continues, "These initiatives, including using more recycled plastic in their bottles, set a fine example to other large businesses and we hope that others follow suit."
"We all have a responsibility to our environment. Through our landmark Resources and Waste Strategy, the government is committed to going further and faster to reduce, reuse and recycle for a more circular economy."