How did Lafarge contribute to sustainability in 2020?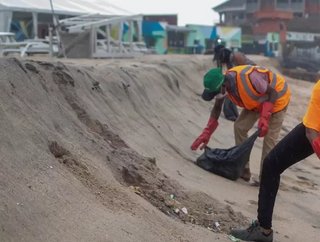 The Lafarge Africa 2020 sustainability report highlights the companies efforts to support environmental and social causes in the cement products industry
Lafarge Africa—an African subsidiary of Holcim Group, was established in 1959 and oversees operations and sustainable development in the country. With a strong commitment to sustainability and a circular economy, the company prides itself on developing communities and supporting wider environmental issues. 
Lafarge Africa has announced its 2020 sustainability report outlining its corporate activities over the past year and statistics that back up its achievements:
It utilised 71,029 tonnes of waste across its operations, producing 9% of its energy from alternative sources like used tyres and waste incinerated ash. 

Reduced its CO2 emissions to 583kg per tonne of cementitious material.

Installed water flow metres to reduced freshwater withdrawal by 26 litres per tonne for cement. 

More than doubled its community support activities through the distribution of relief materials and medical equipment—increasing from 115,000 beneficiaries in 2019 to 250,000 in 2020. 
'Our efforts towards creating shared value for our society and environment are in line with the triple bottom line of people, profit and planet'.
A sustainable approach to material production 
The company promotes sustainability and diversity across all of its business practices. The report outlines its vision of 'Building a Stronger Nigeria', through the promotion of shared values, supporting people within the business, and providing consistent services to the construction sector. 
Prince Adefioye, Chairman of Lafarge Africa plc, spoke in a virtual presentation that took place as the report was released. 'By deploying innovation we are championing how Nigeria builds better. It is holistic and strategically driven to ensure that we are scaling in reach and impact in the economic and environmental spheres. In the social sphere, we are also deliberately implementing initiatives that further prepare us for the future such as leveraging technology and improving our diversity indicators', says Prince Adefioye.
Technology has provided more capabilities for the company. With the adoption of Global Reporting Initiative (GRI) standards, Lafarge now puts material use at the 'heart of sustainability performance management'. Compliance with the ISAE 3000 standards also allows the company to validate key performance indicators and utilise recommendations from the independent management report. 
Check out the full sustainability report here. 

For more sustainability insights, check out the latest issue of Sustainability Magazine.