Marleen Oberheide, OneTrust 'ESG is the critical next step'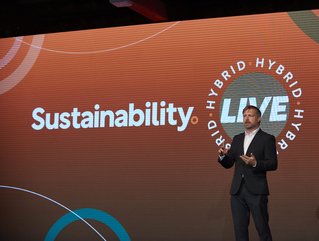 OneTrust's Marleen Oberheide speaks at Sustainability LIVE discussing the role of digitalisation in decarbonisation and why ESG is the critical next step
Sustainability LIVE hosted hundreds of attendees in-person and thousands via its virtual stream, providing access to great sustainability insights from across the globe. One company that was instrumental in making this happen was OneTrust, the provider of an environmental, social and governance (ESG) platform.
Speaking on behalf of OneTrust was Marleen Oberheide, Sales Engineering Lead EMEA ESG & Ethics at OneTrust, who appeared on a couple of occasions over the course of Sustainability LIVE. Oberheide first contributed to the panel discussion 'No Decarbonisation without Digitalisation', which talked mainly about the use of data in decarbonisation and how the need for transparency has grown over recent years.
"Data is the new oil and we've all heard this before. There is more and more data and especially when we talk about carbon accounting and decarbonisation," says Oberheide. "We need to understand what's going on in our organisations and in our supply chains."
The significance of Oberheide's input comes from her role at OneTrust, which is instrumental in allowing its clients to utilise their data more efficiently and become more sustainable.
Why is ESG a critical next step for businesses?
Later in the show — on day two — Oberheide was welcomed to the Sustainability Stage to give her keynote on 'ESG: Why It Matters To Your Business, Board and Investors'.
During her sessions, Oberheide outlined some of the key investment trends, tips for success, and the benefits of OneTrust ESG in supporting businesses throughout their sustainability journeys. She explains the significance of ESG for investors, drawing on some insights from the media as well as her own experience working with businesses.
"ESG is no longer this fun little thing that companies do on the side because it's the right thing to do, because it feels good, but money is involved, and boards and investors are looking at this," Oberheide explains.
OneTrust ESG supporting business ESG initiatives
OneTrust ESG's platform provides businesses with the capabilities to collate, analyse, and action their data to successfully carry out their ESG initiatives and accelerate their sustainability journeys. Some of OneTrust's solutions include sustainability & finance and ethics & compliance, as well as safety and risk audit.