McDonald's opens pioneer net-zero fast-food restaurant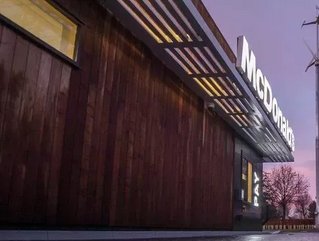 As net-zero becomes a prime focus for large corporations, McDonald's has opened a new restaurant that will become its sustainability blueprint
We can see how far construction and renewable energy have come through various means, but the latest McDonald's branch amalgamates the two perfectly and represents the UK's capabilities sustainable building design and net-zero construction methods. 
The global fast-food chain opened its first carbon-neutral restaurant, which leverages various technologies and innovations, making it a blueprint for further branches. 
McDonald's showcases sustainable innovation in the UK
The branch, constructed in Market Drayton, Shropshire, was designed for net-zero construction as well as everyday operation and is one of the industry's first branches to do so. While the building looks very similar to the company's existing branches, its adaptations provide certainty for the company as it looks to decarbonise all of its 1,400 restaurants and offices by 2030. 
The Shropshire-based restaurant is not just net-zero in function, but also its design: 
The 'Kerb stones' for the project are made from 182 recycled bottles, which reduce carbon emissions by 25kg per stone compared to the conventional concrete material

The walls are insulated will British sheep's wool that could have been sent to landfill, but will now replace man-made materials

Cladding is made from recycled IT equipment and white goods like washing machines 

Wall signage is made with used coffee beans to support a circular economy

The Drive-Thru lane was made using recycled tyres, allowing more water absorption and minimal carbon emissions

Natural areas such as a nature trail and biodiversity gardens allow more rainwater collecting and create a natural environment for creatures

The most prominent feature of the building, the two wind turbines and 92 square metres of solar panels that produce an annual total of 60,000kWh of energy.
Finishing the design with net-zero materials
'At McDonald's, we believe that our food needs to be served in restaurants that are sustainable for the future', said Beth Hart, Vice President Supply Chain and Brand Trust at McDonald's. 'Market Drayton is a big step towards making that a reality, enabling us to test and put into practice what a net-zero emissions building, both in build and use, really looks like. We've already started to roll out some of these innovations to other restaurants, but what is exciting about Market Drayton is the fact it will act as a blueprint for our future new builds'. 
Beyond the performance and design of the building, McDonald's is also furnishing the restaurant with used materials, such as wall art made from polystyrene cups while using potato starch to fix them in place. The furniture is made of 100% recycled materials and customers are able to charge electric vehicles (EV) while they visit the restaurant. 
Simon McWhirter, UKGBC's Director of Communications, Policy & Places said, 'The challenge of decarbonising the construction industry is a complex one, but McDonald's commitment to building the first restaurant in the UK in line with UKGBC's net-zero carbon buildings framework is a critical first step. We welcome the ambition to achieve net-zero emissions for all McDonald's restaurants and offices by 2030'. 

For more sustainability insights, check out the latest issue of Sustainability Magazine.