The ICA pledges net-zero for the global copper industry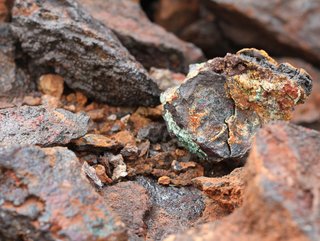 The International Copper Association set out its roadmap for decarbonisation
Addressing emissions in a critical sector, the International Copper Association has agreed a net-zero pledge for Scope 1, 2, and 3 industry emissions
Mining is the beginning of the supply chain for many industries. For that reason, sustainability and transparency is paramount right from the word "go".
With the supply chain being such a versatile force in planetary climate change, and a major influence on the success of a multitude of businesses, it's clear to the organisations involved that something must be done to eliminate carbon emissions from their work.
The criticality of mineral and metal sourcing has been recognised by the International Copper Association (ICA), which set out a new roadmap to ensure that copper resources meet Scope 1 and Scope 2 emissions by 2050, and further plans actioning Scope 3 in the process.
Speaking in response to the roadmap, Bernard Respaut, Global Lead, ICA Clean Energy Transition and Chief Executive of the European Copper Institute, says:

"Through our roadmap, additional partnerships and individual commitments, our members are on a pathway toward meeting the expected rapid growth in copper demand as sustainably as possible.

"However, we cannot achieve carbon-neutral copper production by 2050 on our own. Our industry needs a global regulatory environment that prioritises innovation, stability and long-term predictability. We are ready to work with every stakeholder to ensure responsible, sustainable copper production for tomorrow's net-zero world."

Keeping track of copper sustainability
As one of the key supplies for various businesses, copper is used in a vast number of applications, including energy generation, transmission, and digital applications. Aside from the energy sector, the sustainable sourcing of copper for housing is crucial to ensure the real-estate supply chain is able to track emissions records.

The roadmap sets out the necessary steps for abating Scope 1 and Scope 2 through the use of new sustainability technologies and the impacts that carbon offsets will have on the industry.

"Copper is the cornerstone material for a net-zero future, and our industry is committed to producing copper sustainably and with a steadily reducing carbon footprint," says Anthony Lea, President, International Copper Association.

"Meeting net-zero goals requires more than just investment; it requires partnerships across the entire value chain. ICA's members are ready to collaborate and partner with all stakeholders to further improve industry sustainability and meet our 2050 goals."

Other industry leaders commenced on the roadmap, including Glencore, Antofagasta, Freeport-McMoRan, and Teck Resources.

"Copper is the catalyst at the heart of the energy transition, with two thirds of the technologies for decarbonization requiring copper as a core component. We at ICA want to ensure that how we produce that copper is aligned with its most common end use of enabling and accelerating the low carbon transition," says Shehzad Bharmal, ICA Chair and Senior Vice President, Base Metals at Teck Resources.

"That's why ICA members have aligned on a collective plan to catalyse the industry's progress toward net-zero production. ICA's roadmap lays out a pathway to build on existing member company commitments to responsible copper development while meeting the growing demand for this essential material."

Mike Westerman, Industrial Lead - Copper Assets, Glencore, says:

"As economies and industries worldwide seek to decarbonize to achieve their Paris Agreement targets, copper has become an essential material in this energy transition. Glencore is proud of the role it plays in supporting the transition to a low-carbon economy and we are pleased to be part of a wider, collaborative industry ambition toward net zero by 2050 as described in the ICA member roadmap."

Richard C. Adkerson, Chairman and Chief Executive Officer, Freeport-McMoRan, says:

"The copper Freeport produces is essential to the technologies that will accelerate the shift toward a net zero economy. We are committed to measurable progress in advancing our climate goals, however we cannot achieve our climate objectives alone. New technological solutions, innovations and partnerships will continue to be required – many of which will be driven by industry and value chain collaboration. The announcement of ICA's global decarbonization roadmap represents an important step and vital alignment across the copper industry to take practical, responsible steps toward a net zero mining future."

Iván Arriagada, CEO of Antofagasta Plc, says:

"Antofagasta is committed to a modern and sustainable mining future, reflecting the carbon neutral aspirations of the industries and economies we help to decarbonize. The new roadmap, agreed to by International Copper Association members, clearly demonstrates the industry's collective ambition to go net zero by 2050, in a manner that transparently incorporates the global mining industry's best practices."