Bolt joins Eleport to develop a renewable rideshare service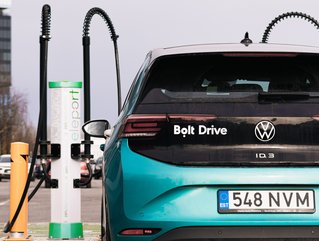 Bolt ride-hailing service joins Eleport, an EV charging specialist, to promote renewable transport and encourage the use of its electric rideshare solution
As carmakers preempt the shift to alternative-fueled vehicles, electric vehicles (EVs) are now backed by some of the largest automotive corporations in the industry. But, with an increasing number of EVs hitting the roads across the globe, more developed countries are leading in the way in developing EV infrastructure.

The European Union (EU) set out its target to reduce emissions from cars by 55% and encourage consumers to buy EVs to hit its goal of 30 million by 2030.

The European super-app, Bolt provides on-demand ride-hailing services, vehicle sharing, scooter hire, and restaurant and grocery delivery. The company is working with Eleport, a vehicle charging network, to develop further infrastructure in parts of Europe.
Bolt's mission in sustainable transport
Bolt takes various forms and operates across many cities in North America, Europe, Africa, and Asia. Whether the user of the app is a driver looking to make money, a consumer that requires a Uber-like taxi service or someone ordering food, Bolt covers all of these businesses. The firm also provides a series of scooters for use by the public to reduce emissions within urban areas.
Eleport and Bolt encourage EV adoption in the Baltics
Alekei Kolesnikov, Regional Manager for ride-hailing at Bolt, says: "Bolt is on a mission to improve cities. We already offer more sustainable alternatives to cars in more than 170 cities, where our e-scooters and e-scooter charging infrastructure has been deployed. Making carsharing and ride-hailing charging infrastructure more accessible will help further accelerate the transition from personal vehicles towards low and zero-carbon shared mobility."

The two companies will expand Eleport's network in the Baltics to provide more vehicle charging points across Estonia, Latvia, Lithuania, and Poland. 750 chargers will be installed across the countries, in the most visited locations.

The Chief Executive Officer of Eleport, Raul Potisepp says that these companies require some consideration when it comes to EV implementation as they are behind in terms of infrastructure. "We want to change this situation, and that is why we see Bolt as the best partner for us, who is also interested in the charging infrastructure to be improved," Potisepp says.

"Today, Eleport has a network of more than 130 public charging points in Estonia and Latvia, and has started preparations to open charging points in Lithuania and Poland."
Eleport's technology focuses on net-zero mobility
The mission of Eleport is to make the world as climate-friendly as possible. The technology enterprise is responsible for innovation in EV charging and has already implemented its solutions, including at-home, workplace, or on-the-road charging.

The cooperation agreement with Bolt will allow Eleport to leverage its 100 million-strong customer base, which spans 400 cities across 45 countries, including Europe and Africa. Beyond its food delivery service, Bolt is committed to a clean energy transition in which e-mobility will predominantly be electric.