Pod Point's EV focused keynote at Sustainability LIVE
Sustainability LIVE hosted Pod Point's Head of Policy and Public Affairs James McKemey who shared the company's plans for electrifying the nation by 2030
This year at Sustainability LIVE London, electrification was a key discussion on stage, and we can't help but notice that electric vehicles (EVs) are gaining in popularity for many reasons.
Firstly, the decarbonisation potential that this transition will bring. Secondly the inevitable impacts on global infrastructure, which requires a major overhaul to keep up with sustainable trends. Thirdly, but not finally, the commercial digitalisation benefits brought on by EV adoption.
Speaking at the third instalment of the hybrid conference, James McKemey, Head of Policy and Public Affairs at Pod Point, spoke of the company's electrification strategy that naturally envelopes its core EV charging business.
The sessions, titled "Charging Up: The road to 2030" uncovered the key strategic goals of Pod Point and its plans to support a few core deadlines.
Adoption of battery-electric vehicles (BEVs) by 2030 - 20-30% of cars on the road in 2030 will be BEVs, according to the Society of Motor Manufacturers and Traders, UK Net Zero Strategy, and the National Grid)
New cars must be zero-emission vehicles (ZEVs) by 2035
The ZEV mandate (UK specific) that is yet to be finalised
McKemey also reassured the viewers that the ban on new internal combustion engine (ICE) vehicles does not mean that petrol and diesel cars will be wiped out across nations. Recognising that around 70-80% of vehicles still in use at the time of the deadline will be powered by combustion engines, and will begin to be phased out as a separate governmental strategy dependent on the country.
"In order to reach a mass adoption of electric vehicles, we need to overcome the barriers, and in my point of view—and Pod Point's view—there are five barriers," says McKemey.
For anyone who hasn't watched the keynote yet, this is a key part of the session as it does, as McKemey says, recognise the barriers to EV adoption, including:
EV range - The range of EVs is still a concern for consumers and businesses
The choice of EVs - With an influx of new electric cars in the market, what ones are suitable for different needs and budgets?
Education - To understand how to react to the above concerns, organisations must be able to educate EV users on the best practices for electric cars.
The cost of EVs - This is perhaps the most prominent factor hindering EV adoption for a number of people. The cost of buying an electric car is still incredibly high with limited signs of them reducing any time soon
Charging - How do you charge? What are the best solutions in the market? How can you find a system that suits your needs?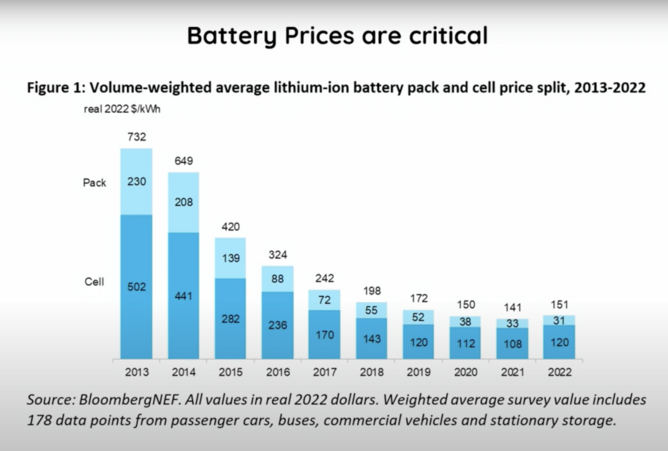 Data form Sustainability LIVE London - Charging Up: The road to 2030.
"How far can you go on a single charge in an electric car? Typically the first question you get asked if you work in charging infrastructure," says McKemey.
"I can tell you now that this is a solved problem. If you can drive 250 miles in all conditions, real-world conditions, that's enough. That's five hours of driving."
Fueling up 'sucks'. EV charging is more convenient
During the main bulk of the keynote, McKemey doesn't mince his words as he explains the reasoning behind electric cars from a cost and convenience standpoint. He makes a very compelling argument, explaining the concept of the car and its usage in simple terms that resonate with the majority of people watching.
"All drivers have this idea in their mind that the car is a mobile objective. That is a fundamental lie. Your car is a stationary object that very occasionally moves," says McKemey.
"What you do at the moment is you have an asset that you pay for 100% of the time that you use 5% of the time, and 95% of the time, it is useless. When you want to refuel it, you have to interrupt the 5% of its life, when you were trying to drive it somewhere, to put the fuel in it. That sucks."
And, of course, McKemey explains why EVs do it better.
"The beauty of the EV is that you can charge it for 95% of its life when you [aren't] trying to drive it, and you don't have to wait and it does it for you. And that is why EV works and is better in terms of convenience."
EV enable development a charging ecosystem
Fundamentally, the current EV market is dominated by those that are able to charge their cars at home. This is great for the industry, but there are still some advancements to be made to allow drivers to charge in all circumstances.
Around 60% of EV drivers integrate their cars into their home energy ecosystems, which makes it incredibly convenient and cost-effective for them.
The final part of the keynote continues along this thought train as McKemey delivers more insight into how people use cars and what charging infrastructure must look like to truly cater for driver's needs. There is also an in-depth section of the talk that covers the current challenges for the EV charging sector, the incentives in place to support the industry, and further government schemes to note.
*************************************************
For more insights into Sustainability - check out the latest edition of Sustainability Magazine and be sure to follow us on LinkedIn & Twitter
Other magazines that may be of interest - EV Magazine | Energy Digital
*********************************************
BizClik is a global provider of B2B digital media platforms that cover 'Executive Communities' for CEO's, CFO's, CMO's, Sustainability Leaders, Procurement & Supply Chain Leaders, Technology & AI Leaders, Cyber Leaders, FinTech & InsurTech Leaders as well as covering industries such as Manufacturing, Mining, Energy, EV, Construction, Healthcare + Food & Drink.
BizClik, based in London, Dubai & New York offers services such as Content Creation, Advertising & Sponsorship Solutions, Webinars & Events.