Supply Chain Sustainability
How does Hermes' name change represent a sustainable future?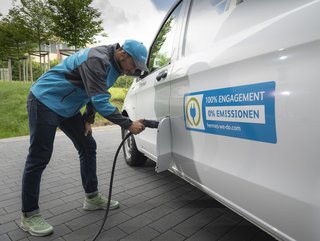 Earlier this year, Hermes rebranded to Evri and is taking its sustainability commitments seriously, including DEI, emission reduction, and customer service
Over the past few years, logistics companies have not witnessed the need for sustainable solutions, but also consistent and satisfactory customer service. There is also a heightened emphasis on diversity, equity and inclusion (DEI) within organisations, which is something that Evri—previously Hermes—is now looking to address as it enters a new era of sustainable business.

The news of Hermes' name change came earlier this year and follows scrutiny over its staff welfare, particularly pay, but also the way that customer service was carried out. We could delve into the specifics on this, and how the correlation between payment and service add up, but the organisation has already begun to make changes to ensure that its staff are receiving suitable wages for their services and is encouraging a better customer experience.

As it rebranded the business to Evri, its CEO, Martijn de Lange explained in the early stages that this is a new era for the company with added sustainability benefits.

"It heralds a new culture and an even better way of doing things in an ever-evolving world—building on our achievements and successes," says de Lange.
"It is more than just a name change—it is a statement of intent of our commitment to leading the way in creating responsible delivery experiences for 'Evri one', 'Evri where'."
Evri implements sustainability measures
Predominantly a UK-based company with applications in international markets, Evri was the first parcel delivery company to successfully adopt all-electric HGVs in the UK and prides itself on sourcing 100% renewable energy for its operations.
As a signatory of the 'UN Race to Zero' the firm is committed to the climate pledge and continues to assess its scope 1,2 and 3 emissions through dedicated environmental, social and governance (ESG) reporting software. Evri has also set a target to reduce energy consumption by 20% by 2030 and reach net-zero emissions directly and indirectly by 2035.
Taking diversity, equity and inclusion into its own hands
The firm is also making changes to its workforce to ensure that it remains as inclusive as possible. With the appointment of its Head of DE&I, Stacey Ramm, the company is looking to firm up its diversity and inclusion efforts and will do so with its new leader who has eight years of experience at Virgin Media, including a leading role in inclusion.
"I am excited to be joining Evri, a company that is committed to ensuring that the fundamentals of diversity, fairness and inclusivity run throughout the whole business," says Stacey Ramm. "This is not just the right thing to do, but makes clear business sense, as we know how important this is to existing employees, job applicants and clients."