Supply Chain Sustainability
Koenigsegg's Alternative Energy Technology for Hypercars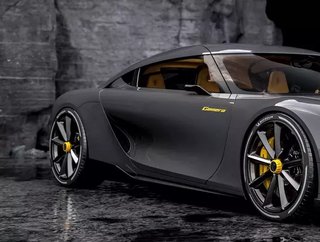 Sustainability magazine looks at Koenigsegg and its latest research into alternative energy technology to power its high-end hypercars
Sustainability is a commonplace word when discussing the modern automotive industry. But we very rarely talk about hypercars. To be put simply, hypercars are the fastest of road-legal production cars and usually come with extremely large price tags, ranging in the millions. Certainly not your average weekend car, and it couldn't be possible for these high-speed, high-fuel-consumption cars to be sustainable. Could it?
The hypercar industry is becoming increasingly populated with zero-carbon vehicles. In recent years, we have seen the release of both hybrid and electric cars in this space, including Rimac's all-electric 'Nevera' model along with several brands like Ferrari, Aston Martin, Mercedes, and McClaren producing hybrid-fuelled performance vehicles. Koenigsegg, the Sweden-based producer of high-ticket luxury and performance hypercars, is working on some exciting developments in carbon-neutral motors. 
Koenigsegg's High-End Performance 
The company was founded in 1994 by its Founder and CEO, Christian von Koenigsegg, and produces some of the highest-priced cars on the market. The company produces 35 vehicles per year, which doesn't seem like a lot until you consider the price tags at US$3mn. The typical customers of Koenigsegg are those who look for cutting-edge vehicle technology and bespoke hand-craftsmanship in their cars.
Over the past year, Koenigsegg's output was not only hindered by the Covid-19 pandemic, but the semiconductor shortage also contributed to the reduced output. Despite the difficult global economic situation, von Koenigsegg has high hopes for the company moving forward as it aims to double its factory footprint in the next few years and expand production capabilities to produce thousands of cars annually.
Battery and Biofuel Developments
To reach these ambitious targets, von Koenigsegg turned to Evan Horetsky, the former Tesla executive, who managed the production of its electric vehicle production in Nevada, Reno, and Shanghai. Horetsky has been tasked with moving the company towards carbon neutrality by addressing its emissions while also developing its technology to suit a higher volume of vehicle production. The company is also working on more suitable battery systems for its cars due to conventional lithium-ion batteries being unnecessarily heavy for use in high-performance cars. 
Koenigsegg is currently looking into Icelandic technology, which is used to convert volcano carbon emittance into methanol that can be used in power plants. Ultimately this process would promote a zero-carbon energy source at the beginning of the supply chain - meaning the fuel that goes into its vehicles will be carbon-neutral.