Supply Chain Sustainability
Stella McCartney helps launch sustainability solutions fund
By Charlie Steer-Stephenson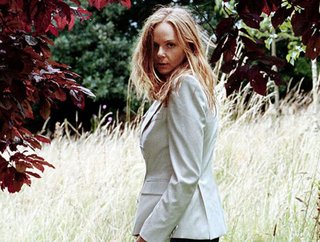 Source: Stella McCartney
Fashion designer Stella McCartney has partnered with Collaborative Fund to set up the US$200mn SOS Fund for cleaner businesses and sustainable solutions
Luxury fashion designer Stella McCartney has supported the launch of a sustainability fund worth US$200mn in partnership Collaborative Fund – a leading venture capital firm for entrepreneurs making a difference in the world. The Collab SOS Fund invests in Series A and Series B companies working towards sustainable solutions across materials, ingredients, energy, and supply chains.
With environmental, social and governance (ESG) goals becoming a top priority for businesses across the world, huge brands and influential individuals are eager to show their commitment to reducing the impact their industry has on the environment. This is especially true for the fashion industry, which is currently responsible for 10% of global carbon emissions.
"I am proud to announce the launch of SOS fund in collaboration with my dear friend Craig from @CollabFund. Our $200M fund invests into cleaner businesses, founders and sustainable solutions - creating a brighter, more hopeful future for us all. I couldn't be more excited for what's to come!" McCartney announced via social media.
Building a circular economy for the fashion industry
The SOS fund is already investing in sustainable textile manufacturers. AligKnit, for example, is a company that produces renewable yarn from kelp. Bolt Threads, the creator of the mushroom leather alternative that McCartney displayed at Paris Fashion Week, is another investee. The so-called Mylo leather has already been used in the design of McCartney's next collection, which will be available for purchase at the end of the year.
McCartney herself is exploring sustainable materials, having featured 80% recycled materials like beech wood and regenerated nylon in her Autumn collection last year.
"Beyond her work as an incredible designer and entrepreneur, Stella is a well-known environmental activist, a champion of animal rights, a lifelong vegan, a pioneer in sustainable materials, and an overall cool person," said Craig Shapiro, Founder and Managing Partner at Collaborative Fund.
Sustainable supply chain solutions beyond the fashion world
It's not just fashion the SOS fund is investing in, though. Collab SOS has supported businesses that offer products or services that are better for the planet, without asking customers to make sacrifices, for over a decade.
Big companies like Etsy, which runs its operations on 100% renewable electricity, and Lyft, aiming to use 100% electric vehicles by 2030, have received support from the fund for their commitment to creating a sustainable marketplace. SOS has also invested in Tesla for taking sustainable strides in the automotive industry, and Impossible Foods for maintaining high quality standards while advocating a sustainable food supply chain.
The fund is equally interested in innovative companies developing specific sustainability solutions, for example:
The sustainability movement is only just beginning, and it's here to stay. As new generations of consumers demand products and services that are better for the health of the planet, it's crucial that leading companies adapt quickly for the sake of future-proofing their business.