Supply Chain Sustainability
The end of fast fashion and emergence of a circular economy
By Charlie Steer-Stephenson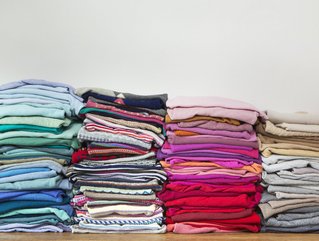 Governments and clothing companies have a critical role to play in tackling the fast fashion industry and creating a more sustainable circular economy
Fast fashion is having a devastating impact on the planet. According to Business Insider, fashion production makes up 10% of global carbon emissions and is the second-largest consumer of the world's water supply. Since 2000 the rate of clothing production has doubled; not only a result of people buying more products, but also throwing them away much sooner.
Considering the alarming rate at which fast fashion has grown in recent years – no thanks to the COVID-19 pandemic paradoxically driving e-commerce alongside the rising cost of living – it's not surprising that 85% of all textiles end up in landfill every year. Every second, the equivalent of one garbage truck full of clothes is burned or dumped in a landfill.
At the same time, washing clothes releases 500,000 tonnes of microfibers into the oceans. Many of these fibres, including polyester, are plastics that release two to three times more carbon emissions than cotton, and of course they don't break down while they float around in the sea. Overall these microplastics account for 31% of the oceans' plastic pollution, a major global problem that threatens to totally overwhelm marine life in the future.
If the fashion industry doesn't change, the Ellen MacArthur Foundation expects it will account for 26% of the world's carbon emissions by 2050.
Creating a circular fashion economy is the ultimate sustainable solution
The Textiles Action Network connects businesses, supply chains and governments in the mission to tackle the environmental impact of the fashion industry. Encompassing the UK's Textiles Action Plan 2030 and Lifestyle & Design Cluster (LDC), the network is run by climate activist group WRAP and ultimately aims to create a global circular economy for fashion and textiles.
WRAP says the collaborative network is the best option for driving sustainability in fashion, because it forces governments and businesses to address their environmental responsibility head on. The activist group marked the recent industry collaboration between the Textiles Action Network and the Danish government as a pivotal event in the sustainability movement.
"We welcome this ambitious move by the Danish government to tackle the environmental impacts of textiles with a national programme of work under this new industry collaboration. WRAP has played an important role in bringing together the key stakeholders who are launching this ground-breaking international initiative, sharing our extensive experience of voluntary sector collaborations and of setting circularity goals," said David Rogers, Head of International Programmes at WRAP.
Bettina Simenson, Managing Director at LDC, added: "WRAP has played an integral role in convening the key stakeholders who are launching this ground- breaking international initiative and sharing their extensive experience of voluntary sector collaborations with us. We look forward to working closely with them and will be drawing on their knowledge and technical expertise to help us to go further and faster in Denmark."
The first step of the collaboration involves WRAP and the government working together to map out existing circular clothing initiatives and fill in any gaps. After that, they will collaborate to define a national fashion industry framework based on establishing a circular economy, underpinned by government funding and interventions, that all Danish businesses will be expected to follow.
A slow fashion supply chain solution for the circular economy
The antithesis of fast fashion, slow fashion is one way governments and businesses can start to counter the industry's devastating impact. By tackling unnecessary production levels and discouraging mindless consumption, the slow fashion movement puts people, animals, and the environment first.
As well as reducing material waste, slowing down the fashion supply chain would have a constructive impact on society. With 80% of clothes currently being made by underpaid young women in underdeveloped countries, a slow fashion solution would offer scope for businesses to put human welfare above profits on their priority list.
The World Resources Institute suggests that companies need to invest in business models based on longevity – or slow fashion initiatives. Secondhand sellers like US-based ThredUp Inc. and Poshmark are leading the way in the slow fashion movement. At the same time, clothing companies like Rent the Runway and Gwynnie in the US, Girl Meets Dress in the UK, and Mud Jeans in the Netherlands are based on renting schemes that give customers flexibility and security in their clothing investments.
Older companies like Patagonia have had slow fashion initiatives in place for many years. The outdoor clothing manufacturer offers customers a lifetime guarantee, repairs damaged items upon request, and uses recycled clothing and plastics to make new products.
Still, there's plenty more that governments and clothing manufacturers can do to better support the development of a circular economy. As WRAP states in its many campaigns, changing the way things are produced, consumed and disposed of is the only way we can protect the future of our planet.