Supply Chain Sustainability
Supporting a resilient and sustainable food supply chain
By Charlie Steer-Stephenson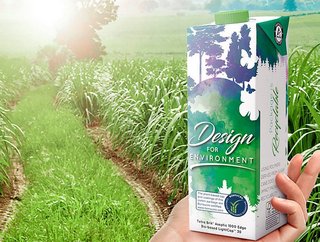 Source: Tetra Pak
As Tetra Pak announces the success of its sustainability initiatives in 2022, we explore how other businesses in the food supply chain can follow suit
From sourcing to production, transportation to packaging, the food supply chain has more stages than many of us realise. Not only does the global food system account for 26% of global greenhouse gas emissions, but, according to the United Nations Food and Agriculture Organisation (FAO), one third of all food produced is wasted.
On top of this, global packaging emissions are expected to reach 1.34bn tonnes by 2030 – that's more than global aviation or shipping. With fast-paced, on-the-go lifestyles becoming the norm for consumers, convenient and safe food packaging is in rising demand. While a recent survey by Boston Consulting Group revealed that 74% of consumers would pay more for sustainable packaging, rising prices and time-pressures mean that most people don't check whether their food is wrapped in responsibly sourced packaging or not.
Many large businesses, however, are now acting on their commitment to achieving zero waste to landfill and supporting a circular economy. This includes the world's leading food processing and packaging solutions company, Tetra Pak, who is devoted to securing food safety and availability while reducing the supply chain's impact on the planet.
Recycling our packaging isn't enough to eliminate its environmental impact
Tetra Pak recently released its annual Sustainability Report to provide insight to the company's progress over the last year. Aiming to influence other businesses along the supply chain, the report outlines Tetra Pak's sustainable approach to the way we feed the world while protecting the planet.
One of Tetra Pak's sustainability aims is to decarbonise its operations and products. Already between 2019 and 2021, the company reduced its greenhouse gas emissions by 36%. A huge part of this is thanks to Tetra Pak's mission to source the world's most sustainable food package, using 100% renewable materials, as part of the company's step towards a low-carbon circular economy.
Tetra Pak explains that recycling plastics is not enough, and is determined to lead the way in transforming the way the world produces and consumes packaging. As a founding member of the Aluminium Stewardship Initiative (ASI), Tetra Pak is helping to set global environmental and social standards for all aluminium packaging.
"At Tetra Pak, we're committed to minimizing our impact and our U.S. and Canadian market continues to decrease the impact of our own operations while supporting our customers' sustainability ambitions," said Seth Teply, President and CEO of Tetra Pak in the US and Canada.
The report also included a supplement on the US and Canada's special sustainability contributions, including piloting plant-based cartons, educating consumers on aseptic technology, and fulfilling diversity, equity and inclusion (DEI) initiatives.
"It is our unified focus on protecting food, people and the planet that drives each of us, and makes Tetra Pak an industry leader for high-quality, innovative and sustainable packaging, processing and services solutions for the food and beverage industry," added Teply.
Advocating for diversity, equity and inclusion in the food supply chain
Tetra Pak's promise to 'protect what's good' isn't just about protecting food and the planet; it's also about creating a safe and inclusive work environment built on responsible practices. Understanding the value of sustainability as a key attraction for new and existing employees, the company includes its DEI initiatives as a major part of its sustainability mission.
This includes measures in place to track the effectiveness of DEI initiatives, so that the company's diverse workforce is able to thrive within an inclusive culture. Although, like many companies, Tetra Pak admits there is more to do in its procurement of diverse talent, small steps are being made in the employment of previously underrepresented groups. From 2020 to 2021, for example, the percentage of women in senior positions rose from 14% to 18%.
Tetra Pak is devoted to providing consumers with safe, secure and sustainable products. Recognising that this requires an understanding of customers' diverse needs, the company understands that its sustainability and DEI goals go hand in hand.
With the world's population expected to reach 9.1bn by 2050, the security of the food supply chain is critical. As a world-leading packaging company seeking to tackle a range of environmental and social issues, Tetra Pak is eager to partner with other businesses to ensure that safety and sustainability becomes the priority for the global food industry.