Apple puts pressure on supply chain to decarbonise by 2030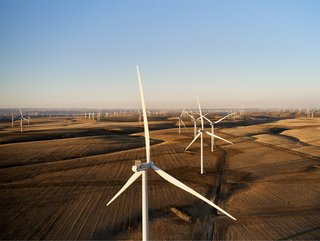 Tech giant Apple tells major suppliers that they need to cut carbon impact by 2030 and expands investments in clean energy and climate solutions
Apple has issued something of a wake-up call to manufacturing partners around the world as it aims to clean up its supply chain and tackle climate change.
Sustainability is clearly high on the agenda for CEO Tim Cook. Only yesterday (27 October) Apple announced record results for fiscal 2022 fourth quarter revenue of US$90.1bn – up 8% year on year. That put annual revenue at US$394.3bn, also up 8%.
"This quarter's results reflect Apple's commitment to our customers, to the pursuit of innovation, and to leaving the world better than we found it," said Cook.
"As we head into the holiday season with our most powerful lineup ever, we are leading with our values in every action we take and every decision we make. We are deeply committed to protecting the environment, to securing user privacy, to strengthening accessibility, and to creating products and services that can unlock humanity's full creative potential."
Let's hope Cook has taken into account the fact that global CO2 emissions have more than doubled since Apple was founded in 1976, so leaving the world better than when they found it could be quite the task.
Apple will track and audit key manufacturing partners on carbon
The message seems consistent from Apple, and now they are putting the onus on their key suppliers to decarbonise. Apple requires reporting on Scope 1 and Scope 2 emissions reductions related to Apple production.
Apple says it will track the progress of key partners as it aims to set the same standards in its supply chain – the company has been carbon neutral since 2020 and intends to meet the same standard across its entire supply chain.
"Fighting climate change remains one of Apple's most urgent priorities, and moments like this put action to those words," said Cook, Apple's CEO. "We're looking forward to continued partnership with our suppliers to make Apple's supply chain carbon neutral by 2030. Climate action at Apple doesn't stop at our doors, and in this work, we're determined to be a ripple in the pond that creates a bigger change."
That work Cook is referring to sees Apple investing in numerous projects around the world to create clean energy, and some smart updates to its products.
Apple has reduced its emissions by 40% since 2015, largely through adopting renewable energy. With more than 70% of direct manufacturing spend coming from more than 200 suppliers, it's no surprise to hear they have also committed to clean energy solutions.
Major partners including Corning Incorporated, Nitto Denko Corporation, SK hynix, STMicroelectronics, TSMC, and Yuto have committed to 100% renewable energy for all production relating to Apple products.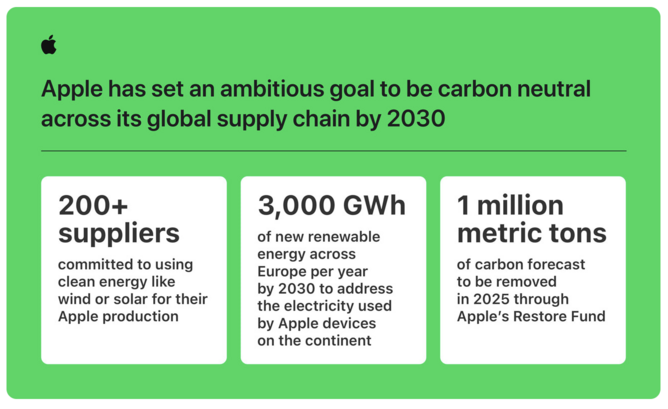 Apple's shift to clean energy means it now uses renewable energy for all corporate offices, Apple stores, and data centres in 44 countries.
Now the company is involved in constructing large-scale solar and wind projects in Europe to tackle the 22% of its carbon footprint that comes from customers charging their devices. Earlier this year, the company also announced new renewable projects in the US and Australia.
An update in iOS16 means iPhone users in the US can also use Clean Energy Charging – a feature that will charge your phone at the optimum time to take advantage of renewables.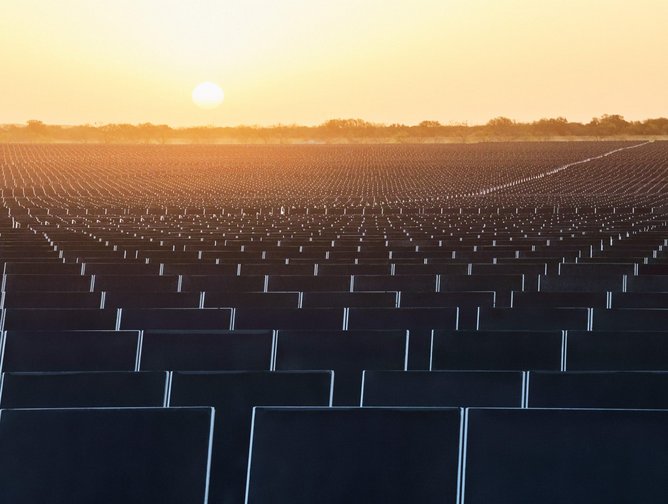 Apple's new climate solutions projects
Apple has announced three new projects through the Restore Fund – a carbon removal initiative that aims to generate revenue for those involved. Developed with Conservation International and Goldman Sachs, Apple is working with forestry managers in Brazil and Paraguay to restore 150,000 acres of forests and protect 100,000 acres of native forests, grasslands, and wetlands. These projects could remove 1 million metric tons of CO2 from the atmosphere in 2025.
New sustainability partnerships announced also include:
In Namibia and Zimbabwe, Apple is working with the World Wildlife Fund (WWF) to promote climate resilience and sustainable livelihoods through the Climate Crowd program.
In China, Apple has partnered with China Green Carbon Foundation to conduct research, demonstrate best practices, and build stakeholder networks to increasing the amount and quality of responsibly managed nature-based carbon sinks.
In Europe, the Middle East, and North Africa, Apple is launching a new partnership with ChangemakerXchange to strengthen climate action and leadership in the region. The initiative will launch in Egypt at COP27.