Asian airline Cathay Pacific released sustainability data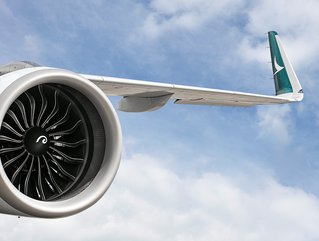 The Hong Kong airline Cathay Pacific released its sustainability report for 2021 and CEO Augustus Tang says it benchmarks its future plans for resilience
As it completes its 75th year, the message around sustainability at Cathay Pacific is a critical one. The company suffered majorly over the past few years and is still recovering from the downfall of the coronavirus pandemic, but nonetheless, it is once again taking steps to succeed.

The firm has experienced a significant slump in flights since the onset of COVID-19 and as China became the epicentre of the virus, resulting in strict quarantine rules, operating its planes and other functions has been costly. Its CEO, Augustus Tang is hopeful that Cathay is now moving forward sustainably as it looks to increase its uptake of passengers and ensure flights are more sustainable than ever before.

"Despite ongoing uncertainties, we are well positioned to capitalise on the recovery expected in 2022," says Tang.

"With our people pressing on with the delivery of service excellence to our customers and communities, I am confident that we will move beyond our current challenges and thrive in the years to come. I want to thank all our people for their dedication and commitment during a period of major disruption. Together we will continue to connect Hong Kong to the world in sustainable ways as recovery accelerates."

A future of emissions reduction with sustainable aviation fuel
The firm's report highlights the achievements of the organisation in 2021 as it looks to the future to implement sustainable aviation fuel (SAF), reduce plastics and other waste items across its operations, and implement better diversity initiatives.
"This year we celebrated 75 years as Hong Kong's home airline. As we look to build a resilient and successful future, the global pandemic continues to have a huge impact on our business and the aviation industry…," Tang says.
"Against this backdrop, I am pleased to share our 2021 Sustainable Development Report, which outlines the many initiatives that we continue to take to protect the planet and our people, including the support we have given our communities during this global health crisis. It also sets out specific progress on achieving carbon neutrality and other priority sustainability issues."
Its target is set, which, in the grand scheme of things, is not the highest for an industry that requires significant intervention to reach net-zero emissions. But, taking into account the effects of the pandemic, Cathay has set a goal of 10% SAF in flight operations by 2030. There is also an agreement in place between Cathay and oneworld airlines—an alliance governing various airlines, including British Airways, Cathay Pacific, American Airlines, Alaska Airlines, and others—for the purchase of more than 350 million gallons SAF.
The firm is also separating the necessary resources to achieve its sustainability goals, by creating an Aviation Climate Taskforce, which as of November last year, allowed the firm to develop pioneering technologies to reduce its emissions.
Further plans are in place to eliminate single-use plastics from its flights and better manage its food waste. Cathay succeeded in removing 43 million pieces of single-use plastics in 2021compared to its baselines usage and is aiming for a 50% reduction between 2018 and 2022.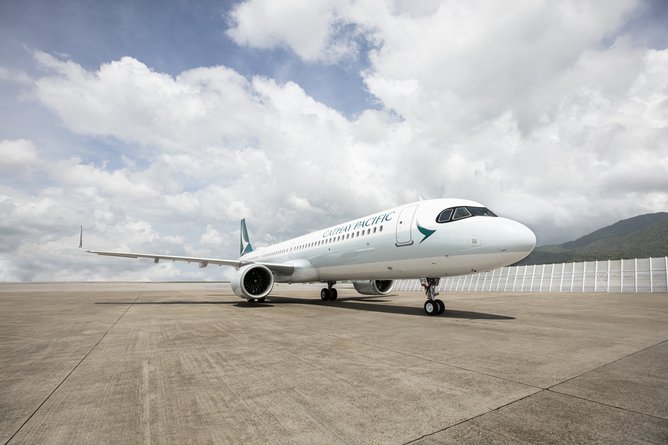 Increasing sustainable flight from Hong Kong
As the company looks back on its 75-year operational history, Cathay Pacific reminisces on the story of the company, which stems from the Second World War. In 1946, the airline was founded by two ex-Air Force pilots to transport goods from Australia to China and experienced a growth spurt thereafter to include flights from Darwin, Sydney, Tokyo and Taipei.
Now the firm is one of the main airlines in the region, highlighted as the Skytrax Best Airline in 2014, and the firm also underwent a facelift of its fleet, which was representative of its increased growth. As part of its to reduce emissions, Cathay is now replacing aircraft with more efficient models, starting with five A350-900/1000, twenty-seven A321neo, and twenty-one 777-9 in 2022.