Delivering the difference: Driving sustainable purchasing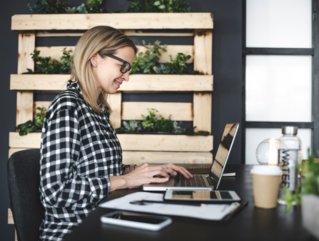 Social and environmental considerations have become a core driver in where people buy, with 67% of consumers looking to purchase sustainable products
According to findings from the Deloitte Global 2021 Millennial and Gen Z Survey 2021, younger consumers could be a driving factor behind this shift, with Gen Z – consumers under the age of 25, who are often characterised by their commitments to societal challenges – listing climate change as their number one concern today.
More-sustainable purchasing is an undeniable and positive shift in the consumer world. But what about in the workplace? As the majority of Gen Z begin to leave education and enter the working world, we might expect their environmentally-aware purchasing habits to come with them. However, it seems this isn't always the case.
Our findings: the seniority gap
Earlier this year, Amazon Business surveyed 5,000 enterprise employees across France, Italy, Germany, Spain, and the UK on their organisations' approach to more-sustainable purchasing, and, according to our research, Gen Z aren't leading the charge in the way we might expect. In fact, employees aged 35 and up were just as likely as Gen Z respondents to feel that increasing the sustainability of goods should be a key focus for the workplace (47%), whilst those over 55 were actually more likely to always consider sustainability when making purchasing decisions (31%) compared to those aged 18 to 34 (26%).
In reality, personal convictions around sustainability often have to fall by the wayside when in a business setting. This can be due to outdated legacy purchasing practices, company guidelines for socially responsible purchasing remaining unclear, or employees not being empowered outside of the leadership team. Therefore, it can be assumed that the absence of more-sustainable purchasing practices comes down to business hierarchy and a lack of empowerment, rather than being related to age. This is reflected by senior employees also being more likely to always factor sustainability into their decision-making (42%) compared to junior colleagues (26%), suggesting a disconnect between those who set sustainability strategies, and those who are expected to follow them.
Importantly, the absence of more-sustainable purchasing practices from junior-level employees isn't necessarily for lack of trying. Our research found that almost half of all European employees believe that improving sustainability practices should be procurement's highest priority, but a worrying 70% aren't aware of what socially responsible purchasing guidelines exist within their organisation; 41% of which are unaware of any guidance whatsoever. The result? Just 14% feel confident about making more-sustainable purchases on behalf of their business.

"In deciding which essentials are bought for the business, and subsequently the sustainability attributes of those products, procurement professionals have the knowledge and expertise needed, and therefore the responsibility, to drive real change. With the right digital procurement tools in place to monitor and guide purchasing, procurement teams can enact change, communicate this across the business, and empower employees at every level to do the same," said Martin Schueler, General Manager for Amazon Business Europe.

Sourcing more-sustainable products
Changing purchasing strategies from the ground up is challenging, but knowing where to look for more-sustainable products is a strong starting point. According to our research, a quarter of employees (24%) agree that better technology able to support more-sustainable purchasing practices through guidance and automation would help them find alternatives to existing orders that are in line with their sustainability goals.
One way Amazon Business customers can source more sustainably is through our Climate Pledge Friendly initiative, which offers businesses filtering and automation functions to easily access a range of products with sustainability certifications. This makes it easier for buyers to identify switches on hundreds of everyday purchases, without the need for extensive searching and evaluation. This year, businesses have used the tool to equip office and at-home workplaces. For example, millions of TCO-certified monitors – which are independently assessed for environmental and social impact, safer chemicals, and circular design – have been purchased so far by customers across Europe in 2022.
While buyers are primarily looking at tech and bigger ticket items when purchasing through Climate Pledge Friendly, many aren't utilising this discoverability for other workplace essentials. Everyday items like coffee and toilet roll are the cornerstone of every workplace, but our data shows that these often aren't being purchased in a more sustainable way such as reduced packaging. Over a million purchases of instant coffee and toilet roll multipacks have already been made so far this year. With our Climate Pledge Friendly programme, buyers can access a number of quick switches to easily enable socially responsible purchasing, such as coffee from a Certified Carbon Neutral coffee company and toilet roll from a brand that is compact by design.
Communicating clear guidelines
Once initial changes like those discussed above are put in place, setting clear company guidelines for employees of all levels to follow is a great next step. Our research found that strong guidelines were the most common factor helping employees to make socially responsible purchasing decisions (25%), but with almost one in three (30%) unaware of what their company's sustainability-related purchasing guidelines are, it's apparent that these need to be better communicated.
By digitising procurement processes, businesses can access tools able to standardize socially responsible purchasing, and communicate this change in policy across the business. For example, Amazon's Guided Buying tool sets clear parameters on employee purchasing, meaning businesses can manage employee spending and compliance, and steer them towards the products or suppliers that align with business' sustainability values. As part of this, leaders can create policies that automatically mark Climate Pledge Friendly products, empowering buyers across the business to make those purchases with confidence.
Measurement and continued improvement
Of course, achieving a more sustainable procurement strategy is an ongoing process. The changes discussed above are important, but businesses can't forget to measure their successes and setbacks, and use this information to strive for continued improvement. Unfortunately, this is where some are falling short. Whilst chief procurement officers (CPOs) and leadership may be aware of procurement's role in overarching sustainability strategies, those looking to inspire company-wide change must educate employees across the board.
As with its communication of company guidelines, digital procurement technology can also be used to communicate the impact these guidelines are having. Amazon Business' data analytics gives users visibility on where, when, and how products are purchased, as well as access to insights around spend on certified products and supply chain operations. Armed with this information, CPOs can generate comprehensive reports to demonstrate their performance against sustainability goals, which can be shared across the organisation and used as a basis for further change.