Energy efficiency can help meet the world's thirst for water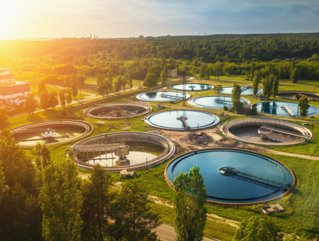 Wastewater
Stefan Floeck, President IEC LV Motors at ABB, explores how energy efficiency can increase the volume of safe drinking water
The UN estimates that over two billion people do not have access to safe drinking water, and over four billion people do not have access to safe sanitation services. World Water Day 2023 is an opportunity to reflect on the steps we must take to achieve the UN's sixth Sustainable Development Goal: "Ensuring the availability and sustainable management of water and sanitation for all."
It is worth considering the economics of water and wastewater processing. These sectors are currently very energy-intensive, consuming approximately 4 percent of the world's total electricity. High energy consumption raises costs. On average, energy costs make up 45 percent of the cost of clean water.
Therefore, making water and wastewater processing more energy efficient is key to extending these necessities to more people. At the same time, lower energy use reduces the sector's carbon footprint and operating costs – everyone benefits.
Opportunities for efficiency
Every process in the sector – from water treatment to transportation, wastewater treatment and desalination – relies on pumping. Fortunately, technology is available that significantly reduces the amount of electricity the pump's motor requires to deliver the same output.
Both existing and new motors can be fitted with a variable speed drive (VSD). This increases energy efficiency by adjusting a motor's speed and torque to precisely meet the requirements of the process.
Without a drive, a motor runs at full speed all the time and flow speed is controlled by throttling – that's like driving a car by keeping one foot on the accelerator and using the brakes to control the speed. With a drive, the motor runs exactly as fast as necessary, usually well below full speed. This enables significant energy efficiency gains – often up to 30 percent, and sometimes even more.
Water and wastewater facilities can also improve their energy efficiency by selecting the most efficient motors. Many countries use the motor efficiency classes set out by the International Electrotechnical Commission (IEC). These classes range from IE1 to IE4. Each increase in IE number, such as from IE3 to IE4, represents a 20 percent decrease in energy losses, meaning that the motor is more efficient.
From July 2023, the EU Ecodesign regulation will require a minimum efficiency of IE4 for many types of motors in new installations and upgrades. This makes Europe the first region in the world to require IE4 efficiency, and others are sure to follow.
Synchronous reluctance (SynRM) motors technology takes it even a step further by achieving IE5 efficiency. They are designed to work as a package solution with VSDs and are significantly more efficient than older motors. For example, replacing an existing IE2 motor with a SynRM motor-drive package delivers up to 50 percent lower energy losses.
ABB's efficient motors are designed to be drop-in replacements for older models, so upgrading is usually straightforward. Furthermore, the energy savings will deliver a rapid return on investment. Typically, in months rather than years.
Efficient wastewater treatment in action
The operators at a sewage treatment plant in Bocholt, Germany, aimed to improve their facility's efficiency to reduce its carbon emissions. They identified the pumps as the best opportunity to reduce electricity use and replaced the motors with IE5 SynRM motor-drive packages.
During the renovation, they also improved the pumps' impeller geometry to improve their mechanical efficiency. The plant still cleans 108,000 cubic meters of wastewater every day, but now it uses 40 percent less energy.
Elsewhere in Germany, at Württemberg, a water treatment facility is responsible for softening the potable water. The process requires energy-intensive compressors, but the facility powers them using IE5 SynRM motors paired with VSDs. Combined with other energy saving measures, the plant cut its energy use by 32 percent in just one year.
In Sinai, Egypt, meanwhile, the world's largest wastewater treatment plant also set bold efficiency goals. The Bahr El Bakar plant uses 20 highly efficient IE4 motors, each paired with a VSD. It processes agricultural wastewater to produce 5,600,000 cubic metres of treated water every day. As well as enabling the plant to use less electricity, these motors also improve the pumps' reliability.
Energy efficiency is an essential step
Today, there are billions of people without access to the water and wastewater services that many of us take for granted. There are, of course, other challenges to achieving this beyond efficiency. However, energy efficiency is a key step to processing water in a cost-effective and environmentally sustainable way.