McKinsey compares sustainability with cost-efficiency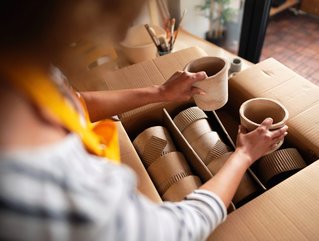 Design for sustainability is critical for actioning production waste management and emissions. McKinsey explains how cost-efficiency principles will work
With regulation changes imposed on businesses and impending challenges as governments knuckle down on emissions, organisations are looking for ways to navigate the sustainability landscape — a modern and somewhat new challenge for most businesses.
While businesses may be looking for a specific model to follow or to invest in sustainable practices, such as the acquisition of renewable energy or lower-emissions materials, McKinsey & Co outlines how sustainability can be achieved by following a similar approach to cost-efficiency.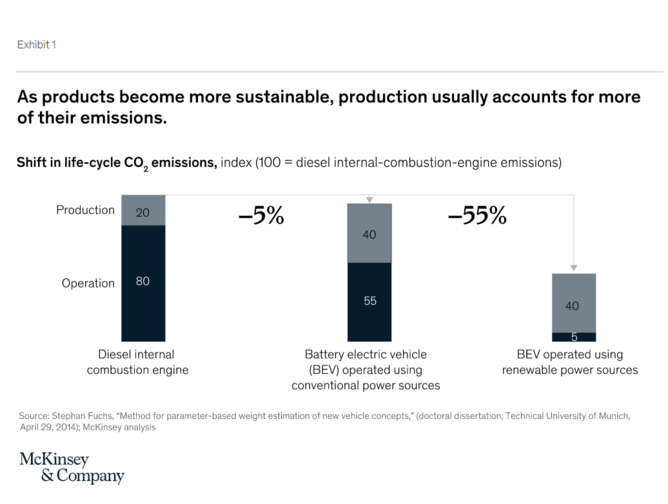 One of the biggest challenges highlighted by the firm is the shift from internal combustion engines to all-electric vehicles. According to McKinsey, around 20% of the carbon associated with a diesel vehicle is generated in the production stage — with the rest emitted from the use of the vehicle. While electric vehicles produce lower emissions during use, considerations should be given to the production and sourcing of different materials, which is suggested to rise to 45% when switching to battery-electric vehicles.
Focusing on design for sustainability
The sustainability of an electric vehicle — and any other product — is influenced by the design stage. At this point in the product life cycle, businesses must look into the granular details of their component sourcing and operations to determine the actual emissions involved in production. Businesses are already beginning to substitute more sustainable materials, but research and development (R&D) is critical for reducing emissions in the value chain.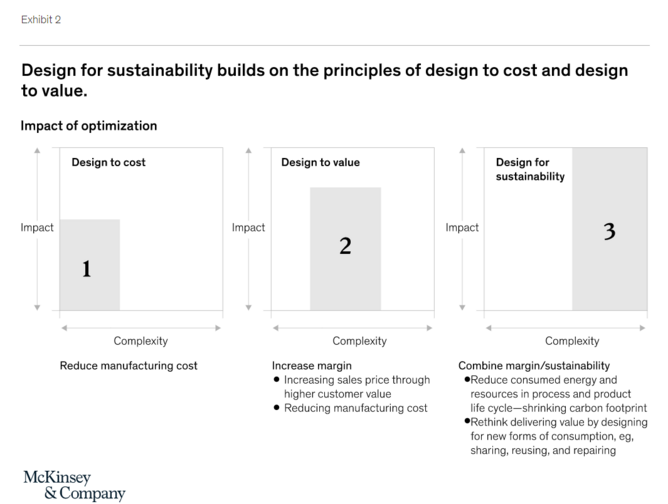 Waste management reduces emissions
Ultimately, the more you use, the more is required. Packaging is one of the key focal points for restaurants, particularly when food delivery services are witnessing more consistent use than ever before. McKinsey gives an example of a quick-service restaurant company with the aim of reducing the amount of packaging waste that it generates. To limit waste, the company identified that transit could be adapted to include reusable containers, which mitigates the need for single-use cartons.
Circular economies can also support emissions reductions. The use of virgin materials, such as plant materials, has become commonplace in packaging strategies. However, businesses should consider the origins of their materials and the emissions involved in transporting them to production facilities.

• Join global business leaders and sustainability experts taking meaningful action at Sustainability LIVE, held at Tobacco Dock, London, 23-24 February 2022. Register to attend today! Click here to learn more.