Nico Rosberg – from F1 champion to green tech evangelist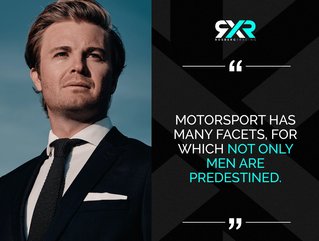 Former Formula 1 World Champion Nico Rosberg is founder of the Greentech Festival and Rosberg x Racing, a team driven to inspire positive change
When did your passion for sustainability begin? Was it while you were racing F1?
While I was still an active F1 driver, I was fully concentrated on my career. This changed drastically when I ended my racing career and began to show interest for other technologies, particularly in the space of sustainable mobility. Through my former employer Daimler, I was introduced to the latest powertrain developments and future technologies in their R&D, which I thought were fascinating. So I began to invest in e-mobility startups and later moved on to other sustainability projects.
Do you think people judge your credentials for being involved in F1?
Not anymore. In the beginning, the shift from F1 to sustainability certainly seemed like a bold move, but people quickly understood that we need to have a positive view on innovation and technology in order to advance on matters of climate protection. Motorsport has played a big role in making our road cars more efficient and continues to be an important platform for new technologies. The mindset in F1 is, there is no 'can't do'. This is precisely what we need to fight climate change.

Tell us why you established Greentech Festival (GTF)?
It was a trip to the CES in Las Vegas which brought upon the idea to establish a technology festival in Europe with a focus on sustainable ideas. My co-founders already had the Green Awards in place and it seemed like the perfect combination to tag it onto a global platform showcasing the latest products and ideas from the area of sustainability. It was also the right move for me as an investor because I wanted to establish a place where all of the innovative green startups could come together and network with other players.
What are the biggest achievements to date?
We founded the Greentech Festival in 2019, one year before the pandemic, so the next two years were tough for us, but I am incredibly proud of the fact that we not only survived, but managed to grow the business and turn it into a global event series. This year, we will be in New York, London and Singapore for the first time.
How is Rosberg x Racing inspiring change and highlighting climate change?
We are competing in Extreme E, the first motorsport series focused entirely on climate protection, social and environmental causes. The cars are fully electric SUVs charged with solar power and hydrogen fuel cells. The equipment is transported by a very efficient ship, and we don't allow on-site viewers so the travel and logistic emissions remain minimal. All teams engage in activities and projects to support local communities in their battle against climate change and Extreme E is the only racing series to feature both a male and a female driver in each team. Furthermore, our team RXR has set up its own campaign called Driven By Purpose. As an example, we have equipped schools in Senegal with solar-powered lamps, or raised money to plant trees in Sardinia after the devastating wildfires.