Racing to a sustainable future in the world of sport
By Charlie Steer-Stephenson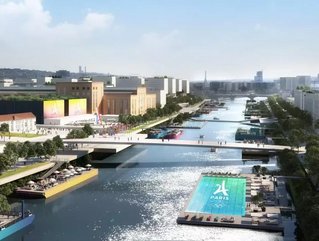 Source: Paris 2024
Eco-conscious partnerships and initiatives are being put in place for the 2024 Paris Olympics as organisers aim to cut the Games' carbon emissions by 50%
From the construction of venues to the travel of competitors and spectators, major sporting events inevitably have a significant impact on the environment. Event organisers therefore have a critical role to play in creating a sustainable culture around sporting competitions and spectatorship, based on five key sustainability themes:
Climate change
Resource management
Natural environment and biodiversity
Human rights, labour and fair business practices
Involvement, cooperation, and communications
These themes are backed up by the terms of the 2015 Paris Agreement. The contract united 196 countries with the aim of achieving a climate neutral world by 2050. With the recent 2022 Commonwealth Games held in Birmingham hailed for its high environmental standards in line with the Paris Agreement, Paris Olympic organisers are hoping to follow their lead.
Is the devastating impact of global sporting events unavoidable?
The 2020 Tokyo Olympics' Sustainability Report informed the world that the games had been planned and delivered with climate change and resource management in mind. For instance, multiple measures were implemented to reduce CO2, such as the use of existing venues and fuel-efficient vehicles.
Additionally, 99% of non-consumable items procured for the Games were reused or recycled thanks to partnerships with waste-management companies – including the medals and podiums produced by the Organising Committee (TOCOG) for Olympic champions.
"The Tokyo 2020 Games set out to raise awareness of the role of sport in society, and our aim was to use the Games as an opportunity to show how sport can help fulfil our responsibility to resolving the issues involved in achieving a sustainable society," said Tokyo 2020 President Hashimoto Seiko.
Although TOCOG claimed to have gone above and beyond to reduce carbon emissions, however, the games nonetheless had a huge effect on the environment. Considering the drastic reduction in spectatorship due to COVID-19 travel restrictions, the event's total carbon emissions between 1.96mn and 2.42mn tonnes is still considerable.
Similarly, later this year the football World Cup in Qatar aims to limit its impact. However, Fifa still expects the global sporting event to produce over 3.6mn tonnes of carbon dioxide – that's more than some countries' overall annual emissions.
The world of sports has an important part to play in the sustainability movement
In direct response to the Tokyo report, Paris Olympic organisers are preparing to lower the Games' emissions by 50% in 2024, compared to the 2012 and 2016 Olympic Games. Taking direct advice from Birmingham, the Paris organisers plan to reuse existing competition sites rather than build new ones from scratch. There will also be initiatives in place to encourage spectators to use local public transport rather than cars.
"With Birmingham, we are bound by a shared vision," said Georgina Grenon, sustainability director for Paris 2024. "That vision is of aiming to deliver a spectacular celebration, showcasing the best of our cities and harnessing the power of sports to unite and create long-lasting benefits for society, but also taking care of the impact that these events are going to leave behind."
The Paris Olympics Committee is partnering with international consultancy firms including Deloitte, Egis and Enedis, as well as sustainability-focused suppliers like Coca Cola and P&G, to make the event's ecological transition as seamless as possible.
"In concrete objectives, we are reducing our emissions by 50% compared to the average of London 2012 and Rio 2016. We will also offset all of the unavoidable emissions. We want to be the first Games to be fully aligned with the Paris Agreement. In terms of climate ambitions, that is very important," Grenon added.
Technology has an important part to play in transforming the future of sustainable sports. The Formula E world championship, for instance, is working to produce a racing series powered by 100% electric vehicles (EVs). The Formula E EVs are manufactured by world-leading companies BMW, Audi, DS, Mahindra, NIO, Nissan, Jaguar and Venturi, demonstrating the automotive and racing industries' commitment to a cleaner future.

Now, as Olympic organisers announce plans to make the world's biggest international sporting event more sustainable, it's clear that the sports industry and its technology is becoming a leading driver of sustainable innovation on a global scale.
"Paris, the Olympics and Paralympic Games, are the world's biggest events and we are facing humanity's biggest challenges. So we have set for ourselves the ambition of setting a new model for these Games so that we are aligned with this modern world and what society is asking," said Grenon.
Rising environmental awareness and concerns means that governments, businesses and communities will be paying attention to the sustainability of major sporting events, now more than ever before. The huge scale of sports across the world presents plenty of organisational challenges, but the constant development and implementation of sustainable solutions by organisers, stakeholders, participants and spectators is set to make systemic change in the coming decades.