Top 10 speaker sessions from Sustainability Live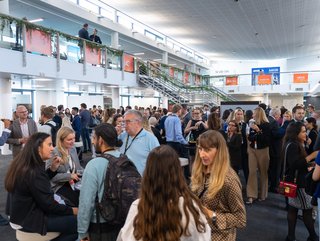 Scott Birch picks his Top 10 sessions from the main stage at Sustainability LIVE London hybrid event, featuring leading CSOs, analysts and ESG innovators
10. Adam Muellerweiss, Clarios
Here is an interesting question: One planet is enough, so why do we continue to use more than one? That was the driving theme of this fascinating session from Adam Muellerweiss, Chief Sustainability Officer at Clarios. He explores the problems of over consumption or, as he puts in in business terms, "we are over budget, we are over leveraged". We are consuming at the rate of around 1.5 to 1.7 planets and "living on borrowed time". Muellerweiss delivers a thought-provoking keynote on the promise and practice of the circular economy.

9. Pippa Bailey, Ipsos
Dr Pippa Bailey is head of climate change and sustainability practice at Ipsos. Leveraging her background in consumer psychology, she collaborates with research experts across Ipsos to help clients navigate and address the insight challenges and opportunities that sustainability presents.
Discussing 'The Road to Sustainability – Citizen Understanding at the Core', Bailey examines the geographical variations in sustainability priorities while also digging deeper into demographics such as generational attitudes. Fascinating, and eye-opening.

8. James Robey, Capgemini
Capgemini's Global Head of Environmental Sustainability, Jame Robey has been at the forefront of the group's sustainability efforts since first setting carbon reduction targets in 2008. Here, he outlines the 5 Macro Trends Shaping the Future of Corporate Sustainability and – despite some technical issues with his presentation slides that he expertly navigates – this is essential viewing for all sustainability leaders.

7. Jenni Adams, HSBC
Jenni Adams is Deputy Head and South Regional Director for HSBC UK's Business Banking - Portfolio Managed division. Her role is primarily focused on supporting start-ups, entrepreneurs and small businesses to grow their businesses and achieve their ambitions. In addition to this, Jenni leads HSBC UK's strategy to support SMEs to transition to net zero. This session explores the challenges facing SMEs as they strive to be more sustainable and the solutions and pathways available.

6. Oistein Jensen, Odfjell
In his fascinating update Green Shipping – Can We Get There?, Oistein Jensen, Chief Sustainability Officer at shipping giant Odfjell, showcased the steps the Norwegian company is taking to improve sustainability in the shipping industry.
Jensen explained how data is being analysed and interpreted to improve efficiency, how hydrogen or nuclear power could help reduce emissions, and how digitalisation is impacting decarbonisation.
Shipping is essential to global trade and Jensen shared his views on carbon offsetting, the EUs Emission Trading Scheme and the future of the industry.
5. Musidora Jorgensen, Microsoft
Musidora Jorgensen joined the Microsoft UK Senior Leadership Team in February 2022 as Chief Sustainability Officer, with accountability for driving sustainability outcomes for customers, partners and internally.
Jorgensen is passionate about Diversity & Inclusion and particularly in supporting more women in the STEM industries, and that passion came across in this packed session. She explains how it is not just tech giants like Microsoft that can make a difference, and the steps required to create and deliver on a net zero strategy from scratch.

4. Steve Smith, Schneider Electric
Discussing 'Our Fastest Route to Net Zero', Steve Smith made a welcome return to the Sustainability LIVE stage. Smith is Head of Global Marketing – Energy Management Thought Leadership and Communications – at Schneider Electric, the consulting company regularly voted as the world's most sustainable business.
Smith discussed the role of hydrogen in the future energy mix and Schneider's view of Electricity 4.0 – plus the greatest barriers facing energy today, and in the near future.

3. Sidharth Mishra, Wipro
There was another packed auditorium for Sidharth Mishra's session entitled Impact Tracking and Accelerating Operational Decarbonisation. Sidharth leads the Energy and Decarbonisation practice for Wipro, and advises clients on energy transition and sustainability solutions.
Sidharth shared his extensive experience in digital transformation for energy and process industries, followed by a standing-room-only workshop session alongside James Patton of AWS.

2. Travis Wright, QTS Data Centers
Data centres may not be on everyone's radar when it comes to sustainability – but they should be. This point was illustrated by Travis Wright who said the data centre industry has more environmental impact when it comes to emissions that the aviation industry, at pre-pandemic levels.
Wright went on to outline some of the initiatives that QTS has invested in, such as providing clean drinking water via World Vision. Sustainability and ESG efforts such as this helped set QTS apart – a differentiator that was good for business as well as good for the communities that benefitted.
He explained that buy-in from senior management was crucial, and that QTS leadership were immediately on-board in a bid to 'do good'.

1. Geraint John, Interos
Few people understand supply chain disruption better than Geraint John, who leads the Interos Resilience Lab team – generating data-driven insights, research and analysis on supply chain disruptions, topical issues and best practices for supply chain risk management.
A former journalist and Gartner advisor, John's fireside chat highlighted recent major supply chain disruptions caused by drought in China and Europe, and Russia shutting down natural gas supplies. He discussed how to assess these events from a supply chain risk and sustainability perspective, plus the key challenges that supply chains face when it comes to ESG.
Looking to the future, John raised Taiwan as a red flag that could have extensive impacts on supply chains – even greater than the COVID-19 pandemic.