Zayed Sustainability Prize tackles drought, water security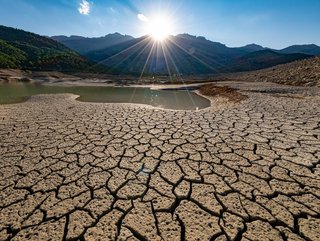 With the world facing drought conditions and water insecurity, the US$3m Zayed Sustainability Prize offers hope with 4,500 entries from 152 countries
The world is facing a water crisis, with droughts being declared across the globe. According to a recent UN report, drought frequency and duration have increased by a third globally since 2000, fuelled by the climate crisis.
Drought in Numbers 2022, presented by the United Nations Convention to Combat Desertification (UNCCD), said more than 2.3 billion people are currently facing water stress but by 2050, more than 75% of the world's population could be facing drought conditions. Even in countries such at the UK – renowned for its regular rainfall – there are shortages in supply, and as many as 5.7 billion people could live in areas facing water shortages by 2050.
Northern Italy is facing its worst drought in 70 years, more than 43% of states in the US are experiencing droughts, and China is also facing drought with the Yangtze River as much as 5 metres below levels for last year.
The picture is bleak, but solutions are being developed, and encouraged, by initiatives such as the Zayed Sustainability Prize.
The UAE's global award for recognising excellence in sustainability has closed entries for 2023 having received more than 4,500 applications from 152 countries. The five prize categories include Health, Food, Energy, Water and Global High Schools.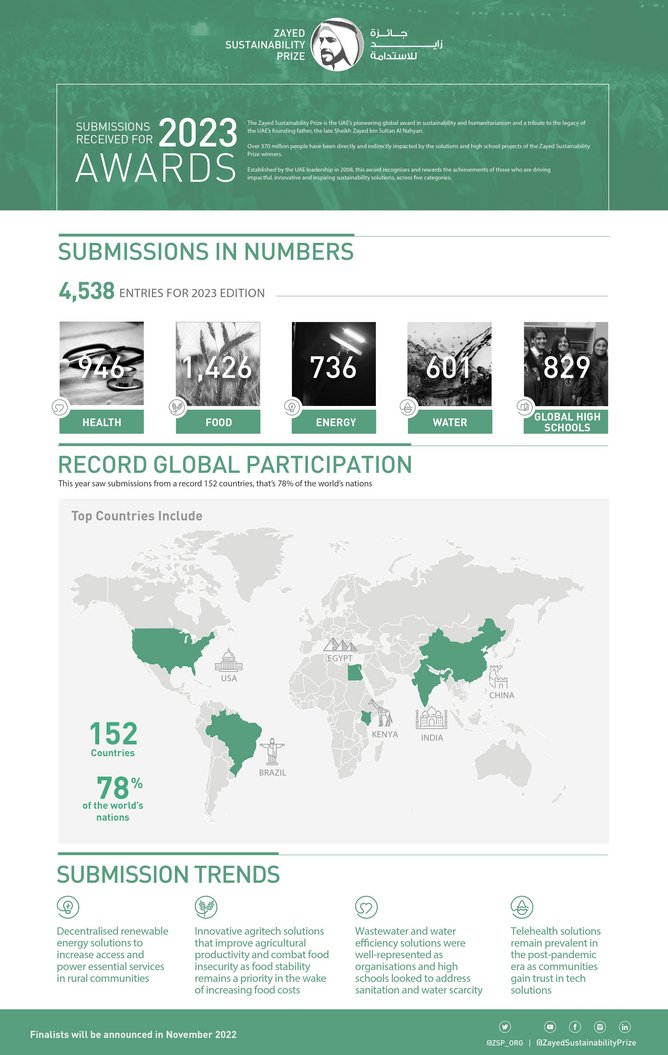 Drought, famine, climate change, energy inequality all focus of global entries for Zayed Sustainability Prize
H.E. Dr. Sultan Ahmed Al Jaber, UAE Minister of Industry and Advanced Technology and Director General of the Prize, said: "For the last 14 years, the Zayed Sustainability Prize has incentivised practical solutions to global challenges that deliver tangible impact at a community level around the world.
"Inspired by the commitment to sustainable development and humanitarian legacy of Sheikh Zayed bin Sultan Al Nahyan, the Prize has improved the lives of 370 million people in 151 countries to date. This year, we have seen applications from a record number of countries across every category from health, food, energy, water and global high schools. I'm excited to see what creative solutions this year's applicants will bring to the table, particularly as the UAE prepares to host COP 28 next year."
This year's submissions reflect a growing awareness that urgent climate action is critical. More entries came from developing nations in Sub-Saharan Africa, South Asia, East Asia, Latin America, the Middle East, and North Africa, which is an important indication of the growing participation of these nations in the fight against climate change.
Food (1,426) and Health (946) attracted the greatest number of submissions, followed by Energy (736) and Water (601), with Global High Schools receiving 829 submissions.
Food category entries presented solutions aimed at sustainable food production while Health entries tackled weaknesses in healthcare systems exposed by the COVID-19 pandemic. In the Energy category, entries focused on improving sustainable energy access in vulnerable communities, affordable and clean energy for all, and driving the low-carbon energy transition. Finally, the Water category saw solutions promoting clean water production, climate change, and water resource management challenges.

The Zayed Sustainability Prize was launched in 2008. Winners in the Health, Food, Energy and Water categories each receive US$600,000 to develop their solutions, while the Global High Schools prize is awarded to six winners, each receiving US$100,000.
Winners will be announced at the 2023 Zayed Sustainability Prize Awards Ceremony that will be held on January 16, 2023 as part of Abu Dhabi Sustainability Week.