Grégory Liénard, driving innovation & sustainable practices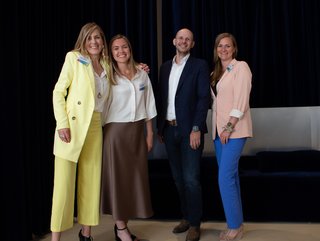 Grégory Liénard and his Lyrecos colleagues, Credit: Lyrecos
We sat down with Grégory Liénard, Lyreco's CEO, to discuss how he's empowering employees, while fostering innovation and driving sustainable practices
Lyreco CEO, Grégory Liénard, has been at the helm of the company since 2019, after having spent the previous 23 years in different roles within the organisation, such as IS, Sales, M&A, HR, and General Management.
During this time, Liénard has worked across three different continents – North America, Europe, and Asia – which he describes as an "exciting" journey. Keen to express excitement for the business, Liénard sat down with Sustainability Magazine to discuss how he is leading his team of 12,000 people, and what the future looks like for the company.
Hi Grégory, tell us about Lyreco. How does it differentiate itself as a pioneer in its field?
We are all animated by the motto: "Delivering a Great Working Day". Getting the products we ordered must be simple and straightforward for everyone – frictionless. People should focus on what they love to do the most. A doctor should help patients, for example, not spend time ordering products he needs to work.
We are putting all our energy into making this happen and it involves pushing the boundaries, finding new frontiers of what others think might not be possible. We have been the first ones to be able to deliver the next day in our industry, the first one to offer a fully integrated online solution and today we are pioneering in all matters related to sustainability for example. It is a long list.
How does Lyreco empower its employees, fostering innovation from within the organisation?
I think that our main programme illustrates this mindset of ours best: Three years ago, we created "Lyreco Pioneers". We selected some problems we wanted to address.
Any of our 12,000 employees could submit their ideas and then a jury selected the top six. The six selected teams who submitted these ideas had six months to investigate and develop their solutions. To support them, we invested in training programmes in Design Thinking, and they were assigned professional coaches to challenge them and help them.
At the end of the six months, then came the now famous "Demo Day", when they pitched their ideas in front of a panel composed of customers, suppliers and colleagues.
Following a process similar to an investment process, the best ideas are then incubated, (still with external support) brought to life. And then, ready to finally bring them to our customers.
It is simply amazing to see the number of ideas we get at the beginning of the process, proof of the creativity, the pioneer spirit within our organisation, but also the quality of the pitches. The final choice is always a very difficult one!
I could name a few other examples such as the Innovation Ambassadors – volunteers on top of their usual tasks – in place in every single one of our countries. They have a crucial role in fostering and animating local initiatives.
And of course, the fact that the best innovators are granted the highly recognised status in Lyreco: Becoming a Very Lyreco People. This is something that means a lot to every single one of us. It means something when you apply for an internal promotion, as it is a recognition of high performance, and icing on the cake. Lyreco People can join an amazing 1-week trip the year you get the status in a dream destination with the top 200 performers of Lyreco.
Could you share some details about the upcoming Demo Day?
Demo Day is a huge event for us. It is a little bit like the finals of "Lyreco Got Talents".
People who have submitted the best ideas have been selected, encouraged, supported, trained, and coached – and it is now showtime.
Hours of work, reconsidering their ideas, realising some of their original options were not viable, but then coming up with solutions to make it even better. It's guaranteed to bring a little bit of stress, a lot of fun and always amazing surprises.
This event is broadcasted live in our entire organisation, so it is a great day for us.
How does Lyreco's commitment to innovation and sustainability reflect in its overall business strategy?
Since 2021, our organisation has focused on a five-pillar strategy that we named "GREAT 26". It will indeed finish in 2026 and will take us right into the year when Lyreco will celebrate its 100th birthday! It's great to see if you can reach that age and still be a pioneer.
This strategy is possible thanks to four key enablers. The first two are our People and Technology. The next 2 are just as important:
Sustainability: With the goal to have 90% of our sales to be coming from sustainable products by 2026 (and we redefined with clear standards what we call sustainable). It is an ongoing effort we are doing day after day to review our selection process with our merchandising teams and the ongoing support of our suppliers. Our goal is to reach 50% by the end of this year already.
Innovation: Deliver 100 new pioneer initiatives by 2026. Our Pioneer Programme contributes to this goal, but not only this, as many animations are done locally as well thanks to the amazing work done by our ambassadors that I talked about earlier.
As you can see, both innovation and sustainability are truly and entirely embedded in our global strategy with clear KPIs and close tracking.
Could you share some success stories that have emerged from Lyreco's initiatives and programmes?
Let me finish with the best example, and the winning idea of last year: The winner of the first Lyreco Pioneers Programme was "The Sustainability Dashboard" to help our customers to reduce their CO2 footprint while ordering from us. The goal was to:
Enable them to understand the impact of the way they purchase, for example, the products themselves, the delivery solutions
Allow them to see how other companies are doing in that matter
Let them set their own targets to reduce the associated CO2
And, of course, provide them with recommendations for reaching their targets
We developed this solution in extremely close cooperation with some customers, listening to their requirements and suggestions at every single iteration of our product and we now have this product live for them to use.
Good for the customer and more importantly, good for the planet.
Finally, the success story is often for the pioneers themselves. This programme helps them to learn new skills, challenge the status quo to keep reinventing Lyreco, and for some of them even to be offered new roles/opportunities within the organisation.