Nicola Stopps and Simply Sustainable's climb to top of ESG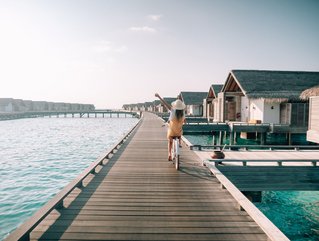 After shaping and implementing ESG strategy at major multinationals, Nicola Stopps then founded the ESG performance consultancy Simply Sustainable in 2010
Simply Sustainable is an award-winning environmental, social, and governance (ESG) and sustainability consultancy that has been helping clients improve their ESG performance for over a decade.
Nicola Stopps, a 25-year ESG veteran with experience shaping and implementing strategy at numerous major global companies, founded Simply Sustainable in 2010.
As ESG now rolls with the momentum she has spent decades waiting for, we caught up with Nicola to learn more about her journey in sustainability.
Hi Nicola, tell us about your career journey
Growing up in Wales, both my parents were teachers and had an active involvement with various campaigns through their lives, including Greenpeace. Witnessing this during my childhood and adolescence instilled the idea within me that you should strive for accountability to elicit social change.
I spent a lot of time in the university library during my undergraduate degree and one day I came across a book written by a green organisation about the devastating impact the Yangtze (Three Gorges) Dam had on the environment, while the next day I came across an equally well written and comprehensive book about the many thousands of people that has been lifted out of poverty by the creation of the dam. It was this that made me realise there is no one solution to climate issues; that having a balance is vital, and several aspects of a singular scenario must be considered, paralleling the ethos of ESG. It also made me realise that business had the scope and reach to create positive and transformative societal change and that is where I would have the most impact.
For some time, corporate sustainability and ESG in business has been a niche and under-funded area. Only in recent years has it been brought to the forefront of our daily news agendas and began to dominate decisions of the corporate world. Corporate responsibility, sustainability, environmental management, reporting and education and training have been my bread and butter throughout the last 25 years, and as a result, it has been interesting to see lots of new contenders on the scene and witness how they are navigating the climate demands we are currently facing.
I have specialised in ESG for the last 25 years of my career, working with a number of global businesses including DHL, Travelodge, T-Mobile, EE, and BBC. In 2010, I founded Simply Sustainable - now the UK's fastest growing sustainability consultancy - as I understood there was a pressing need to help the corporate sector facilitate their transition to better ESG practices. It has been a rollercoaster but I'm glad to finally be witnessing the rapid interest in the sector – a trend that I hope continues at a fast-paced scale to encourage positive reforms through the lens of sustainability.
What can you tell us about Simply Sustainable's history, current plans, and future?
The origin and basis of 'Simply Sustainable' derives from key frustrations I've experienced during my career in ESG and one of the reasons behind starting the company - I wanted an organisation that was a joy to work with, that was highly skilled and knowledgeable but didn't over complicate and removed the unnecessary use of complex terminology and language (as it had to be sold into the business). Some ESG experts who use jargon either publicly or in conversation with individual businesses create confusion that risks slowing down the positive change you are trying to instil . Easing the process of understanding the ESG and the benefits that ensue as well as simplifying the conversations for all is of utmost importance. It is still a relatively new sector to most, and individuals who have been in the field for some time must remember the importance of language inclusivity – this way we'll be able to ensure that sustainability becomes "business as usual" for all corporates.
Working with over 150 global clients including the likes of Spotify, EE, BBC and easyJet, Simply Sustainable has supported clients in their mission to achieve ESG goals while remaining profitable and increasing commerciality. We have experienced exponential success over the last decade, growing the business by 40% year on year, priding ourselves on our satisfaction rate with 96% of clients returning annually and 100% recommendation rates across our employees. Bringing systemic change to the corporate world is our central priority which we refuse to be compromised on.
Expansion is a key aspect of our future business plans. Currently, we're planning for launch in Amsterdam in May 2022. We're looking forward to what will be our first expansion into Europe, having chosen Amsterdam based on how it is one of most sustainable cities in the world, especially the transport facilities.
What is your opinion on current and future trends in ESG reporting worldwide?
Working in Sustainability for 25 years, I have seen a lot of 'trends' come and go but fundamentally believe the core to being a sustainable business doesn't change. The good, responsible holistic management of a transparent organisation will always reap rewards not only for the company but for wider society. Having said this, there are other means of ESG reporting that I believe to be invaluable to businesses and the sector at large, such as The Task Force on Climate-Related Financial Disclosure (TCFD) which provides a useful tool to ensure the impacts of climate change are discussed at the top of the table. The move to make TCFD a mandated requirement by law is a positive step and will give useful guidance and insight for businesses that are new to this journey.
A company taking ESG issues seriously is not only one that is considering the long- term issues, but also planning for the significant transformational change required for the world's transition to a low carbon economy. There will be much more focus (and rightly so) on this in the near future. Looking forward, particularly as the world of finance looks for a standardisation on ESG metrics, we must take care to not use these frameworks as a means to solve all issues. It makes a helpful starting position but there are many important societal issues – such as a just transition to a low carbon economy that are not covered. There is a risk that business and finance leaders will be limited in their appetite for systematic transformational change because a specific issue/issues are excluded from particular frameworks.
One issue that is being talked about more and more and will be more prominent over the coming years is that of greenwashing. Stakeholders have had enough of false sustainability claims being made by non-transparent organisations. I thoroughly welcome the introduction of the CMA Green claims code but look forward to seeing stronger policy coming from central government around this issue.