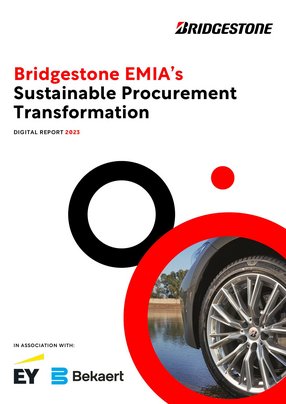 Bridgestone EMIA's Sustainable Procurement Transformation
Bridgestone's CPO, Lars Bettermann on how the global leader in tyres and sustainable mobility solutions have transformed their procurement function
Bridgestone, a global leader in tyres and sustainable mobility solutions, was founded in 1931 by Shojiro Ishibashi. The company's name is a direct translation of the Japanese word 'Ishibashi' into English. Its main mission is to serve society with superior quality. Bridgestone takes pride in delivering a wide range of best-in-class tyres and solutions that cater to the evolving mobility needs of its such as data-driven services, telematics, sensor devices, and tyre management systems.
These solutions enhance productivity, cost efficiency, and sustainability. By equipping fleets with data intelligence and sensor technology, Bridgestone enables them to maintain their vehicles and provide optimal service. This combination of tyre manufacturing and mobility solutions defines Bridgestone as a mobility-driven solution company.
Lars Bettermann is the CPO for Bridgestone EMIA, overseeing procurement operations in Europe, the Middle East, Africa and India. He leads a team of around 150 procurement professionals to drive the company's procurement activities into the future.
Lars Bettermann's professional journey in procurement began approximately 25 years ago when he joined Ford Motor Company. Prior to that he says, he never imagined procurement to be such an interesting place to be.
"My time at Ford became a transformative experience, allowing me to fill my toolbox with the most essential procurement skills." Lars Bettermann gained expertise in supplier negotiations, establishing long-term agreements, and understanding the critical interdependencies within the value chain, spending several years at Ford; building a strong foundation for his work in procurement.
In his current role, he now has full responsibility for all procurement activities in the EMIA region.
The evolution of Bridgestone's business model: From tyres to mobility solutions
Over the course of its nearly hundred-year history, Bridgestone has witnessed significant changes and advancements. Its fundamental product - the tyre - has undergone remarkable developments to become more performant, efficient, safe and sustainable over time.
More than 5 years ago, the company embarked on a transformation into a mobility solutions company to ensure it captures business opportunities arising from data and digital transformation offering efficiency and convenience . By diversifying into mobility solutions, Bridgestone has positioned itself for the future, offering a balanced mix of products and services to meet evolving market needs.
Bridgestone's procurement transformation
When Lars Bettermann joined Bridgestone two and a half years ago, he identified an opportunity to further leverage the value that procurement could bring to the organisation.
At that time, the procurement department primarily focused on raw materials procurement. Lars Bettermann initiated a transformation journey to enhance the procurement function, which is still ongoing.
The transformation efforts encompassed several key aspects:
Firstly, there was a strong emphasis on upskilling the existing raw materials team. Significant investments were made in providing additional training and equipping the team with the necessary tools and resources to drive even more value in their procurement activities.
Secondly, a new procurement department was established to cater CapEx (Capital Expenditure) and Bridgestone's indirect procurement needs; focusing on equipping the company's plants with all the machinery they need in manufacturing their tyres, as well as understanding the needs of the business in the headquarter and the sales offices.
Lars Bettermann's vision was to have a team that closely understands the requirements of internal stakeholders. He says, "proximity to stakeholders ensures that the procurement team comprehends their needs and can effectively serve them."
Thirdly, Bridgestone entered into a strategic partnership with Accenture for managing indirect procurement categories.
Lars Bettermann says this decision was driven by the desire to achieve operational efficiency from the outset and to tap into Accenture's expertise in areas that are not Bridgestone's core competency. "The partnership with Accenture enabled Bridgestone to benefit from specialised knowledge and industry insights in categories such as travel, IT, spare parts and logistics."
This approach allowed Bridgestone to optimise the utilisation of resources and ensure access to the best market offerings in those areas. Lars Bettermann points out that the success of this transformation relies on the unified commitment of the entire team, regardless of whether they are from Accenture or Bridgestone.
"The shared goal is to prioritise stakeholder relevance, maintain close collaboration, and deliver the best value from a procurement perspective," he says. These three components continue to drive the team's day-to-day activities as they progress on their transformation journey.
B-Store: Bridgestone's buying platform and how it channels demand
Lars Bettermann says the primary objective of a procurement professional is to effectively manage all the company's spends in the market. "This involves ensuring that all demands are driven through the appropriate procurement channels and avoiding ad hoc purchasing outside of the established processes."
Recognising the need for a centralised and user-friendly platform, Bridgestone launched its procurement portal, known as B-Store, on January 1st, 2022.
The B-Store portal serves as a single access point for all employee demands. "B-Store's purpose is to guide users to the proper channels based on their specific needs," says Lars Bettermann. "For instance, if an employee requires travel-related services, they can access the portal, click on the travel button, and swiftly be directed to the dedicated travel portal. Similarly, employees seeking spare parts or office equipment can easily locate the relevant catalogues or submit their demands for processing and assistance from the shared service centres."
The implementation of the procurement portal was crucial for the day-to-day success of Bridgestone's procurement activities. Lars Bettermann likens the portal to a supermarket that needs to be well-stocked and attractive to employees - encouraging them to use it as their go-to resource.
The B-Store is powered by SAP's widely-recognised Ariba tool. Lars Bettermann says that the key challenge however, lies in effectively implementing and making the tool work for the organisation's specific needs. "Throughout the year 2022, Bridgestone focused on ensuring the functionality and user-friendliness of the B-Store. They initiated a hands-on approach by guiding employees through the portal, both at manufacturing facilities and in various offices, including the headquarters and the more than 20 regional sales offices," he says.
"By providing the necessary support and guidance, Bridgestone aimed to familiarise employees with the B-Store and facilitate their ability to find and fulfil their procurement requirements. Now, after 17 months since its launch, we consider the buying platform to be a success. While we have not yet achieved 100% adoption, the usage rates have significantly increased, demonstrating positive progress.
The continuous growth in numbers and positive feedback we are seeing, reaffirm that we are on the right track, and we remain committed to further enhancing its effectiveness and adoption rate."
Sustainability E8: Bridgestone's global corporate commitment
The Bridgestone E8 Commitment was established in early 2022 as Bridgestone's global corporate commitment. It represents the company's dedication to delivering value to society, customers and future generations. "Rooted in the company's mission to serve society with superior quality, our E8 commitment recognises the importance of businesses in contributing to a sustainable future," says Lars Bettermann.
The E8 Commitment encompasses eight focal points that serve as guiding principles for Bridgestone's strategic priorities, decision-making, and actions worldwide. These focal points are:
Energy
Ecology
Efficiency
Extension
Economy
Emotion
Ease
Empowerment
They provide a comprehensive framework for the company's sustainability efforts, ensuring alignment and coherence across all regions and aspects of Bridgestone's operations. The E8 Commitment is seen as a powerful expression of Bridgestone's commitment to conducting business in a sustainable manner. It establishes clear goals and targets for the company to strive towards, facilitating its progress towards a more sustainable and responsible future.
People, planet and procurement-diversified
Lars Bettermann's goals involve supporting the company's sustainability targets for being 50% CO2 reduction neutral by 2030, and 100% by 2050 with 100% sustained material.
This can only be reached by establishing the right partnerships and ecosystem. Another key aspect is the creation and management of a cohesive team of procurement professionals who can effectively communicate and work together.
Lars Bettermann recognises the value of diversity within the team, highlighting that individuals bring different backgrounds, cultures and experiences. As a leader, he believes in harnessing the strengths of these diverse components to achieve success. Effective communication plays a crucial role in motivating the team and meeting daily challenges.
Bridgestone's approach to partnerships
Bridgestone relies on a wide range of partners for success. Rather than listing all 20,000 suppliers, he focuses on the concept of partnership itself. "To ensure a sustainable future," he says, "Bridgestone requires partners in specific core categories and key raw materials necessary for tyre production.
"There are three critical ingredients for tyre manufacturing: steel cord, synthetic rubber, and carbon black. Bridgestone recognises the importance of these materials in achieving its sustainability goals, particularly in implementing circular economy practices. By maximising the use of tyres and extracting valuable components for recycling, Bridgestone aims to create a circular flow that supports the production of new tyres. Considering these core categories, the partners especially in steel cord, synthetic rubber, and carbon black become vital for Bridgestone's success."
He suggests that failure to secure reliable partners in these areas would hinder the company's ability to achieve its targets. "However," he says, "it's essential to acknowledge the significance of all partners, including those involved in all other raw materials but also in machinery, marketing, IT, consulting, logistics and others."
It is the entire ecosystem of partners that contribute to building the necessary foundation and ecosystem for Bridgestone's operations.
Mobilising the future
Lars Bettermann says in the next 12 to 18 months, Bridgestone will be focused on several key priorities. "Firstly, we need to prepare ourselves to meet our 2030 targets for sustained materials. This entails establishing the right partnerships, driving innovation, and developing the optimal mix of raw materials to continue building premium tyres.
"Additionally, we have encountered challenges due to global crises like the Russian-Ukrainian war.
The impact of these crises on our supply base has been significant. In 2022, we dedicated substantial effort to de-source materials and seek alternative suppliers that align with our ambitions and values.
"Looking ahead, our main objective is to ensure stability and effectiveness in our partnerships during the next 12 to 18 months. We need to deliver on our commitments and promises, as this will contribute to Bridgestone's transformation into a sustainable mobility solutions company."
Overall, the coming months will be crucial for Bridgestone, as it pushes to achieve its sustainability goals, adapt to global challenges and drive Bridgestone's evolution in the industry.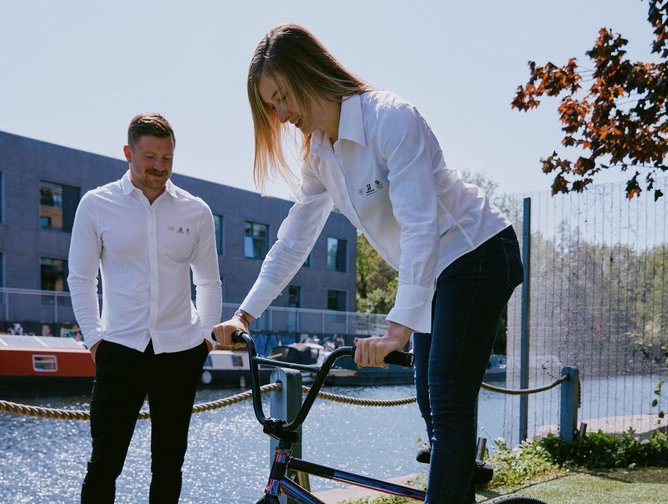 Bridgestone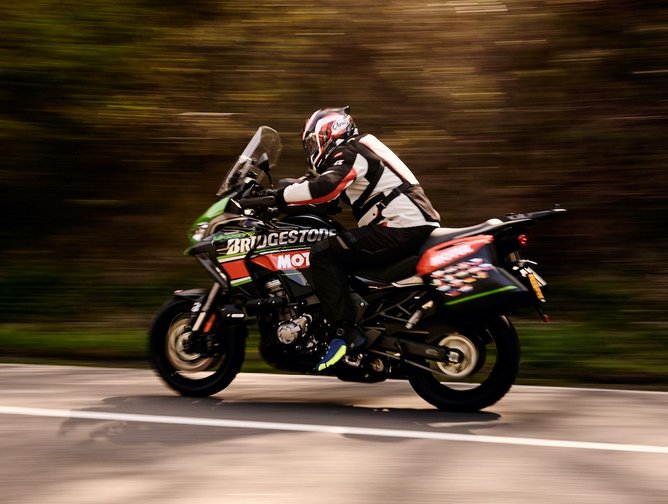 Bridgestone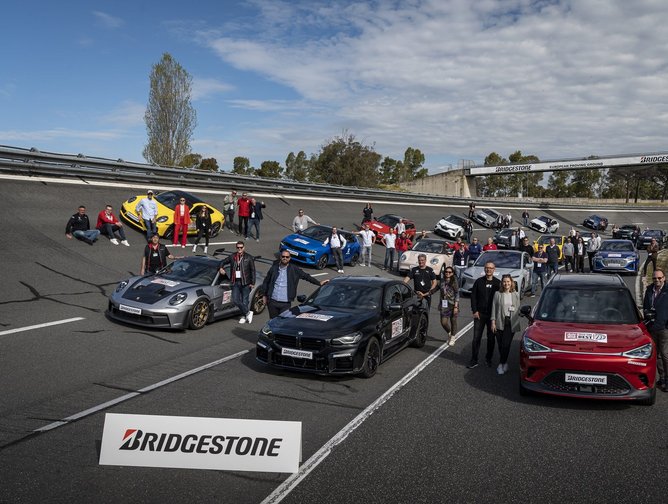 Bridgestone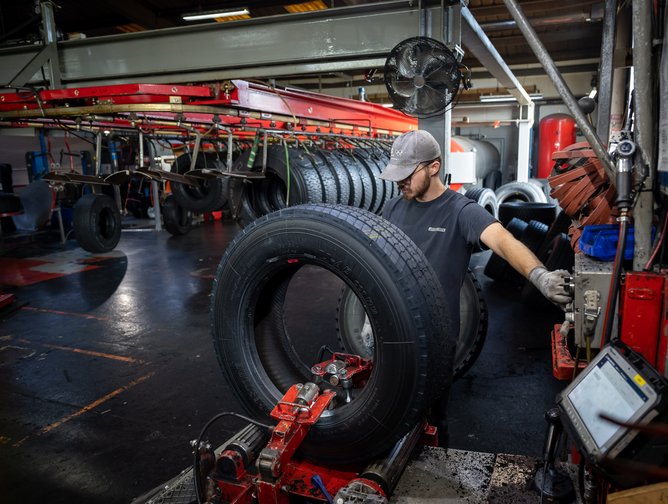 Bridgestone