How will mushrooms make Mercedes-Benz sustainable?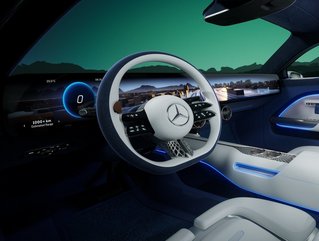 Looking into automotive sustainability, we found out that Mercedes-Benz is partnering with Mylo to create a sustainable solution for its latest EV concept
Veganism doesn't just apply to those who wish to eat plant-based diets. The use of plant matter has found its way into all industries in some way, shape, or form. Mercedes-Benz is no stranger to sustainability, nor is it shy of becoming vegan.
The circular economy of the automotive industry
A circular economy can be heralded as the key to waste management in many industries, which is an initiative that is being adopted more often by the automotive industry. BMW has been very vocal in its efforts to develop new and exciting designs and components with sustainable sourcing in mind and, pre-empting the increase in electric vehicle (EV) sales in 2020, is fully committed to producing them for consumer use.
We've also witnessed other sole EV producers like Fisker Ocean are committed to sustainable sourcing as they appeal to the changing consumer mindset and environmental needs.
Veganism contributes to a circular economy
In early January, Mercedes-Benz announced a sustainability initiative that will encourage more sustainable sourcing in the company and provide an innovative idea for other companies. In an effort to promote sustainable luxury, the automotive manufacturer will use mushrooms, cacti, and bamboo as products for a sustainable form of leather for its vehicles.
The vegan leather product will be used to line the seats of Mercedes-Benz's mind-blowing prototype vehicle, of which the company boasts a 1,000-kilometre range. The company has been working with a key innovator in this space, Mylo, which carries around groundbreaking research and development of mushroom-based leather. Working with Mylo, Mercedes-Benz will add a new layer of sustainability to its EQXX concept car as it targets the critical concerns of EV adoption.
How else can businesses create automotive sustainability?
Through partnerships. The automotive industry must work with suppliers to gain critical insights into their energy sourcing and consumption. Companies like Porsche are prime examples of this — which is provoking critical developments in luxury EVs, is leveraging its partners to not only construct sustainable development facilities but also to develop new cells to ensure that EV adoption is feasible for the industry and the consumer.
• Join global business leaders and sustainability experts taking meaningful action at Sustainability LIVE, held at Tobacco Dock, London, 23-24 February 2022. Register to attend today! Click here to learn more.