Exclusive Video: Ellis Spiezia and Karli Anderson
Ellysium Racing's Ellis Spiezia and Summit Materials' Karli Anderson discuss climate change in the EV sector at Sustainability LIVE New York
Sustainability Magazine, Feedspot's number-one ESG magazine, hosts a number of in-person and virtual events throughout the year, welcoming the world's most influential sustainability leaders to the stage to discuss some of today's most pressing topics.
On 19th April 2023, the first-ever Sustainability LIVE New York was held, where thousands of delegates tuned in virtually from across the globe.
Net Zero & Climate Change Forum
The push towards net zero and reversing climate change has touched everyone in every industry, but it means very different things to different people.
It is essential for there to be a global concerted effort to reduce our impact on the environment and create economic solutions that put climate at their centre without bankrupting the world.
Sustainability LIVE's panel of experts include Ellis Spiezia, Electric Racing Driver at Ellysium Racing and Karli Anderson, EVP, Chief People & ESG Officer and Head of Communications at Summit Materials discuss what net zero and climate change mean for their business and how you can implement new policies to tackle environmental issues for the future.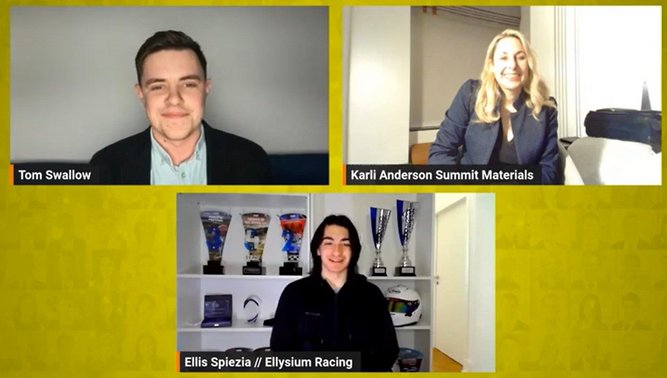 Tom Swallow with Ellysium Racing's Ellis Spiezia and Summit Materials' Karli Anderson at Sustainability LIVE New York
Spiezia begins the session by discussing Ellysium Racing's sustainability journey, stating: "In motorsport, most drivers don't think about their brand until it's much later in their career – so when they get into Formula 1 or the top level.
"But we knew from the start that we needed to make a foundation for the future, not only me as a driver, but having a sustainable business as we go along for when I'm retired and done driving.
"Our network has grown to become a name that covers not only the time on track, but also what we call "passive activism" off the track."
Anderson then goes on to discuss alternative fuels, the challenges facing the industry, and many other hot topics.
To watch any of our other speakers from Sustainability Live USA, click here.
To find out more about upcoming Sustainability Events, click here.
To find out more about sustainability, visit Sustainability Magazine.
To take a look at our previous events, click here.