Decade of the plant and the continued evolution of food
By Laura Gilbank, Business Development Manager at Columbus UK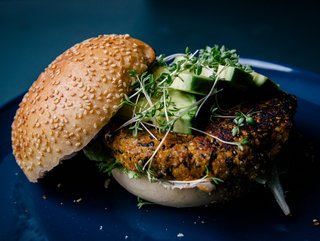 A plant-based burger
With the 'decade of the plant' well underway, we take a look at how businesses can capitalise with an ERP system that understands food!
More extensive ingredients are required for meat alternatives to provide the taste and texture of their counterparts. For example, Meatless Farm's Chicken Breast relies on four proteins and fibres to replicate Ocado's own brand Chicken Breast. This can create issues for manufacturers if protein supplies are disrupted, or when new legislation such as Natasha's Law is introduced.
End-to-end ingredients management and tracking capabilities are essential to solve these problems at pain points, and future proof operations. A food-specific ERP solution is the ideal software to prepare businesses for an influx of demand for plant-based products, and the associated challenges.
Set competitive pricing by cultivating a plant-based strategy
There is a common misconception that plant-based products are exclusive. Both traditional food manufacturers such as Birds Eye, and unprocessed manufacturers such as Meati, are leaning into the market trend to support the full meat to non-meat eating spectrum. Among personal reasons for switching to plant-based alternatives are animal welfare and environmental concerns – but 31% of consumers consider a major positive impact on the climate as the single greatest reason for completing the switch. To tap into this eco-consciousness, food companies of all sizes need more sustainably sourced products – and this is where food-specific ERP solution comes in.
65% of vegan-alternative ready meals are more expensive than their meat counterparts, and with the current cost-of-living increase, affordability looks set to become critical for plant-based manufacturers. The ability to keep base pricing consistent is key to secure a foothold in the market, and a food-based ERP solution can automate shifts, production, and sanitation scheduling to help reduce unnecessary costs, encourage proactive planning, and free up staff for other tasks. Additional use of automated tools such as QR code scanners can help businesses collect ingredient information quickly and offset potentially costly lost sales.
Plant-based consumers will pay more for high-quality CX – and ERP systems can provide it!

Recent demand increases for fortified snacks such as those produced by Silk and So Delicious are indicative of a wider demographic change in the plant-based market. Vegan products are no longer just for vegans, and food businesses need to pivot their communication strategies accordingly. Today's customers want their buying experiences to be like their personal ones, with an ability to research information online, compare offers, and request pricing at their own leisure. As digital marketplaces are readily available at the touch of a button, companies must now look to place their brand front and centre.
This has forced industry leaders to revisit their customer experience strategies to gain a competitive market edge. For instance, 86% of buyers are willing to pay more for a great customer experience, so there's a clear incentive for plant-based leaders to opt for a Customer Relationship Management (CRM) system. Integration with a food-specific ERP system allows businesses to gain real-time accessibility and data sharing capabilities such as access to order history, buyer insights, and preferential analytics. Niche experience personalisation is critical for plant-based market gains, and CRM makes it easier to personalise plant-based product messaging to meet specific customer needs, turning more prospects into leads.
Maintain regulatory compliance and futureproof operations with the push of a button
Plant-based alternatives have been introduced by industry giants in the fast-food market to meet new demand. Yet, this has led to an increase in the number of recalls and allergen-related hospitalisations across the food industry, particularly within the food-to-go market. End-to-end ingredient traceability must remain a priority for businesses to ensure continual food safety – and technology can play a significant role.
More than 60% of consumers consider ingredient statements and nutritional panels when buying plant-based products. As plant-based alternatives have longer ingredient lists, there's value in the industry developing cleaner, shorter labels on products with fewer, more familiar sounding ingredients.
An ERP food-specific solution allows businesses to collect and manage data from sources throughout the supply chain to sustain regulatory compliance. For instance, allergen management capabilities reduce the risk of cross-contamination and provide visibility into allergens across multiple sources by assessing the whole ingredient journey. Greater transparency over the entire supply chain ensures that businesses can provide up-to-date and accurate allergy labels to ensure consumers feel confident in their food choices.
Meat-free alternatives will only become more popular as the 'decade of the plant' takes hold

Cost of living increases and ingredient shortages are driving consumers to make smarter choices about the plant-based products they purchase. To stand out in a crowded market, food businesses should increase product sustainability and affordability, and a food-specific ERP system provides the supply chain transparency to do so.