Study casts doubt on efficacy of carbon credits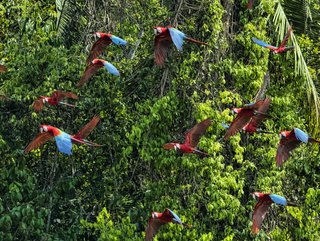 Credit: Getty Images
An exhaustive, nine-month study by a team of journalists has found that up to 90% of the world's leading rainforest credits are worthless
The efficacy of carbon credits has been called further into doubt after Verra, a major provider of them, was found in an investigation to be distributing worthless certificates. The nine month investigation was the work of The Guardian, the German weekly Die Zeit, as well as SourceMaterial, a non-profit investigative organisation.
Verra is among the world's leading carbon standards for a voluntary offset market that is now valued at over $2bn. It provides credits to some of the biggest companies in the world: Disney, Shell, Gucci, easyJet, Leon BHP, Salesforce, and even the band Pearl Jam.
The investigation found that 90% of Verra's rainforest offset credits (among the most commonly distributed) were largely worthless "phantom" credits that do not in fact constitute any carbon reduction. Reportedly, from the 94.9 million carbon credits claimed, there has been only 5.5 million in real reductions.
Among the other findings of the report was that the threat to forests had been overstated by 400% (this is according to a separate analysis from the University of Cambridge).
In interrogating the use of the credits, the team of journalists looked at satellite images of offsetting projects. These projects put the responsibility of stopping deforestation in the hands of third parties. The groups would stop deforestation according to Verra's rules and their performance would then be judged by a Verra-approved third party.
From its end, Verra disputes the conclusions of the report, stating that the modes of measurement used by the scientists behind the study do not adequately capture the reality on the ground. The company objected specifically to the use of what are known as synthetic controls, in which the investigators pick a comparable area and use it as a basis for all deforestation measurements.
Verra feels that this might not reflect pre-project conditions.
The investigators maintain that both compared areas and real areas were considered. For the Cambridge study, no synthetic controls were used.