Sustainability LIVE deep dive - racing towards EV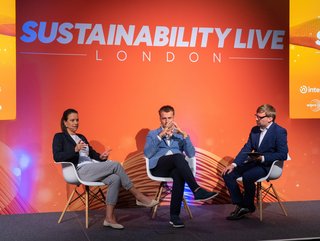 Hannah Brown, Chief of Staff for Formula E, and Miguel Valldecabres Polop on stage at Sustainability LIVE London
With just one month until Sustainability LIVE New York, we look back at highlights of September's event and deep dive into the Racing Towards EV panel
The Racing Towards EV panel was one of the highlights of September's Sustainability LIVE London, hosted from the BDC, London on 7-8th September 2022. Featuring Hannah Brown, Chief of Staff for Formula E, and Miguel Valldecabres Polop, CEO of EV Dynamics.
The panel covered some really interesting subjects from the world of electric vehicles (EVs), lifting the bonnet on innovations and challenges facing the industry from the perspective of those working within. Here are the highlights of the discussion, led by BizClik Media's Chief Content Officer, Scott Birch.
Progress in electrifying UK roads
There is still a long way to go with electrifying British roadways to the extent required to convince consumers to become fully invested in the EV market, but progress is definitely being made. As Valldecabres Polop puts it, "I think governments are doing the right policies to push [EV] and to stop internal combustion cars (ICE) but there's still a lot to do".
Britain is still far behind the curve both in terms of building infrastructure and embracing the EV market as a whole: "We're far away from where we should be. Especially if you look at countries like Norway, countries like China, South Korea they really are pushing much faster than we are," says Valldecabres Polop.
How electrification affects the future of motor racing
While Formula E is its own league, whose aim is to push the boundaries of the capabilities of EVs, the question must be asked as to what will happen once all cars become fully electric. Will Formula E be absorbed into the more established Formula 1, or will it usurp its predecessor in popularity. This is what Brown has to say on the matter, "When we talk about motorsport more broadly [...] we're seeing accelerating commitment from organisations all over the world around Sustainability."
"Formula 1 is making strong moves in addressing the reality that they represent the combustion engine and their impact on the climate, and therefore the messages that they portray. From Formula E's perspective we are the only all-electric championship. We hold that exclusive licence with the FIA through to 2039."
Brown and the rest of Formula E see themselves as a unique facet of the motorsports story, able to persevere once the original novelty of being the only 'EV' league is lost. "We believe as a championship we have a unique role around creating exciting sport, how we build heroes and stars and allow companies, be those manufacturers of cars to people like our title sponsor ABB, who are going to be a huge part of the electrification infrastructure of the cities and allowing them to tell a really powerful story through sports. That's where we see our role."
How Formula E influences change in the EV industry
Formula 1 has had a huge knock-on impact on the world of ICE vehicles, pushing innovations and engineering to their absolute limit. It's therefore a fair assumption that Formula E would have a similar impact on the EV industry, as they push the limits in acceleration, energy efficiency, and battery technology. Valldecabres Polop states his own company, EV Dynamics, received a big push from the 'ice-breaker' that is Formula E. Electric vehicles have only been mainstream in the public sphere for a short while, by and large, due to the influence of organisations like Formula E.
Formula E is pushing the very limits of the technology, remarking on the league's research & development (R&D) efforts in the sector, Brown had this to say, "The FIA and a bunch of [Formula E] engineers are up at Williams [Advanced Engineering] right now putting the new battery through its paces.
This is a battery that's going to do something that no battery has done before, [...] this race car is going to generate 40% of the energy it consumes [...] we're putting a fast charge into the race in terms of a format so the car stopping and us putting another 4kW of energy in. Which in the grand scheme of things, over thirty seconds, isn't a huge amount of power for the amount of time but technically is a huge challenge in what we're pushing that battery to do. So, even that is one example of how Formula E is pushing that technology to the edge."
As Brown admits, these aren't necessarily innovations that road cars require at this point in time, but it proves the capabilities of the technology and will eventually filter down into the commercial market. A huge innovation that Brown believes will be seen in commercial EVs is the use of 100% regen braking, which will eliminate the use of ceramic brakes and help to reduce particulate pollution in urban areas. By harnessing the innate capabilities of EV mechanics, we can gain benefits that aren't possible with ICE vehicles.
How can businesses move their fleets to electric?
We're all aware that moving to EV is inevitable, with a ban on the sale of new ICE vehicles coming into effect in 2030. However, there are still barriers, perceived or otherwise, that hinder the adoption of electric vehicles. What options are available to businesses that are seeking to electrify their fleets?
According to Valldecabres Polop, "we have a lot of cheap options on the market, and not just commercial vehicles, but regular vehicles produced by brands like KIA, you have suppliers in China, like BYD, doing amazing solutions." However, cheaper vehicles often have lower ranges, which can be a concern for drivers who fear they will not get the same utility from an electric vehicle that they do with ICEs.
However, Valldecabres Polot dismisses this concern stating that "the vast majority of routes for regular people are under 20 miles. Maybe 1% of trips are very long, so we don't really need big cars, and we've got very cheap and reliable solutions", so a cheaper vehicle with a lower range isn't as much of a hindrance as it is painted to be.
He also added, "Globally in Europe we have a lot of subsidies, not just for vehicles, but also for infrastructure. The big problem is not how fast companies can adopt, because I think companies will go electric, especially with the petrol prices today [...], the big challenge is whether the OEMs are going to be able to supply products. If you try to buy a Tesla, I'll bet you don't get a Tesla in less than 6 months. The challenge is on the OEMs, not on the companies."
Although 'range anxiety' can be a big barrier for people switching to electric, Valldecabres Polop does not agree this is a real concern, "People who run electric vehicles don't charge and then go all the way [on their journey] they charge a little bit here, a little bit there. You get used to plugging it in [anywhere]."
The main problem here is lack of the infrastructure in everyday life that gives consumers the flexibility to charge anywhere, "If you go to China, almost everywhere you go, every parking spot has a plug-in. You just plug it in and keep going, just like you do with your phone, on an Uber ride you just plug it in [...] you get a little 4-5% and you keep going." As Brown and Valldecabres put it, the technology is there, the willingness is there, and it is now up to the industry to provide the infrastructure to make EV adoption viable for everyone.
If you'd like to hear more, please make sure to check out the Racing towards EV panel, as well as many other talks from Sustainability LIVE 2022.