Using biodiversity net gain for sustainable development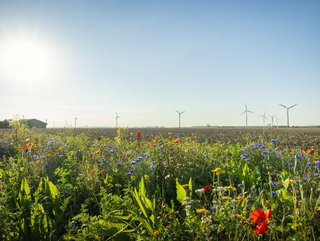 Rider Levett Bucknall's Beatriz Fernandes discusses how biodiversity net gain, Credit: Getty
With Rider Levett Bucknall's Beatriz Fernandes, we discuss how biodiversity net gain will become mandatory for developers and land managers later this year
There's no doubt that the drive to promote sustainability is gathering speed, however, society is still a long way from creating truly sustainable places.
A key element of this is the restoration of biodiversity. To address this, a biodiversity net gain (BNG) approach has been introduced to ensure that the natural environment is left in a significantly improved state. Starting from November 2023, it will be mandatory for landowners, developers, and local planning authorities in the UK to achieve a 10% biodiversity net gain as a requirement for large sites, extending to smaller sites from April 2024.
Beatriz Fernandes, Sustainability Consultant at Rider Levett Bucknall outlines the three key aspects covered by BNG:
BNG is an approach to development to ensure the natural environment is left in a measurably better state than before.
Delivering 10% in biodiversity net gain will become a mandatory requirement for granting planning permissions from November 2023.
This mandatory requirement will affect developers, local councils, and land managers/owners.
"This loss has significant implications for human well-being, including impacts on food security, water quality, and the provision of ecosystem services such as pollination and climate regulation," Fernandes says. "Aside from our general dependence on nature for living systems, over half of the world's GDP is directly dependent on nature assets.  
"In fact, the link between economic stability and maintaining our natural environments has been of so much concern that in 2021 the landmark Dasgupta Review on the Economics of Biodiversity reported the dependence of economic activity on nature. Closely followed by the announcement in June of the same year of the Taskforce on Nature-related Financial Disclosures (TNFD) – both major developments that show the growing focus on nature in businesses, especially finance, agriculture and food and the built environment."
What is a biodiversity net gain approach?  
It is clear that part of the sustainability journey must involve biodiversity, not just because of the environmental impact the loss of it has on surrounding areas, but also the economic effect it can have. But what is a biodiversity net gain approach and how can we plan and measure it in our built environment?
"To achieve biodiversity net gain, a development must show evidence that it will increase the biodiversity value of a site, or in other words, it needs to be in a measurably better state than it was before," Fernandes says. "This requires a biodiversity assessment prior to and post-development using a metric called 'biodiversity units' as a proxy for recognising the negative impacts on habitats arising from the development, to then calculate how much new or restored habitat, and of what types are required to deliver a sufficient net gain."
Below is the BNG hierarchy that is used when considering BNG for development within sites according to the Chartered Institute of Ecology and Environmental Management (CIEEM):
Avoid: Habitats are retained, e.g., selecting sites for development that have low ecological value.
Minimise: Development is redesigned to limit the extent of the land take from natural habitats, for example, altering the timing of development activities to avoid sensitive periods.
Restoration: The condition of on-site habitat is improved, for example, degraded habitat is brought back into good condition.
Offset/Compensate: Any residual impacts that cannot be avoided, minimised or restored, by delivering additional biodiversity enhancements elsewhere, for example, creating a habitat of a similar type where it did not previously occur, or enhancing existing habitat elsewhere.
BNG: Built environment action plan
For those in the built environment, there is a three-step plan that we would recommend when looking at biodiversity net gain. Fernandes explains:
Be prepared
The BNG planning requirement will take effect this year for all landowners, managers and developers and April 2024 for smaller sites, so preparation is key. So, for example, within housing this means developments with less than 10 houses.
Understand urban considerations
There is special consideration for urban environments such as London, Manchester and Birmingham, where compliance is difficult.  Most developments take place in urban areas, and it is also urban areas that lack the space for habitat creation and additional biodiversity features.
According to the BNG principles, the compensation for biodiversity loss must be done as close to the site as possible. This allows for the possibility to creatively enhance adjacent pieces of land but if not viable, distant land plots must be considered through the purchase of biodiversity units from land managers. The further away the compensation is carried out, the more biodiversity units a development will have to acquire to comply. However, if neither on-site or off-site compensation is possible, the developer must purchase statutory credits from the government and evidence that this was used only as a last resort.   
Plan in advance
The construction industry will need to adapt by incorporating biodiversity considerations into its development plans from the start. This could involve measures such as green roofs, tree planting, and creating new habitats for wildlife. However, financial implications are expected for developers, as they will need to fund biodiversity enhancements as part of their planning obligations.  
"For us to achieve really sustainable places, biodiversity is just one part of the puzzle, but it is an important one," Fernandes concludes. "Planning for future governance to understand what requirements are needed now and understanding the cost and time impact will be essential to avoid future costs and implications as well as creating thriving environmental and economic communities for tomorrow."
About the RLB
The RLB Sustainability team works with clients to offer solution led services including BNG assessment and compliance, BNG credit and strategy advisory, Natural Capital framework and Risk and Impact assessments, Green Ecosystems services assessment, Natural capital assessments and Nature finance vehicle development.
*************************************************
For more insights into Sustainability - check out the latest edition of Sustainability Magazine and be sure to follow us on LinkedIn & Twitter
Other magazines that may be of interest - EV Magazine | Energy Digital
Please also check out our upcoming event - Sustainability LIVE in London at the BDC on Sept 6/7th 2023
*********************************************
BizClik is a global provider of B2B digital media platforms that cover 'Executive Communities' for CEO's, CFO's, CMO's, Sustainability Leaders, Procurement & Supply Chain Leaders, Technology & AI Leaders, Cyber Leaders, FinTech & InsurTech Leaders as well as covering industries such as Manufacturing, Mining, Energy, EV, Construction, Healthcare + Food & Drink.
BizClik, based in London, Dubai & New York offers services such as Content Creation, Advertising & Sponsorship Solutions, Webinars & Events.