PepsiCo releases first ESG report since pep+ launch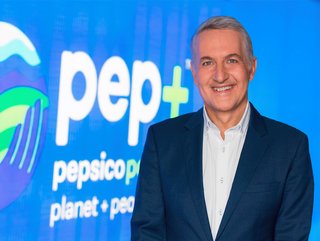 Ramon Laguarta, Chairman and CEO of PepsiCo
PepsiCo has shared its 2022 ESG Summary – the first report disclosing its sustainability progress since launching the pep+ programme
Food, snack and beverage giant PepsiCo has published its 2022 ESG Summary, sharing its first full year of reporting since launching PepsiCo Positive (pep+) – an end-to-end transformation programme reflecting every aspect of the business.
Pep+, which has been dubbed as "the future" of the company by PepsiCo Chairman and CEO Ramon Laguarta, assesses the company's sustainability credentials, spanning how the ingredients are grown, how the products are made, moved and sold, and the choices offered to consumers.
PepsiCo: Reducing carbon emissions and increasing social impact
The report shared that PepsiCo has made significant progress in driving down climate emissions by reducing the amount of virgin plastic used, using water more efficiently and focusing on nutrition, agriculture and people and communities.
For the second consecutive year, 75% of the business's convenience foods portfolio volume did not exceed 1.1g of saturated fat per 100 calories – a goal that was achieved four years ahead of schedule. Fifty-six percent of PepsiCo's beverage portfolio volume now contains less than 100 calories from added sugars per 12-ounce serving, demonstrating an increase of 53% in 2021.
To improve its environmental impact, PepsiCo has worked closely with farmers to build their resilience, reducing carbon emissions from agriculture by more than 330,000 metric tonnes. This is the equivalent of taking more than 73,000 cars off the road for a year.
Since 2015, PepsiCo has also improved its water-use efficiency by 22% in operations in high water-risk areas and is now approaching its 2025 goal of 25%. Additionally, PepsiCo provided safe water access to more than 80 million people since 2006, including 12 million people in 2022.
The report also shares that the company surpassed its goal of achieving 10% Hispanic representation in US managerial positions, again meeting the plan three years early.
"Decoupling our business growth from our resource use is always going to be difficult but meeting our long-term targets is critical and we are rapidly learning how and where we need to adjust," said Jim Andrew, PepsiCo's Chief Sustainability Officer. "We issued US$2.25bn in green bonds since 2019, and we have made – and will continue to make – substantial investments toward key parts of our pep+ agenda, including becoming net zero and reducing the use of virgin plastics.
"We will also work diligently to remove barriers to progress, many of which are regulatory in nature. The challenges to addressing systemic issues are enormous and it will take a multi-stakeholder approach to get to where we all want to be."