SUSTAINABILITY LIVE LONDON 2022: Reasons to register now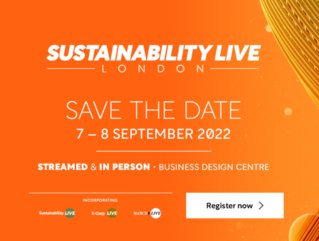 Shaping the future of sustainability and ESG, SUSTAINABILITY LIVE LONDON 2022 returns to the Business Design Centre on 7&8 September
This two-day, multi-track conference programme will see more than 70 internationally acclaimed leaders from the global sustainability community present valuable solutions for, and debate topical issues on, the most pressing aspects of sustainability in our world today.
The themes across the two-day conference programme include ESG strategies; net zero; DE&I; the circular economy; sustainable supply chains & scope 3; ethical investing and finance; the inclusive economy; the B-Corp accreditation, certification, education, standards and governance; women in sustainability; and many, many more.
Hear "How Coutts became the 1st UK HQ'd private bank to be B-Corp Certified"; get tips on "Sustainable Actionable practices in SMEs"; find out why "Consumers want your meaning first"; and so much more, via a range of keynote sessions, panel discussions and fireside chats across the two live stages and the virtual stage.
The last edition of SUSTAINABILITY LIVE LONDON saw hundreds of sustainability leaders and advocates from some of the world's most influential companies benefit from direct, face-to-face networking opportunities. Companies like PwC, WaterAid, Ministry of Defence, Rolls-Royce, Red Bull, CGI UK, Huawei, EY, SAP, JP Morgan, Schneider Electric, AstraZeneca, Fujitsu, Salesforce, Three, BP, HSBC, Capgemini, DHL and IBM.
Featuring 90+ speakers, 1000+ visitors and 4500+ digital attendees, February's inaugural event provided fresh insight and raised new questions about what industry can do to provide a more sustainable future for us all.
"I have to say, it was fabulous! To see so many people (in the real world!) and hear so many inspiring contributions was really uplifting. The turnout was epic and the organisation so spot on. And a great venue, too! I loved the hybrid of virtual and live – that's so hard to do well and you nailed it. Congratulations!" said Rob Cheesewright, Chief Sustainability Officer at Pinwheel.
Encapsulating everything SUSTAINABILITY LIVE LONDON is about, James Robey, Global Head of Sustainability at Capgemini, said: "Events like these are important for sharing and shaping ideas: it's only by collaborating across industries that we'll create the new global systems needed for a sustainable future."
Be part of the conversation, cement existing relationships, and make meaningful new business connections by registering to attend SUSTAINABILITY LIVE LONDON on 7&September.

Discover the latest practices and principles for ethical investing routes that meet your environmental, social and governance (ESG) policies
Be inspired to provide a more equitable workplace by some of the world's leading trailblazers in diversity, equity, and inclusion (DE&I)
Learn how carbon footprint reduction is "everyone's problem" and how to enforce transparency among third-party supply chains
Understand why B-Corps are important and how Open Finance and Open Data can evolve to support sustainable finance
Discover what your customers want to know about your company's position on sustainability, and learn how to differentiate your value proposition for a competitive edge
Network with your peers, alongside a raft of inspiring leaders, movers and shakers from across the entire sustainability ecosystem
Those who are unable to make it to the event in-person are invited to register for a free virtual pass and enjoy full access to the SUSTAINABILITY LIVE LONDON virtual networking platform. Alongside the opportunity to meet fellow virtual attendees, you can submit your questions to the speakers on-stage, and access all sessions on demand.

For more information visit sustainability-live.com and follow our Linkedin Event Showcase Page for the latest updates.