Sustainability Magazine launches Top 100 Companies 2023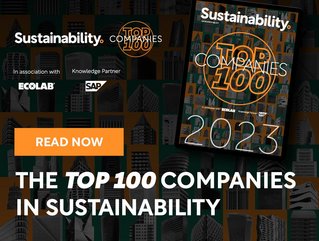 Sustainability Magazine's Top 100 Companies out now
Sustainability Magazine has launched its Top 100 Companies supplement, ranking the world's most sustainable businesses from Schneider Electric to Polestar
Sustainability Magazine has launched its highly-anticipated Top 100 Companies supplement, which celebrates the sustainability journeys of the world's biggest companies.
Businesses are more focused than ever to showcase their commitments to improving their sustainability credentials, and 2023 alone has seen an influx of reporting standards, clean energy goals and transparency among businesses, to name a few. Yet, there are many companies that have gone above and beyond to emerge as sustainable pioneers, and the firms in this list represent those that have made remarkable progress in creating long-lasting positive impacts.
From Capgemini and Schneider Electric to ABB and AT&T, we've listed the top global companies driving change in their sectors, thus, acting as beacons of inspiration, demonstrating that profitability and sustainability can go hand in hand.
Sustainability Magazine's Top 100 Companies – Number 1
Schneider Electric is the most local of global companies. It advocates open standards and partnership ecosystems that are passionate about the business's shared meaningful purpose, inclusive and empowered values.
Sustainability is at the heart of Schneider Electric. To demonstrate this, it has six key commitments: The business pledges to act for a climate-positive world; to be efficient with resources; to live up to its principle of trust; to create equal opportunities; to harness the power of all generations; and empower local communities.
DE&I is also a top priority for Schneider Electric. In fact, its 130,000 employees span five generations, 182 nationalities and 108 countries. And, as of December 2022, 34% of the company were women. This includes 41% in the executive committee, 45% in the board of directors, 42% in all new hires, 27% in frontline managers, and 28% in senior leadership positions.
Sustainability Magazine's Top 100 Companies – Number 2-10
2. Siemens
Technology giant Siemens focuses on industry, infrastructure, transport, and healthcare. By combining the real and the digital worlds, Siemens empowers its customers to transform their industries and markets, helping them to transform the every day for billions of people.
Siemens have set clear, very ambitious priorities for core ESG topics, which they drive internally within their own operations as well as together with their customers. Siemens, wants to advance sustainability by creating value for everyone, driving sustainable growth, and creating a better world.
As the world's largest wind turbine manufacturer and wind turbine service provider, Vestas Wind Systems A/S has the vision to become the global leader in sustainable energy solutions. Every day, Vestas's more than 28,000 employees help to create a better world by designing, manufacturing, installing, developing and servicing wind energy and hybrid projects all over the world.
4. Unilever
As one of the most notable sustainable companies, Unilever is making exciting new developments in packaging with the idea that paper-based bottles will replace plastic. The business has a clear view of its social and environmental obligations and is committed to developing plant-based alternatives to fossil-fuel-derived cleaning products and packaging, reaching net-zero carbon emissions by 2039, and is already taking social action for people's welfare.
5. Stantec
Stantec collaborates across disciplines and industries to bring buildings, energy and resource, environmental, and infrastructure projects to life. With a long-term commitment to the people and places it serves, Stantec has the unique ability to connect to projects on a personal level and advance the quality of life in communities across the globe. The business recognises that to fulfil its promise to design with the community in mind, it needs to consider climate change in its project work, too.
Leveraging over 120 years of operating experience and industry-leading innovation, Brookfield Renewable drives value across its extensive clean energy platform and delivers innovative renewable power solutions that accelerate the world towards a sustainable, low-carbon future. Brookfield Renewable is also a signatory to the UN-led Principles of Responsible Investment and the Net Zero Managers Initiative, both of which show their commitment to ESG best practices.
With more than 100 years of heritage of innovation and industry firsts, market-leading expertise, and unmatched customer service, Evoqua Water Technologies has the primary focus to transform water and wastewater. Its cost-effective and reliable treatment systems and services ensure uninterrupted quantity and quality of water, enable regulatory and environmental compliance, increase efficiency through water reuse, and prepare customers for next-generation demands.
8. Brambles
Under the CHEP brand, Brambles helps move more goods to more people, in more places than any other organisation on earth. Bramble prides itself on its circular business model, which facilitates the 'share and reuse' of the world's largest pool of reusable pallets and containers. This enables Brambles to serve its customers while minimising the impact on the environment and improving the efficiency and safety of supply chains around the world.
9. Schnitzer
Since its founding in 1906, Schnitzer has grown into a global leader in metals recycling through a combination of organic investments and acquisitions which provide state-of-the-art processing, manufacturing and information technologies. Today, Schnitzer operates 95 recycling facilities, including seven deep water ports – on both US coasts, in Hawaii and Puerto Rico – which enable efficient delivery of processed scrap metals to steel mills and foundries around the world.
10. Taiwan High Speed Rail Consortium
Since 2007, Taiwan High Speed Rail (THSR) has been providing safe and fast transportation services for Taiwan's island-wide commuters. For more than 13 years, THSR has been the main transportation pillar of Taiwan's western corridor. THSR trains can reach top speeds of 300 km/h from Nangang to Taipei, Banqiao, Taoyuan, Hsinchu, Miaoli, Taichung, Changhua, Yunlin, Chiayi, Tainan, and Zuoying. These destinations reflect the innate hospitality and efficient systems of Taiwan.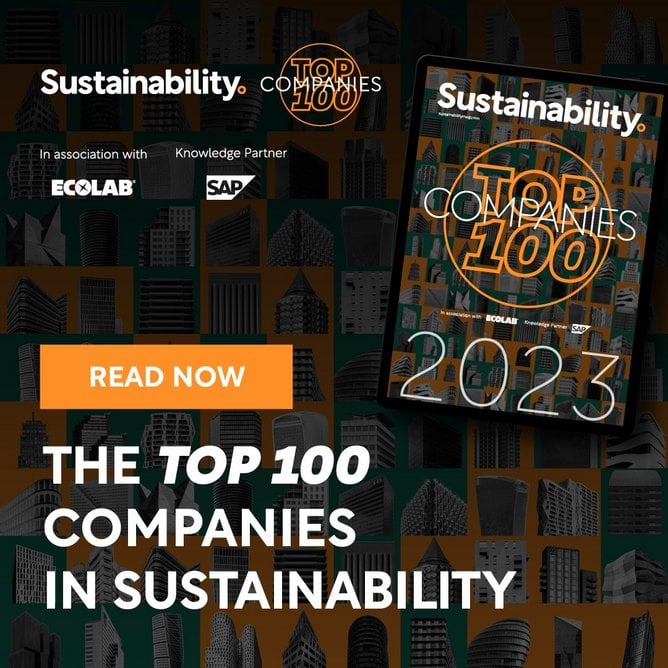 Sustainability Magazine Top 100 Companies 2023
Sustainability Magazine's Top 100 Companies – Number 11-100
11. Amazon
12. Microsoft
13. AutoDesk
14. Apple
15. IBM
16. Nestle
17. Deloitte
18. Tesla
19. Accenture
20. Oracle
21. EY
22. Cisco
23. Capgemini
24. Nike
25. Pfizer
26. HP
27. United Nations
28. McKinsey & Co
29. PwC
31. Walmart
32. Tech Mahindra
33. Salesforce
34. Samsung
35. JP Morgan
36. BCG
37. Hewlett Packard Enterprise
38. Sanofi
39. HSBC
40. KPMG
41. Adidas
42. Intel
43. SAP
44. ABB
45. Morgan Stanley
46. BMW
47. AstraZeneca
48. Merck
50. BASF
51. Ericsson
52. VMware
53. Santander
54. AT&T
55. Stellantis
56. Bain & Co
57. Volvo Group
58. Banco do Brasil
59. BAT
60. VISA
61. Barclays
62. Volkswagen
63. BNP Paribas
64. Mastercard
65. Johnson Controls
66. AXA
67. Reckitt
68. Lego Group
69. Mercedes-Benz AG
70. Henkel
71. Puma
72. Orange
73. Societe Generale
74. Xerox
75. Patagonia
76. BD
77. Engie
78. AB InBev
79. Tetra Pak
81. BT
82. Entel
83. Kering
85. Nespresso
86. Marsh
87. MTN
88. Scania Group
89. Rivian
90. EcoLab
91. Kearney
92. Intesa Sanpaolo
93. Iberdrola
94. Orsted
95. Smurfit Kappa
97. Meta
98. E.ON
99. Alphabet
100. Polestar
To read more, click here.
*************************************************
For more insights into Sustainability - check out the latest edition of Sustainability Magazine and be sure to follow us on LinkedIn & Twitter
Other magazines that may be of interest - EV Magazine | Energy Digital
Please also check out our upcoming event - Sustainability LIVE in London at the BDC on Sept 6/7th 2023
*********************************************
BizClik is a global provider of B2B digital media platforms that cover 'Executive Communities' for CEO's, CFO's, CMO's, Sustainability Leaders, Procurement & Supply Chain Leaders, Technology & AI Leaders, Cyber Leaders, FinTech & InsurTech Leaders as well as covering industries such as Manufacturing, Mining, Energy, EV, Construction, Healthcare + Food & Drink.
BizClik, based in London, Dubai & New York offers services such as Content Creation, Advertising & Sponsorship Solutions, Webinars & Events.