Supply Chain Sustainability
Mercedes and Microsoft's new sustainability collaboration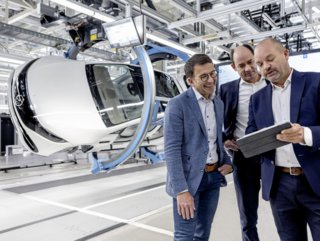 Mercedes-Benz and Microsoft have announced a new partnership, to reduce emissions, manage waste, and improve key sustainability metrics in car production
Through its collaboration with Microsoft, Mercedes-Benz is working to improve the sustainability standards across the production chain of its entire fleet.
And, by deploying Microsoft Cloud within their operations, Mercedes-Benz is predicting that their vehicle production efficiency will improve by 20% by 2025.
Resolving supply chain bottlenecks faster, with key data insights
Mercedes-Benz has deployed its new MO360 Data Platform within its operations, which will connect passenger car plants to Microsoft Cloud.
This platform will make car production more transparent, more efficient, more resilient to supply chain threats, and more sustainable across the board.
The MO360 Data Platform will connect 30 of Mercedes-Benz' global passenger car plants to the Microsoft Cloud.
Firstly, this enhanced digital production ecosystem will enable teams to identify potential supply chain bottlenecks faster, and it will unlock a dynamic prioritisation of production resources, in favour of electric and top-end vehicles.
With this unified data platform, the carmaker can create a virtual replica of its vehicle manufacturing process. These insights from all areas - assembly, production planning, shop floor logistics, supply chain and quality management - allowing them to create a virtual simulation of their processes, which they can then optimise before it is rolled-out.
To help the manufacturer successfully navigate the shortages and delivery delays that are impacting the world's supply chains, the MO360 Data Platform will enable teams to explore a variety of production scenarios, based on real-time data about the available quantity of parts and equipment.
And then, this simulation can also be used to reduce the CO2 emissions of a production process.
Monitoring emissions and improving process sustainability
Within the MO360 Data Platform, Mercedes-Benz has implemented an analytics tool, which will allow its teams to monitor and reduce the ecological footprint of vehicle production.
This unified data platform includes the ability to track and forecast carbon emissions, energy and water usage, and waste management.
"This new partnership between Microsoft and Mercedes-Benz will make our global production network more intelligent, sustainable and resilient in an era of increased geopolitical and macroeconomic challenges," commented Joerg Burzer, Member of the Board of Management of Mercedes-Benz Group AG, Production & Supply Chain Management.
"The ability to predict and prevent problems in production and logistics will become a key competitive advantage as we go all electric."
"Mercedes-Benz' partnership with Microsoft is a testament to the power of the industrial metaverse," added Judson Althoff, Executive Vice President and Chief Commercial Officer at Microsoft.
"Together, we are merging the physical and digital worlds to accelerate value creation. Mercedes-Benz can simulate and refine manufacturing processes infinitely in the Microsoft Cloud before bringing them to the shop floor to enhance efficiency and minimise its environmental impact amid constant change and uncertainty."