Microsoft Cloud for Sustainability's latest ESG innovations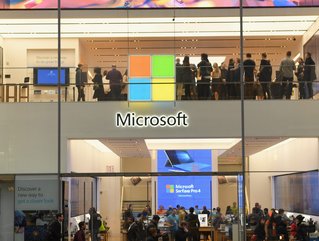 Microsoft
Launched in June 2022, Microsoft Cloud for Sustainability helps clients reduce their environmental impact. Microsoft's CSO Melanie Nakagawa explains how
Microsoft has recently launched the 'Microsoft Cloud for Sustainability', to showcase its commitment to helping customers create operational efficiencies to reduce their environmental impact.
"We have made amazing progress since we launched, releasing new features every month," says Melanie Nakagawa, Microsoft's Chief Sustainability Officer. "With Microsoft Cloud for Sustainability, we have enabled organisations to accelerate sustainability progress and business growth by bringing together ESG capabilities from Microsoft and our global ecosystem of partners.
"Together we provide tools to customers such as Ingredion, the BBC, Grupo Bimbo, and many others to gather actionable insights needed to transform their business operations for a more sustainable future."
The importance of utilising ESG data
Microsoft understands that organisations need to utilise digital technologies and data to effectively measure and manage sustainability progress while addressing the scale and breadth of challenges that they face.
Accurate and dependable data intelligence is also essential to drive impact reduction efforts, reporting and business transformation. Microsoft, therefore, leverages data to acquire a holistic grasp of an organisation's sustainability footprint and its value chain, which helps create effective strategies to enhance ESG performance.
When the Microsoft Cloud for Sustainability was initially released, the data model focused on addressing carbon emissions – it has since been updated to include water and waste.
By centralising the data, these data models streamline the ingestion, sharing, calculations and reporting processes. They bring together diverse data sources from across the enterprise, including enterprise resource planning (ERP) data, plant data, Internet of Things (IoT) sensor data, telemetry at the edge, as well as external sources like suppliers, utility companies and transportation.
Microsoft is therefore introducing Project ESG Lake, to support organisations to centralise and standardise data in a comprehensive ESG data estate. A preview will be released in July 2023.
This industry data platform will enable customers, partners, and independent software vendors (ISVs) to perform analytics and build custom apps to meet their industry-specific needs.
Microsoft Fabric will also be available to help analyse, define, train, score and predict emissions. Organisations can therefore access and organise ESG data, and improve data sharing and governance while utilising AI to generate actionable insights.
Microsoft's prebuilt ESG reporting templates
ESG reporting frameworks, such as the Corporate Sustainability Reporting Directive (CSRD), will soon require large organisations to adopt new strategies to prove their commitment to sustainability.
These disclosure guidelines include reporting on emissions impact, emissions reduction targets, social impact, and governance systems, as well as ESG risks and opportunities. The new guidelines – which will impact 50,000 organisations – will require businesses to quickly and efficiently update their data estates for insights and reporting.
"Over our year of growth, we launched capabilities to help organisations improve the collection of environmental as well as collect social and governance data to address new ESG reporting requirements," Nakagawa says.
"We're also introducing prebuilt ESG reporting templates that help customers organise and track their evidence for different ESG regulatory reporting standards, starting with CSRD. We will extend this to other regulations as they are defined and implemented by governing bodies."
Tracking Scope 1, 2 and 3 greenhouse gas emissions
To comply with international regulations and greenhouse gas (GHG) reduction targets, companies must reduce emissions across Scope 1, 2 and 3 emissions. Microsoft Cloud for Sustainability now allows customers to calculate all three emissions, including all 15 categories of Scope 3 throughout their enterprise and value chain.
The preview will include the final five Scope 3 categories, giving customers the flexibility to incorporate precalculated emissions across all scopes. Microsoft also supports multiple existing standards out of the box to meet diverse business needs.
Microsoft's work with global partners
"Foundational to our success with our Microsoft Industry Cloud solutions is the collaboration and work we accomplish with our global ecosystem of partners," Nakagawa explains.
Microsoft highlighted some of the great work from its system integrators and ISVs in February 2023, including Accenture, Avanade, Capgemini, EY, KPMG, and PwC. These trusted advisors are helping organisations plan, design and implement strategies and robust solutions to enable transformation, while others are building companion solutions on top of Microsoft Cloud for Sustainability.
In collaboration with Ecolab, a global leader in water sustainability, hygiene and infection prevention, Microsoft Sustainability Manager introduced new water sustainability capabilities. The joint solution integrates ECOLAB3D digital platform with Microsoft Sustainability Manager, empowering organisations to effectively monitor and manage water data. By leveraging this solution, organisations gain visibility into their progress towards water and sustainability goals, enabling them to make informed decisions and take proactive measures.
"Most recently we also shared that we are building a catalogue of prebuilt and custom data connectors from third-party providers," Nakagawa adds. "One of our priorities is pre-built connectors that aggregate data across key emission categories to scale benefits to customers.
"We are also enabling custom connectors that address more specific data scenarios to be built, using an in-app experience for importing data. Arcadia, Seeq, Johnson Controls, Cognite, and Mesa are just a few of the ISVs with whom we're partnering."
Learn more about Microsoft Cloud for Sustainability
Try Microsoft Cloud for Sustainability first-hand with a trial. Get news and updates. With regulations growing, Microsoft is quickly innovating around ESG tracking and reporting.
Sign up to receive email updates.
Learn more about the latest Microsoft Cloud for Sustainability feature releases.