Polestar, Rivian: Decarbonising the passenger vehicle sector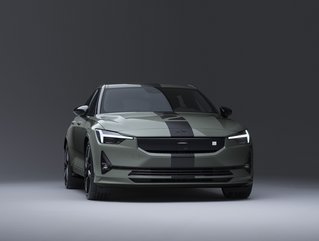 Polestar 2 BST edition 230 in Nebula, Credit: Polestar
In a recent report, electric vehicle companies Polestar and Rivian highlight the importance of reducing the GHG emissions produced by passenger vehicles
Globally, 15% of greenhouse gas (GHG) emissions are produced by passenger vehicles. To counter this, the sector has taken decarbonisation steps by focusing on the electrification of fleets and targeting a significant portion of emissions that come from the tailpipes.
Electric vehicle companies Polestar and Rivian recently collaborated to share a report looking at the emissions of the projected passenger vehicle fleet globally to 2050, while exploring the industry's monumental challenges.
Why decarbonising the passenger vehicle industry is urgent
The International Energy Agency (IEA) estimates that there is a remaining global emission budget of about 500 GtCO2e (Gigatonnes of carbon dioxide equivalent) before 2050 to limit the temperature increase to 1.5°C.
If passenger vehicles continue to emit 15% of global GHG emissions, the industry has approximately 75–80 Gt of emissions left to stay within the budget. However, if we continue on the current trajectory, we will reach this budget by 2035, resulting in an overshoot of 75% by 2050.
Regardless of the approach experts choose to take, achieving the 1.5°C target will be challenging, and very few reports project scenarios that are achievable without accelerated action. The trajectory is uncomfortably close to the limits.
Consumer influence to increase the sustainability of the passenger vehicle industry
Transitioning to sustainability raises a number of challenges, including economic, social and raw material availability issues. Yet Polestar and Rivian both acknowledge that there are additional variables not covered, such as the impact of autonomous driving and sharing models, which need to be considered.
The report echoes that although the relationship between sustainability and profitability is often questioned, businesses must actually focus on the cost of inaction.
Similarly, consumer behaviour is changing. Sustainability is becoming an increasingly important factor in vehicle purchasing decisions, with 61% of respondents considering sustainability when buying passenger vehicles in 2021.
The study also found that the younger generation – Gen Z and Millennials – are more inclined to pay for greener products and will have increased purchasing power in the future. Consequently, the focus on sustainable solutions will only intensify.
Although limiting global warming to below 1.5°C will be a testing task for all industries, the passenger vehicle industry has an opportunity to redefine the challenge, reconsider competition and collaborate on collective actions to halve GHG emissions by 2030.
In the report, Polestar and Rivian echo that the need for action is evident, regardless of the debates about timelines, data and long-term targets.
Read the full report here.
******
For more insights into Sustainability - check out the latest edition of Sustainability Magazine and be sure to follow us on LinkedIn & Twitter
Other magazines that may be of interest - EV Magazine | Energy Digital
Please also check out our upcoming event - Sustainability LIVE in London at the BDC on Sept 6/7th 2023
*******
BizClik is a global provider of B2B digital media platforms that cover 'Executive Communities' for CEO's, CFO's, CMO's, Sustainability Leaders, Procurement & Supply Chain Leaders, Technology & AI Leaders, Cyber Leaders, FinTech & InsurTech Leaders as well as covering industries such as Manufacturing, Mining, Energy, EV, Construction, Healthcare + Food & Drink.
BizClik, based in London, Dubai & New York offers services such as Content Creation, Advertising & Sponsorship Solutions, Webinars & Events.