Supply Chain Sustainability
The future of AI and IoT in sustainable smart cities
Carl Ennis, the UK CEO of Siemens
Can the data demands of AI and IoT be counterbalanced to create a net-positive sustainable impact and enhance the world's future smart cities?
Smart cities are a concept revolutionising the way we think about urban living. It's a term that covers cities with advanced data collection and deployment technologies, using advancements in AI, ML, cloud, and 5G to manage the services and resources that its residents have access to.
The pace of innovation can hardly keep pace with the industry's imaginings for smart city technologies, yet alongside this, sustainability targets are becoming increasingly ambitious.
The data demands of our AI, IoT, cloud models, and the consequent neural networks – with their huge computational resources and energy consumption – could seriously hinder the world's net-zero targets.
But is it possible to achieve our complete vision for the smart cities of the future using AI technologies to create a net-positive sustainable impact?
Technology and accelerating the drive to sustainability
The advancement in the fields of AI, the cloud, and IoT has accelerated at a phenomenal pace. And there's no doubt that, in the short term at least, these technologies are creating additional demands on our sustainability requirements.
Fortunately, though, the additional demand of these technologies is outweighed by the sustainable transformation opportunities that they unlock.
"This is the decisive decade. I am, however, optimistic, and the IPCC have said we already have the tools and the technology we need to tackle the climate crisis. We just need to use them," asserts Adam Elman, the Head of Sustainability for Google Europe, Middle East and Africa.
"Across the world today, data AI machine learning is really being used in the real world to take action."
But, on the flipside, there are questions about whether sustainable technologies are the solution that the world is waiting for.
For Carl Ennis, the UK CEO of Siemens, while smart solutions present a fantastic opportunity, they aren't enough in isolation.
"Smart solutions, which are often what are required at community level, require an intelligent systems-led approach. Not only to the technological solution, but also to the commercial model that's used," Ennis explains.
"Now, of course, if this were easy, we'd already be doing it. Unfortunately, there are a wealth of barriers to creating better, smarter, cleaner infrastructure. And, somewhat disappointingly for the head of a technology company, I'm sad to say that, in this particular instance, the challenge is not a technological one."
According to Ennis, the answer to resolving this issue lies in a sociological sphere, not a technological one.
"Today, we have already proven technology that will get us 80% of the way to net zero. Today's challenge is, in fact, a commercial one; it's one struggling with the complex decision-making that happens at community level and town level."
But, whichever view you take, there are still remarkable positives to be taken from this – primarily that our current technologies have the capability to take the world where it needs to be.
AI as a tool in Google's development of sustainability strategies
There's no doubt that technology will pave the way to the cities of the future.
"Smart cities are no longer a hypothetical concept – over 100 cities in the world have already implemented initiatives that warrant them smart in some way or other," states Amr Houssein, the Managing Director of eSIM as a Service at Mobilise.
"From a telecoms' perspective, it really is that perfect combination of IoT's connectivity and 5G's rich capacity of capabilities that have enabled automated systems and flows to be built across cities. On a citywide scale, it's things like smart energy grids and intelligent traffic management systems, but also smart homes, too."
An invaluable case study in this sphere is the work that Google is currently undertaking to use IoT and AI technologies to reach its sustainability targets.
Google's deployment of sustainability-oriented AI and IoT tools span a huge variety of use cases. Firstly, AI is actually being deployed as a tool to increase data centre efficiencies, meaning that the expanding data demands of future smart cities can be met more sustainably.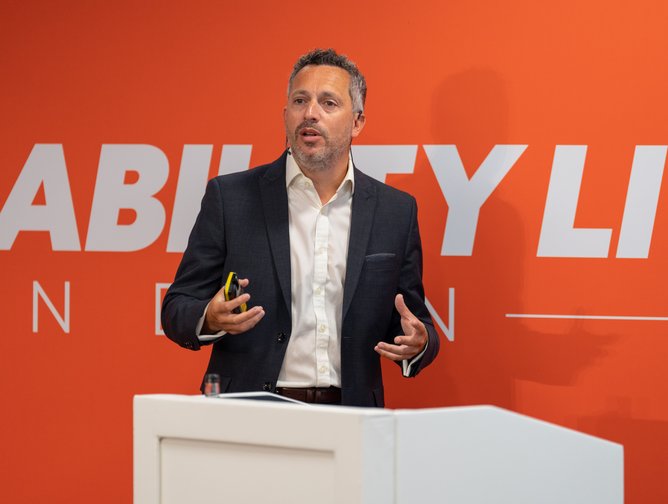 Adam Elman
"Our data centres are about twice as efficient as a standard enterprise data centre. And, in fact, compared to five years ago, we produce about five times as much computing power for the same amount of electricity used. AI is a key way we do this," Elman comments.
"Deep mind is an AI machine-learning specialist organisation within Google. A number of years ago, this started using neural networks to take thousands of data points and figure out optimisations that humans simply can't do, due to the amount of data and the variability within that."
"And using those data points, passing them through an AI efficiency model, we were able to improve the efficiency of our cooling system by 30%," Elman states.
For the emissions coming from the data centres, Google uses a carbon intelligence programme to predict how much computing power will be needed on a day-to-day basis and how much renewable energy they think will be on the grid.
"Using those data sets, we can then decide where we want to use that computing power. We can shift it between different data centres, giving us complete flexibility to use that computing power where the grids are the cleanest in the world. It's a really unique system."
Alongside this, AI is also being used by Google to give cities and city-dwellers actionable insights and precise sustainability metrics.
"One of the solutions that we make available for free to cities and regions around the world is called Environmental Insights Explorer. Insights are really key to developing carbon plans and then tracking progress against them," Elman explains.
"Cities account for around 70% of carbon emissions, but those cities often lack the data and the tools they need to create those really robust plans and track progress. Environmental Insights Explorer provides data on building emissions, on real-time transport emissions, and on the opportunity to deploy things like solar."
"One example is Dublin city: it has set a target to increase cycling trips by 20% and used real-time transport data to see what's happening in the city today. That's helped it develop plans for the infrastructure changes and policy changes needed to improve cycling. And it's using that real-time data to track progress, to see if it's really having the impact that is desired," Elman adds.
How will our mobile phones fit into this?
The ongoing development of mobile technologies, facilitated through the use of AI and IoT, demonstrates that connectivity can indeed be done sustainably.
Within smart cities, this will be achieved both at the macro level of governments and global corporations, and the micro of individual users of increasingly sustainable devices.
"Looking into the future, smart homes will become more sophisticated," Houssein asserts.
"There will be a shift in how we view smart devices – they will no longer just be a 'nice-to-have' add-ons, but integrated elements of a home. Rather than a collection of unconnected smart devices, homes in the smart cities of the future will use IoT to become an interconnected ecosystem that seeks to improve efficiency and reduce running costs, making life easier and more comfortable for residents."
And, thanks to the net-zero commitments and landmark sustainability developments of mobile giants like Google, sustainability will automatically be embedded in the smart city technologies that we will use.