EcoAct releases net-zero analysis – Vodafone, Landsec lead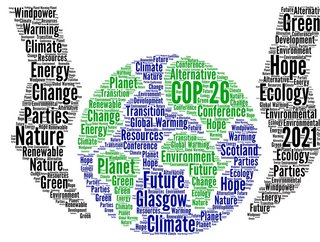 EcoAct analysis highlights the need for COP26 to demonstrate clear leadership on climate – Microsoft, Apple, Landsec, Vodafone, GSK, Schneider lead
EcoAct – an Atos company – has released 'The Climate Reporting Performance of the FTSE 100, Euro STOXX 50 and DOW 30'.
The report, which includes a leader board ranking the top 20 companies for climate disclosure, found that just 19% of the FTSE 100 have long-term emissions reduction targets to meet net-zero goals and only 3% have a long-term emissions reduction target aligned with limiting global warming to 1.5°C with most having no provision for sequestration.
The study also notes two thirds of FTSE 100 companies are now committed to net zero (increasing from 45% in 2020 to 66% this year). This compares favourably against the Euro STOXX 50 and DOW 30 where 64% and 63% of businesses have committed to net zero, respectively. Yet less than a fifth of businesses across all indices have long-term reduction targets to achieve this commitment, and only 2% have strategies in place that will achieve emissions reductions in line with 1.5°C.
Up to 80% across all indices, with many commercial sectors including insurance, oil and gas and consumer vehicles and parts, demonstrated alignment with the Taskforce on Climate-related Financial Disclosures (TCFD) recommendations – the biggest year-on-year increase since they were launched.
Developed by The Financial Stability Board, the TCFD recommendations provide a clear example of how governments globally can come together to create a framework that achieves a common climate goal. In addition, three-quarters of FTSE 100 businesses have set or have committed to set science-based targets (SBTs) (up from 57% last year).
The analysis revealed that with clear frameworks to follow – such as the TCFD recommendations and the Science-Based Targets Initiative (SBTi) – more and more businesses are demonstrating governance on climate change and committing to short and medium-term targets in pursuit of net zero.
Cometh the hour
The report highlights the importance of COP26 to agree the global pathway to net zero, and the vital need for clear government policy to support and incentivise long-term emissions reductions aligned to 1.5°C.
Commenting on the findings, Stuart Lemmon, Managing Director, Northern Europe, EcoAct said: "Businesses have a vital role to play in tackling climate change but need to be led by more ambitious long-term policy and regulation, underpinned by realistic frameworks to work within, to achieve net zero. The outcomes of COP26 will be pivotal for turning intent into action.
"Our analysis shows that when businesses have a clear framework to follow, the uptake on climate change action is vastly accelerated. This decade represents our very last chance to implement the climate policies and strategies that will see us achieve net-zero. We no longer have time to rely on a minority of leading climate change actors. All governments, businesses and society at large must do everything they can to drive rapid and meaningful change."
Landsec has secured the number one spot in this year's FTSE 100 leader board, closely followed by Vodafone, which has risen rapidly through the ranks to take second place, having come in 22nd in last year's report. GlaxoSmithKline has also become one to watch having placed fourth this year having risen 24 places. Together this sees the Information, Technology and Telecommunications, and Biopharmaceuticals industries leading the pack this year, replacing Utilities and Banking.
Globally, top performers across all indices (FTSE 100, DOW 30 and Euro STOXX 50) this year were Microsoft, Apple, Landsec, Vodafone and Schneider Electric. 65% of companies across all indices have now set an SBT, a 26% increase on 2020 (with the addition of Euro STOXX in 2021). Furthermore, many more of these SBTs are in line with a well below 2⁰C or 1.5⁰C scenario – from 20% last year to 51% this year.
Other key global findings:
There has been an over 40% improvement in the number of companies committed to net zero from last year with 66% of companies in the FTSE 100, 64% in the Euro STOXX 50 and 63% in the DOW 30 committing to net zero. For the DOW 30 this doubles the rate of commitment in comparison to last year. Across all indices, however, only 19% of companies disclose a long-term emissions reduction target and only 2% of companies disclose targets for sequestration of residual emissions.
74% of companies reported a reduction in their Scope 1 & 2 emissions that is in line with limiting global heating to 1.5°C – a result the report notes is likely to be artificially high due to COVID-19. It was also noted however that only 22% of companies reduced their Scope 3 emissions in line with the same pathway.
The change in global emissions from this year to the next could be a defining moment; for targets to be met, all large companies need to be proactive in achieving sustained emissions reductions and decarbonising their business models.
Not enough is being done to tackle value chain emissions. Across all indices, 65% of companies have set a Scope 1 & 2 SBT while only 39% of companies have set one for their Scope 3 emissions. Of the 178 companies scored this year, only AstraZeneca, Vodafone, Apple, and SAP SE have successfully set 1.5⁰C aligned Scope 1, 2 and 3 SBTi validated SBTs.
Meanwhile, the percentage of companies offsetting their residual carbon emissions has increased from 25% to 36% overall. Organisations must reduce emissions in alignment with the 1.5°C scenario. Offsetting is an important mechanism to ensure that companies are taking urgent action on any emissions they are still working to reduce.