Stora Enso launches low-carbon industrial buildings solution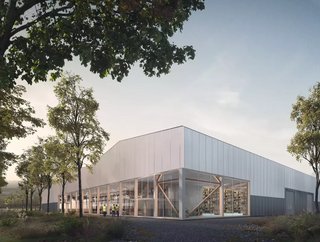 Stora Enso provides design tools and concept types to support low-carbon transition for booming industrial building sector
Stora Enso – the renewable materials company that specialises in mass timber solutions – has launched a suite of tools to support developers of the UK's industrial buildings. It arrives at a time where warehouse space is becoming an endangered species.
The tools create more attractive, productive and sustainable buildings, with spans ranging from 12 to 36m, from small workshops to large retail sheds and warehouses.
Stora Enso's wooden industrial buildings allow developers to cut embodied emissions by up to 30%, while also benefiting from highly modular and flexible designs. Crucially, the new design tools incorporate a high degree of pre-fabrication, allowing for accelerated construction timelines, and can be configured for easy disassembly and reassembly as needs change.
Space – the final frontier
With available UK warehouse space estimated at less than 50m square feet – with the potential to run out within a year following the pandemic and a rise in online shopping – wooden industrial buildings offer a way for developers to rapidly respond to market dynamics. Furthermore, they improve sustainability performance, especially in light of today's ESG pressures.
Tenants also benefit from an improved working atmosphere that has been shown to improve employee well-being and productivity by up to 13% and 8% respectively, as well as greater flexibility in use of the space. This was demonstrated by Stora Enso's own recent use of the designs in its Hyltebruk mill in Sweden.
Sebastián Hernandez, R&D Manager for Building Concepts at Stora Enso comments: "Industrial buildings are at the nexus of a number of megatrends in the UK. On the one hand, we have the moral and policy imperative to decarbonise our building stock; on the other, we have the planned renaissance of British manufacturing and shift to online shopping increasing demand for these types of structures.
"Not only can wooden industrial buildings enable companies to respond to these trends, but by moving away from monotone grey sheet metal and concrete, they can allow us to create better working environments for UK employees and improve the increase the quality of retail and industrial parks up and down the country."
Industrial scale
To support adoption of engineered timber for industrial buildings, Stora Enso has also created a resource hub for architects and developers that includes fully interactive 3D models and technical specifications of eight different base types for different industrial buildings.
These are pre-optimised for the most standard and common industrial buildings we see in the market and can used as a basis for designing bespoke concepts.
The industrial concept is the latest in a series of building concepts designed to support the construction industry in adopting mass engineered timber as a way to improve sustainability and building performance. Previous concepts include schools, offices and multi-storey residential buildings.