Sustainability Magazine launches Sustainability LIVE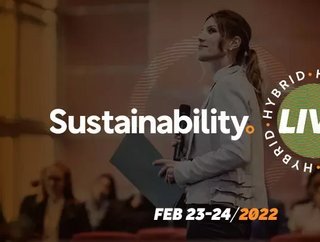 Sustainability Magazine launches new Global Sustainability Event – Sustainability LIVE
BizClik Media Group – publisher of Sustainability Magazine – is excited to announce the launch of its ground-breaking Sustainability LIVE event.
It all takes place on 23-24 February 2022 at Tobacco Dock – London's premier 'upcycled' venue. Indeed, the only thing that will be smoking is Sustainability LIVE's inspirational sessions, speakers and stages.
During the two days, the all-encompassing event will cover every aspect of Global ESG, Diversity & Inclusion, Global Equality, Net Zero Strategies and Renewable Energy. It will also feature a unique stage entirely dedicated to the most pressing subject within the corporate ecosystem – Supply Chain Sustainability.
Sustainability LIVE also brings together a host of experts from across the globe. These visionaries will share compelling business, institutional, economic, environmental and cultural experiences, all motivated by the sustainability revolution. The impressive roll call of luminaries can be found below. 
As companies promote green credentials to the top of their agendas, there has never been a better time to feel the vibe of Sustainability LIVE and get inspired by planet-preserving projects unfolding all over the world.
This is a truly inclusive event and everyone is welcome, from multinational corporations to innovative start-ups; from CSOs to individuals who want to ignite their sustainability ideas.
Sustainability LIVE – Direct, Diverse and Different.
For more information and details about how to attend hit here 
Sustainability LIVE speakers and representatives
Nicola Tagliafierro, Head of Sustainability at EnelX
Edna Ayme-Yahil, VP, Global Head of Communications, Brand and Sustainability at SITA
Deborah Allen, Group Director Governance, Conduct & Sustainability at BAE Systems
Linda Freiner, Group Head of Sustainability at Zurich Insurance
David Clark, VP of Sustainability at Amcor
Inge Huijbrechts, Global Senior Vice President Sustainability, Security and Corporate Communications at Radisson Hotel Group
Kerrie Romanow, Sustainability Officer & Environmental Services Director at City of San Jose
Daaf Serne, Senior Director Real Estate & Sustainability at ServiceNow
Nicole Berg, VP | Head of Cross Mobile Engineering at SAP
Par Larshans, Chief Sustainability Corporate Responsibility & Public Affairs Officer at Ragn Sells
Roy Cheung, Global Head of Sustainability Solutions, Engineering Plastics at Covestro
Mary Jane Morifi, Chief Corporate Affairs & Sustainability Officer at Tiger Brands
Sheri Hinish, Global Executive Partner at IBM
Michael Bellantis, Director, Environment & Sustainability at Cardinal Health
Brent Trenga, Director of Sustainability at Kingspan
Sandeep Chandna, Chief Sustainability Officer at Tech Mahindra
Miguel Veiga Pestana, Head of Corporate Affairs and Chief Sustainability Officer at RB
James Robey, Global Head of Sustainability at Capgemini
Ruji Mahmud, Sector Procurement Head, Efficient Natural Resources at Johnson Matthey
Jeff Turner, Corporate VP Sustainability at DSM
Ben Clifford, Global Health, Safety and Sustainability - Associate Director at Fidelity International
Oistein Jensen, Chief Sustainability Officer at Odfjell
Klaus Kunz, Head of Sustainability at Bayer
Shameela Soobramoney, Chief Sustainability Officer at JSE
Yoly Crisanto, Chief Sustainability Officer at Globe Telecoms
Mads Nipper, Group CEO at Orsted 
Charlotte Wolff-Bye, Chief Sustainability Officer at PETRONAS
Zoe Haseman, Global Head of Sustainability at Jacobs
Ailin Huang, Head of Sustainability at TIER Mobility
Wineke Haagsma, Director Corporate Sustainability at PwC
Kristina Kloberdanz, CSO at Mastercard
Benjamin Alleau - Capgemini
Celine Herweijer, CSO at HSBC
Jenny Bofinger-Schuster at Siemens
Vivi Hollert, CSO at Nouron
Andy Dewis, Schneider Electric
Ezgi Barcenas, CSO at AB InBev
Rodrigo Jiminez, American Tower
Mark Hartman, CSO at City of Phoneix,
Greg Spotts, CSO at City of LA
Mattias Goldman, CSO at Sweco
Magali Anderson, CSO at Holcim
Rebekah Cain, CSO at BNZ
Sanjay Podder, Accenture
Ibrahim Al-Zu'bi, Majid Al Futtaim
Christoph Jaekel, BASF