Impact travel moves the needle on corporate ESG programmes
By Karim Haggar and Sam McManus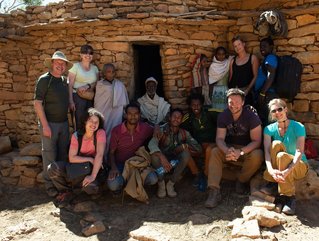 Karim Haggar and Sam McManus discuss how organisations support impact projects to make ESG programmes more efficient and internalise sustainability
Karim Haggar, Co-Founder of a sustainable and educational travel business and Sam McManus, Founder and Managing Director of sustainable travel company YellowWood Adventures discuss how organisations are making ESG programmes more efficient and internalising sustainability by supporting impact projects.
Somewhere between the 2015 UN Paris Agreement and COP26 last year, with the pandemic and the mainstream realisation of the realities of climate change, global organisations have started committing to Net Zero and building Environmental, Social & Governance (ESG) capabilities to facilitate this change. Chief Sustainability Officers (CSOs) are being appointed, yet their jobs are far from straightforward.
To internalise sustainability and make ESG programmes more effective, pioneering organisations are supporting impact projects both locally and internationally that fit with their business models. Projects that directly reduce the organisation's emissions (and therefore environmental impact) and support the communities where they operate are often prioritised, and also complemented with global carbon offset and social development projects.
We interviewed over 20 CSOs and heads of sustainability from leading global companies with a focus on the premise that employees can only truly connect with and be influenced by these projects and surrounding communities if they travel to see them.
As Brent Trenga, Director of Sustainability, North America for building materials company Kingspan succinctly puts it: "For us it's critical from the top to the bottom of the business to see, touch and feel how these projects are making a difference." The elephant in the room that often arises at this point is when projects are located sufficiently far away for flights to be required. We argue that when these emissions are also offset, they in fact pale in comparison with the positive impacts companies and employees can have on both social and nature-positive projects, and just as importantly, the inspiration and changes in behaviour the employees take away with them.
Pioneering organisations are also choosing impact travel as a new form of incentive travel, combining team building with ESG programmes. That form of purpose-driven incentive travel increases the sense of belonging, reduces attrition, while supporting impact and community development projects with concrete volunteering and exchange. We have distilled the learnings from these interviews into an actionable five-step process to making ESG programmes more effective through impact travel:
1 - Understand your organisation's environmental and social footprints
The first step is to conduct an in-depth analysis and mapping of the organisation's environmental, social and governance issues, typically called an ESG materiality assessment. At the environmental level, a more profound analysis and quantification of scope 1-3 emissions is conducted to identify major sources for emissions and quick wins.
While scope 1 emissions cover those related to the organisation's owned and directly controlled sources (e.g. emissions from boats owned by a shipping company), scope 2 cover the usage of purchased energy, and scope 3 cover all other emissions resulting from the organisation's supply-chain and activities, including business travel.
As Øistein Jensen, Chief Sustainability Officer for Norwegian shipping company Odfjell states: "We monitor our scope-1 and 2 emissions closely and report our carbon intensity quarterly. We have set clear climate targets on intensity reduction, so improving efficiency and reducing our direct emissions is core to us now. On the other hand, our scope-3 emissions have been challenging to track. Therefore, we have initiated a project to collect and analyse data with our suppliers to improve our understanding of scope-3 emissions and identify improvement areas."
Organisations also try to involve all employees in the process through well-defined frameworks and awareness efforts. Muna Merghani, Chief Human Resources & Sustainability Officer at Haggar Group in Sudan explains: "A policy was created to act as a guideline and framework for all employees and executives across Haggar Group to integrate and understand the factors that matter most to our business operations, our society, and our environment. This was coupled by very frequent awareness raising sessions and showcasing of successfully implemented projects to help in creating a paradigm shift in the minds of our employees to engage with the concept of sustainability and social programmes."
2 - Develop ideas and solutions to reduce and offset your environmental impacts and to contribute to social initiatives
The second step is to identify solutions to reduce and offset environmental impacts and contribute to social initiatives. From a carbon emissions standpoint, this begins by replacing or improving assets used and owned by the organisation, utilising renewable energy, replacing or improving inputs used in products and throughout the supply-chain, and in applying circularity principles.
Novo Nordisk, a leading pharmaceutical company based in Denmark, has already transitioned all of its plants to 100% renewable energy and is committed to achieve net zero emissions across its value chain by 2045 at the latest. They also have an interim target to reach zero emissions from operations and transport by 2030, according to Swati Randev-Verma, APAC Sustainability and ESG Lead.
Once all feasible solutions to reduce emissions are exhausted, the measured emissions left remaining are what need to be tackled by offset projects. While offsetting can accelerate an organisation's journey to Net Zero, it should certainly not substitute the reduction of scope 1-3 emissions. Only unavoidable emissions (with current technology and options) should be offset. There are a rapidly increasing number of carbon offsetting solutions available to businesses to assist in this process.
3 - Identify and prioritise impact projects, in partnership with global and local NGOs and social enterprises
Once the solutions are developed, organisations can start identifying and prioritising impact projects that would allow employees to contribute to and to experience as a group. While some of these projects are directly linked to an organisation's activities in certain countries, others are designed as means for carbon offsets or philanthropy.
Hospitality company, Marriott International's sustainability & social impact platform, Serve 360, includes 2025 goals to cut food waste in half, responsibly source 95% of its top 10 priority categories, and facilitate 15 million hours of associate volunteerism, in addition to the company's science-based targets and net-zero commitments. To achieve these goals and support the company's sustainability & social impact strategy, they have dedicated funds to support NGOs and strategic partners.
For example, Marriott focuses on food waste reduction and responsible seafood with World Wildlife Fund (WWF). The company partners with The Ocean Foundation to contribute to innovative carbon sequestration projects to capture sargassum, a seaweed wreaking havoc in the Caribbean. "At Marriott International, it is vital that our efforts are supported and informed by experts in this space, while simultaneously allowing associates and guests the opportunity to participate in our sustainability & social impact journey," said Denise Naguib, global vice president, sustainability & supplier diversity.
And Rob Cheeswright, Chief Sustainability Officer at Pinwheel, an organisation set up at COP26 to specifically partner companies with development projects, comments: "They're also the kinds of projects that can engage and fire peoples' passions. Leading organisations are giving their employees or even clients the choice over which projects they support, increasing buy-in for their sustainability strategy and loyalty more broadly…We've encountered a real appetite for the idea of giving employees experiences, enabling them to travel to and see the projects first-hand. We expect this trend to accelerate."
4 - Select top ESG contributors in your organisation and take them on impact travel experiences
It is a considerable amount of work to set up this infrastructure for a business, before the challenge of engaging employees has even begun. CSOs are now looking to travel to do this work for them, as Ibrahim Al Zubi, CSO at leading shopping mall, retail and leisure pioneer Majid Al Futtaim in Dubai notes:
"Impact travel can become an enabler for Majid Al Futtaim to raise awareness and engage with different layers of the company. We would consider environmental impact projects with our employees such as coral reef clean-ups, renewable energy developments, and tree planting, as well as social and community development projects. These would take place in countries where we operate such as Egypt and Jordan. Impact travel can help Majid Al Futtaim achieve key ESG targets while providing team building opportunities."
Richard Batten, Global CSO at real estate services company JLL in London was recently included in Sustainability Magazine's recent 'Top 10 CSOs of global organisations', and corroborates this: "Sending top performers to suitable climate-related projects in South America and Africa to create positive impacts is something that JLL could be interested in. We have a volunteering week in June when we encourage the workforce to volunteer in community related projects so, in due course, such a scheme could be aligned with this."
5 – Strengthen the company relationship with the project through continued contact and communicating the positive impacts to the wider organisation
The global sustainable construction business Kingspan already seems leaps ahead of the game in this area; taking key employees from around the businesses to get involved in both national and international impact projects such as partnering with SeaBin to clean up the oceans in LA and in Australia. They are finding that it helps to educate and inspire employees how to be more responsible and sustainable in their own domestic lives, as the information-share when employees visit the projects inspires them to then take steps to incorporate these themes in their day-to-day jobs.
Brent Trenga, Director of Sustainability of North America, elaborates: "Construction steel is always reusable, but we are now focussing on the recyclable angle for other products and building with salvaged materials via a circular economy model as a result of these projects. The employees influence the projects and the projects influence the employees in a positive feedback loop. Getting every employee involved in this is a critical component as we report on the progress of our Planet Passionate programme on a monthly basis, and it is one of the most sought-after pieces of information from our investor relations team. It's important for our clients to see this also – they both need and want to see the programmes. It's good for business."
The environmental, social and economic benefits of impact travel far outweigh the carbon emissions of flights taken by employees who partake in impact projects, when they are structured correctly with the trips themselves also being carbon neutral. With countries reopening for tourism after two difficult years with COVID, organisations should seize the opportunity to introduce impact travel to increase employee engagement and make a positive impact in the world.